High on fashion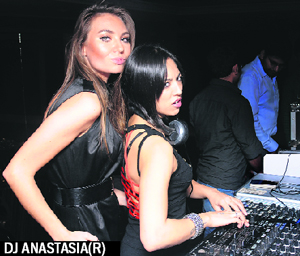 It was all glamour, gaiety and glitz as models sashayed down the ramp at the launch of the Fashion Vodka...
At the launch of the Fashion Vodka, sponsored by Fashion TV, Gunjan Nagpal's fashion show put across a thematic visual diary that detailed elaborately on the style that is essential to party-wear. While most of her collection dwelled heavily on short hemlines and off-shoulder dresses, it drew much influence from the international fashion trends that were typical of FTV fashion collection. "This is my fourth fashion show in Chandigarh," says Gunjan, who showcased her collections at the Chandigarh Fashion Week and ISB College fashion show. Photo: Pradeep Tiwari
Villain's cut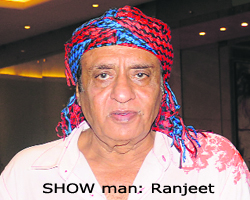 Famous yesteryears Bollywood villain Ranjeet also attended the party donning a multicoloured headgear. He says, "I have been very careless when it comes to keeping up with the brands and in fact, I have not worn any brands. In the 70s, we had as many as seven shifts a day and there weren't any vanity vans, air-conditioned studios or even designers for that matter. We as actors would improvise on our designs and at times I would cut the collars and wear ropes or shoe-laces instead." He adds, "These days everybody gets away with a black suit and it puts me off to see the way most of the boys dress up. I think it is very important for anyone who wants to be fashionable to have a good physique. Comfort and confidence follows later." As for his personal style, "These days I like wearing kandura and a head-gear. In fact, I was wearing this even at the National Film Awards where I was one of the jury members."


Giving Toronto a miss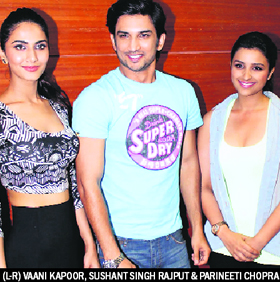 Sushant Singh Rajput and Vaani Kapoor could not go to represent their movie Shuddh Desi Romance at the Toronto International Film Festival. Vaani had to shoot for the South Indian remake of Band Baaja Baaraat and Sushant's father fell ill so he had to be by his side.
chatter box
Playing host
After hosting Star Plus' India's Dancing Superstar, Aishwarya Sakhuja will now do an episodic in Yeh Hai Aashiqui on Bindass. Produced by Vikas Gupta's Lost Boy Productions and BBC Worldwide Productions', she will play a Punjabi girl in this love story that will also star wrestler-turned-actor Sangram Singh. Apparently, actor Ayushman Khurana will host the show with Vikrant Messy. More the merrier: Star Plus' next show, 24 Frames, based on the American hit series Missing now has additional cast. With Varun Badola already there, now Tanaaz Irani and Jay Kalra of Bade Achhe Lagte Hai fame have been roped in for important roles.
From pleasantly plump to pleasantly surprised
Weight issue
Before getting into modeling, I was 70 kg. I remember when I went to the agency for an interview, the CEO said, "You're pleasantly plump. But to be a model you need to lose weight and get rid of your braces." They signed me on and I lost the weight and the braces. I continued as a model for three years, met good people and I was able to pay my bills. Lucky girl: On the day, the film released, I was off to Chennai to begin shooting for my second film. How many newcomers have such luck? As of now, I am happy that the movie did well. I wish I was in Mumbai celebrating with Parineeti (Chopra) and Sushant (Singh Rajput). I feel I have to do a lot more before I can think of myself as successful.
I don't have a bikini body: Ileana
The amazingly beautiful Ileana D'cruz who is blessed with a slim and svelte body feels that she doesn't really have the body to carry off a two-piece bikini on-screen. "I wish I could wear one but I really don't have the hot body needed for a bikini," said Ileana. The pretty actress

who will be seen romancing Shahid Kapoor in Phata Poster Nikla Hero said she has been training hard in the gym to attain the perfect body and would wear a bikini only when she feels she is ready. Now, this bit surprised us because we thought this lissome lass had the oh-so-perfect bikini body. We could therefore not resist asking her on who she thought possessed the hottest body in the industry. "Deepika Padukone," pat came Ileana's reply. Body basics: Ileana D'cruz
Real touch


Hansal Mehta started the shooting of Shahid at lawyer Shahid Azmi's actual office in Kurla in Mumbai. The film is a biopic and Shahid's mother was very keen to know the look of his son and the actor who would be enacting her son's role. Raj Kumar Yadav, the actor who went through the look test by the director, Hansal Mehta, felt he understood the attitude and the motivation of the character, also it was more important that Shahid's character came through.
Role call: Shahid Azmi
Desi Romance in foreign shore
When the three film old, young and rising star Parineeti Chopra landed at the Toronto International Film Festival to present her latest film Shuddh Desi Romance on September 9, along with director Maneesh Sharma and screenwriter Jaideep Sahni, none of them were quite prepared for the kind of warm reception they received from the fans in Canada.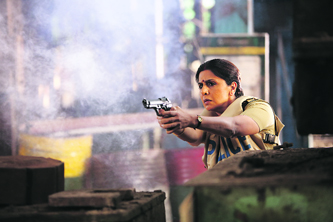 Light camera, lots of action!
Neetu Singh Kapoor will be seen in an all-new action avatar in Besharam. She has more action scenes than Ranbir in the movie and will surprise everyone with her use of guns and stunts! Kudos!




Cop act: Neetu Singh Kapoor in Besharam
Astro turf
ARIES: It is a hazardous day. Keep your mind on the job throughout. Do not be tempted to day-dream about what lies ahead. Be tactful in your criticism though emotions will be easily aroused.
The year ahead
If your birthday is September 15...

Gentlemanly behaviour
Ranbir Kapoor has his way with the ladies. He was getting out of BR Studios in Santcruz in his car and suddenly a lady rammed her car into his car. He did not create a ruckus. He just smiled at her, she apologised and he drove away. How amazing is that!
Generous gesture: Ranbir Kapoor
Two scripts for one remake!
Rajkumar Santoshi has two scripts ready for the sequel to Andaz Apna Apna. One for Aamir Khan and Salman Khan who were part of the original and one for Ranbir Kapoor and Shahid Kapoor. He says that the two Khans will have to make at least a special appearance in the movie starring the Kapoor boys, if that works out. Meanwhile, he has already signed Vidyut Jamwal for his next-to-next movie which is an action thriller.

No Masti in Dubai
Grand Masti released as planned in Mumbai on Friday. The naughty and racy comedy will not find a release in the conservative city of Dubai and other Arab Emirates. It's a misogynistic film and should be avoided!
The poster of Grand Masti
Madhuri's father passes away


Madhuri Dixit Nene's father Shankar R Dixit passed away on Friday morning in his sleep. He was 91. His family was by his side. Madhuri said, "We'll miss him but we know he lived a full life. We thank all those who have offered their condolences and prayers."

Tough time: Madhuri Dixit Nene

Go Goa
Akshay Kumar has bought yet another lush and plush property in Goa...a fancy villa costing multi-million dollars. The villa is elegant and build around a pool. He already has a villa in Goa which has been designed by his wife Twinkle. He is becoming the king of real estate in Goa. Land lord: Akshay Kumar