Central Govt launches austerity drive; bans meetings in 5-star hotels
Sanjeev Sharma/TNS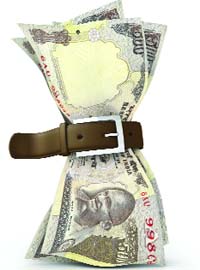 New Delhi, September 18
The Central Government today announced fresh austerity measures to cut expenditure, including banning government departments from holding meetings in 5-star hotels and barring officials from executive class air travel, in view of the tight fiscal situation.
The austerity measures announced by the Finance Ministry are aimed at cutting non-plan expenditure by 10 per cent of all government departments.
"Such measures are intended at promoting fiscal discipline, without restricting the operational efficiency of the government. In the context of the current fiscal situation, there is a need to continue to rationalise expenditure and optimise available resources," the Finance Ministry said.
Aiming to restrict fiscal deficit to 4.8 per cent of the GDP in 2013-14, the Finance Ministry has ordered all ministries and departments not to buy new vehicles, create new jobs or fill posts lying vacant for over one year.
It has further said "utmost economy" should be observed in holding conferences, seminars and workshops and only those that are considered absolutely essential should be held.
It has also directed that the size of delegations going abroad should be kept at "absolute minimum". Officials have been directed to fly economy class on domestic routes and to keep overseas travel at a minimum.
The government has been introducing austerity measures since 2008-09 and most recently in November 2012.
The Finance Ministry missive in the form of an office memorandum issued by Finance Secretary RS Gujral states that secretaries of various ministries will be accountable for implementing these austerity measures.
Finance Minister P Chidambaram earlier said he had drawn a red line and would not allow the fiscal deficit to breach the target of 4.8 per cent of the GDP in 2013-14. The circular came a day after Chidambaram met Financial Advisors of various ministries to impress upon them the need for austerity.
Sounding caution on the fiscal deficit, Prime Minister's Economic Advisory Council (PMEAC) headed by C Rangarajan had said in the recent economic review said that containing fiscal deficit within the budgeted estimate this year could be a challenge.
Rangarajan had said that the fiscal deficit during the first four months of the current financial year has already reached 62.8 per cent, and expenditure on major subsidies 51.3 per cent, of the budgetary provision for the full financial year.