M A I N N E W S
Mahilpur Khalsa College principal refuses to give up charge
Kanchan Vasdev/TNS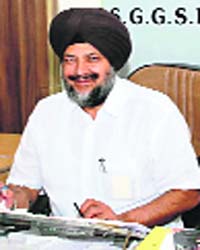 Chandigarh, September 18
A day after being placed under suspension, Mahilpur's SGGS Khalsa College principal Dr SS Randhawa today locked out the administrative office on the premises, affecting studies at the state's first rural college that caters to 3,000 students.
The management committee of the Sikh Educational Council had suspended Dr Randhawa and asked him to hand over the charge to Prof Jagg Singh, head of the physics department.
The college principal, however, refused to relinquish charge and prevented Prof Jagg Singh from taking charge by locking the office.
Hundreds of students boycotted classes and staged a protest demanding Dr Randhawa's reinstatement. Addressing the students, Dr Randhawa said he had been shown the door despite working hard for the college.
The students later marched towards the main road to block traffic in Mahilpur but were blocked by the police.
The management committee had sealed Dr Randhawa's bank accounts and written to Panjab University, Chandigarh, and DPI (Colleges) invalidating his signatures as principal. Dr Jang Bahadur Rai, general secretary of the management committee, said they had taken a serious view of Dr Randhawa's activities. "We will speak to the students and faculty tomorrow and ask them to return to classes," he said. Dr Randhawa claimed his suspension orders were "null and void" as the college management committee was defunct since the elections to the body had already been announced.
He said the college general house, which was attended by 93 members today, rejected his suspension orders. He denied being behind the agitation and said he would urge students to return to classes tomorrow.
Rs 2 cr 'siphoned off'
The college management committee has alleged that Dr SS Randhawa (pic) siphoned off around Rs 2 crore from bank accounts under him
Dr Randhawa had claimed the management account had a balance of Rs 2 crore, but a committee official said only Rs 60 lakh remained in the account; in yet another account, Rs 32 lakh was missing
Dr Randhawa said he was asked by the Panjab University authorities to deposit different grants in separate bank accounts, as required under the UGC guidelines and all these allegations were baseless
Mired in controversy
A PU inquiry conducted by a committee constituted by the V-C after high court orders found the college was not even fit for a simple affiliation from the university
The panel led by PU Registrar Prof AK Bhandari had observed that the institute lacked both in infrastructure and qualified teachers