A peep into Punjab

It's like an interesting story-telling session wherein the subject of the matter is not fiction, but facts that are harsh to come to terms with; truth that's bitter, biting realities that people have chosen to put behind closed doors. Our story-teller, Rajmohan Gandhi, re-opens these doors of history with the belief, "History shouldn't haunt but inform." In the process, he dedicated three years of his life to his 10th book, Punjab: A History from Aurangzeb to Mountbatten, which commences from the death of the erstwhile ruler and culminates in 1947. WRITE CAUSE: Rajmohan Gandhi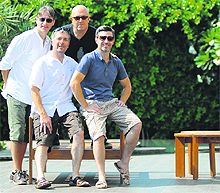 Rising above all
Soul for food is what Stuart, Alan, Tony and Mark hankered after and that's what they have achieved! In Chandigarh, for Seagram's 100 Pipers' tribute to U2, Elevation, that this band is called, talks about their musical journey. Starting with the name…Elevation is their favourite track so they go by the name! And why cover for a living band? "First we adore them and second, they have given enough for us to play," says Alan.


IN SYNC: (Clockwise from top) Tony, Mark, Stuart and Alan. Photo: S Chandan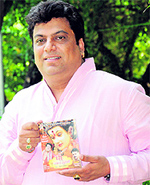 In total devotion
While the Navratras are just around the corner, Raman Dewan's seventh devotional album titled Ma Zaroor Sunengi, which comprises eight tracks sung in the praise of Sheron Wali Mata and her different forms, was released in Chandigarh on Wednesday. 'The album has been made in both audio and video formats. The lyrics of the tracks are in Punjabi and the title track is Teri Ma Zaroor Sunenge. Navratras, which are celebrated with much fervour in Punjab, are about to begin and this is an apt time to release the album," says Raman.

sing along: Raman Dewan. Photo: Manoj Mahajan
Long way to go
Actor Arjun Kapoor, who will be seen in Gunday next, opens up about his work, competition and the benefits of being from a film background.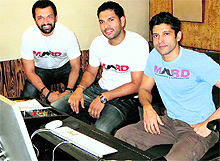 Men unite for a cause
Yuvraj Singh has joined hands with Farhan Akhtar and Atul Kasbekar for a social cause. The cricketer is going to recite the poem of MARD for the activists, in Punjabi. Men Against Rape and Discrimination (MARD), is a social initiative designed to create awareness amongst men and to instil gender equality and respect towards women.

Reach out: Atul Kasbekar, Yuvraj Singh and Farhan Akhtar

A timeless tale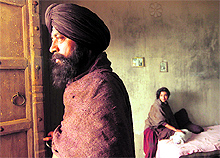 The closing ceremony of the Toronto International Film Festival (TIFF) has some good news for us. Anup Singh's Qissa won the NETPAC Award for the Best Asian Film. Set amidst the ethnic cleansing and general chaos that accompanied India's partition in 1947, this sweeping drama has Irrfan Khan playing a Sikh who attempts to forge a new life for his family while keeping their true identities a secret.

A scene from Qissa
Future Shock
Follow your celebrity


No, I don't mean go ahead and stalk them! I'm talking about following what they think, feel and act via social media. Technology has made it so easy for us to connect with our celebrities and vice-versa.

Amitabh Bachchan, Shah Rukh Khan and Salman Khan
tune in

Sporty notes
A sport is just like cinema — there's drama, suspense and climax. So many theatrical elements involved ensure that there's all the more reason for a background score. Sports songs make sure that time spent at the stadiums turns out more entertaining than award nights put together.
Shakira (centre)
Fashion circle
Celio, the international menswear brand from France, creates yet another style statement this season with the launch of its Winter'13 collection. For Winter 13, Celio is revisiting the male wardrobe and presenting three styles: The Urban style is characterised by discreet and subtle English style elegance, ideal for everyday or smart weekend wear.
green thumb
Every drop matters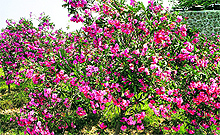 Watering the plants is the biggest worry of the gardener as there is shortage and also restrictions. The problem is aggravated when the landscaping is done in bigger areas, especially the societies, colonies, institutions, farmhouses, clubs, marriage places et al. The planting plan here has to be judicious, keeping a score of considerations in mind; watering being the biggest.
Shower show
Coram India announced the launch of a new range of Extreme wellness showers. The new generation range of wellness shower come in a closed circuit system that ensures no wastage of water.
Master Chef
Basil blast


Noodles, pizzas as well as pastas may be termed as 'junk food' and usually frowned upon by nutritionists, but they are here to stay. Nowadays they are relished by all generations and find acceptance as an alternative to the mundane dal roti. Here we have increased the nutritional content by adding additives, especially the very beneficial basil.
star track
Hands full
Zarine Khan has been signed on as brand ambassador for a skincare brand previously endorsed by Kareena Kapoor Khan. She also has a couple of films that she is shooting for.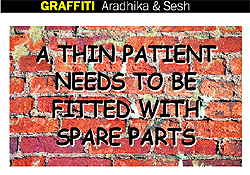 chatter box
As the show goes on...
Popular show, Bade Achhe Lagte Hain has taken a leap yet again and the role of Pihu, played by Fenil Umrigar, will now see her as a college going girl. Meanwhile, Fenil tells us about how her character will be the central character of this long-running love story of a middle-aged couple.