Hands up!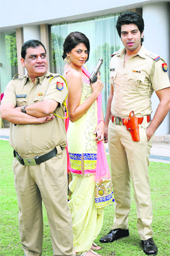 One thousand episodes in eight years...Chandramukhi Chautala has sure kept the viewers hooked on to the popular show FIR! In Chandigarh on Thursday, Kavita Kaushik aka Chandramukhi Chautala looks resplendent in a bright suit and jewellery; her tall, lithe frame commanding authority sans her uniform. She is one-off TV actor who has enjoyed so much support of the fans that the show had to re-do the format and bring her back on popular demand after the brief hiatus! For this recognition and love, Kavita is thankful to the almighty and doesn't mind sharing her secret of success.





FUN TIMES: (L-R) Gopi Bhalla, Kavita Kaushik and Vipul Roy

Look no further
Twenty years is a lot of time to change the way Bollywood cakes up make-up. To layer down the foundation, to celebrate the skin tone of Indian women, to look natural yet classy…it actually took two long decades for Mickey Contractor to remote control the make-up industry in transition mode!
Tube tale
Acting is what happened to Sayantani Ghosh and this actor is pretty happy with her lot! Playing Satyavati is Mahabharat, Sayantani totally loved being part of the mythological story!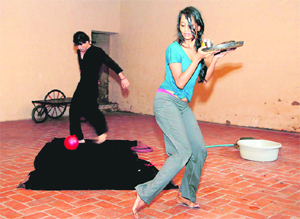 Opulent opera
There are props like bricks, pebbles, trunk, black robe, a shrub and daggers lying around…all that pervades the pin-drop silence is the music of the opera and all that resonates aloud is the intensity of the performers. But then a dialogue with death can't have a subtle effect on the five senses.





STAGE ACT: Artists Vansh Bharadwaj and (R) Hema Sundari Vellaluru

Sizzling fun!
Join the changing weather revelry at Lemongrass, a resto-bar in sector -26 Chandigarh with an array of succulent sizzlers. The Chinese sizzler festival at Lemongrass brings in sizzlers of different flavours that will sspice up your menu. The master chef at Lemongrass has compiled an exclusive sizzler menu of delicious vegetarian and non-vegetarian sizzler specialties.
Sing along
Videocon mobile services has unveiled its new vibrant and dynamic logo, 'Videocon Telecom'. It has also roped in the popular Punjabi actor and singer, Gippy Grewal as its Brand Ambassador.
Doc Talk
A light affair
Skin lightening refers to the practice of using chemical substances or procedures in an attempt to lighten the skin tone or provide an even skin complexion by lessening the concentration of melanin. Several chemicals have been shown to be effective in skin whitening, while some have proved to be toxic or have questionable safety profiles, adding to the controversy surrounding their use.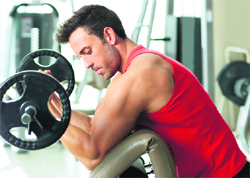 get physical
To begin with
So, you have decided, it's time to start exercising. Exercise is a magic pill and there is no arguing that exercise can help most people lose weight, as well as look more toned and trim. Now, hitting the gym feels to be the most perpetual way of keeping yourself fit. But where do you begin? Which exercises should you do for weight loss? And how much time should you spend on the treadmill and how to avoid injuries while working out?
sTAR TRACK
Love-ly times
Sizzling chemistry
Bruna Abdullah unplugged
Special screening
The rumour mill
Zayed's big dreams
The religious Katrina
chatter box
Ranbir the prankstar
Watch out
What next?