CENTRESPREAD
Worth its weight on paper
Fancy paperweights depicting butterflies, flowers and various other patterns are attracting the attention of connoisseurs and becoming a collector's item
Nutan Sehgal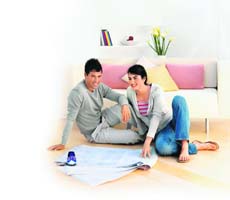 Some people collect coins, others postage stamps, many are into vinyl records and for a few, movie memorabilia is the passion. But any avid collector will tell you these are all predictable and pass`E9. Real value is in collectibles that are rare and out of the box.
For some years now, paperweight collection has earned the respect of connoisseurs. Not the simple, functional ones which sit on sheets of paper to prevent them from fluttering in the wind but fancy glass baubles depicting butterflies, flowers and other patterns, which have been garnering a devoted fan following in recent times.
Desk accessories
Paperweights made by leading glasswork companies like Saint Louis, Baccarat, Clichy, Swarovski, Val St. Lambert, Mount Washington and others have been cropping up at auctions attracting aficionados from around the globe. Auctioneers like Sotheby's and Christie's have been putting up auctions that get an enthusiastic response from ardent collectors of these desk accessories, which come in a multitude of sizes, shapes and colours.
A sampling of the kind of bids they attract can be had from a recent Bonhams auction in London. Here a rare double paperweight by French glass company Clichy fetched `A367,200 (Rs 67 lakh). Most others, too, went for astounding sums and the auction was over within less than an hour.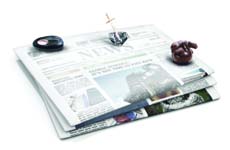 Little wonder then that paperweights have started attracting the attention of serious collectors. Today, there are websites devoted to them and reams of newsprint are used to publish magazines with articles discussing just one topic — paperweights. There are several associations and clubs led by the Paperweight Collector's Association of America, which conduct seminars and talks that range from restoration of damaged paperweights to distinguishing the genuine from the fakes.
What is so special about paperweights that these attract such a fervent following? The answer lies in the history of these beautiful glass decorations which in present times have become a serious pursuit of collectors.
Decorative appeal
Paperweights are believed to have originated in the middle of the 19th century. Recorded evidence shows that Venetian glassmaker Pietro Bigaglia made the first paperweights for an exhibition in Vienna in 1845. These became such a hit that within a few years, three French fine glass factories, Baccarat, St. Louis and Clichy began making paperweights, which were used more for their decorative appeal than the function these were created for.
Seeing their instant popularity among royalty and the burgeoning middle class in Europe and America, many other countries followed suit. Factories like Bacchus (UK), New England Glass Company (USA) and many others started creating intricate designs in grand presentation pieces. By the turn of the century, thousands of these elegant weights had flooded the market of which around 30,000 still survive. It is these that the collectors are mainly after.
Though the craze for paperweights diminished at the turn of the 20th century, the revival came in the 1950s when Paul Jokelson, founder of the Paperweight Collectors Association and one of the biggest collectors, convinced the fine glass factories to re-start production.
Trend revival
The result was not just a renaissance of a trend, which saw the production of some of the most brilliant paperweights of all times. Companies like Caithness Glass of Scotland, Lalique of France, Lladro of Spain, Royal Crown Derby of England, Steuben Glassworks of America, Fratelli Toso of Italy, Swarovski of Austria and many more came to the forefront of paperweight making.
The emphasis this time was on the innovative millefiori technique which is basically decoration pieces in which coloured glass rods are fused and cut to create flower patterns. This is considered by many as one of the most difficult of all glass art forms. Over the years, several other torch-techniques have emerged that include flamework and lampwork as also paperweights in surface-decorated and abstract designs. Each of these techniques has its own collectors and connoisseurs.
At present though most countries produce paperweights, the manufacturer's leadership has not changed in over the last half century. Europe has almost a 100 manufacturers of repute followed by America where there are around two dozen studios, which have elevated paperweight manufacturing into a sublime art form.
However, though the contemporary works of art are both dazzling and complex creations, aficionados say none can match the magic of the vintage paperweights.
TAJ MAHALS, MINIATURES & DIAMONDS
Though India does not have a history of high value paperweights, it has been making these desk accessories which have their share of admirers. One of the most traditional offerings is the Taj Mahal paperweight, which is either just a scaled-down marble model or enclosed in a glass.
Designers and artisans from Jaipur, Jodhpur and Udaipur have been making heavy wooden paperweights depicting miniature paintings of Rajasthan. Southern states have chipped in with sandalwood paperweights in various shapes. There have been metallic paperweights portraying Gods and Goddesses which Indians consider auspicious when place on the work desk.
A fascinating Indian association with paperweights relates to the Seventh Nizam of Hyderabad, Mir Osman Ali Khan who inherited one of the largest diamonds in the world called Jacob's Diamond. The frugal Nizam not finding much use for it started using it as a paperweight! It was later sold to the government of India and now lies in the Mumbai vault of the Reserve Bank of India valued at $150 million (around Rs. 900 crore).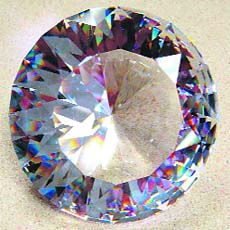 Swarovski
Shaped like a diamond, this clear crystal faceted Giant Chaton paperweight by Swarovski weighs more than 4 kg. It comes in a smart blue case with polishing cloth and certificate of authenticity. This paperweight deserves to be showcased as it is truly awe-inspiring.
Price: Rs 2.31 lakh
Clichy
This extremely rare, colourful roses paperweight, is from the French Glasswork company Clichy. The company founded in 1842 soon came to rival Baccarat, particularly in paperweights. It produced an amazing variety of complexly designed weights which now have a vintage appeal.
Price: Rs 1.55 lakh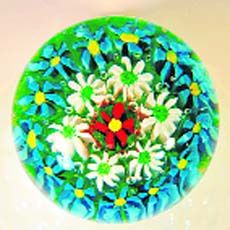 Fratelli Toso
The vintage Venetian Murano Glass Floral Bouquet Paperweight is an exquisite blend of multi-coloured flowers on a green grass base. It is made by the celebrated Italian glass company Fratelli Toso at one of Murano's oldest glass factories.
Price: Rs 48,000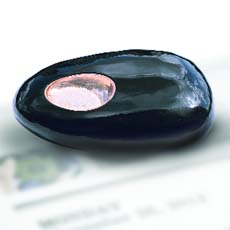 Tateossian
Designed to celebrate the masterpiece art and antiques show held in London recently, this Tateossian paperweight is shaped like a pebble and packed with 60 carats of diamond dust. Made from black obsidian and rose gold, this is one of the most expensive paperweights in the world.
Price: Upon Request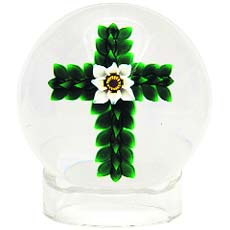 Bob Banford
This vintage paperweight with a cruciform motif by one of America's greatest glass paperweight makers Bob Banford is made of green leaves and a central white flower. Made over 30 years ago, the six-by-seven-centimetre creation is still pursued by top collectors of the world.
Price: Rs 57,000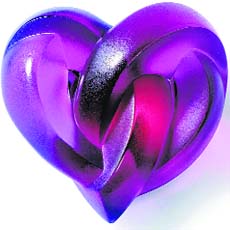 Lalique
A renowned name of the Art Deco movement, French crystal company Lalique creates exquisite crystal pieces for modern times. The hand-finished classic two-hearts intertwined paperweight with a vivid fuchsia hue is made of 24 per cent lead crystal and makes a valuable gift.
Price: Rs 20,400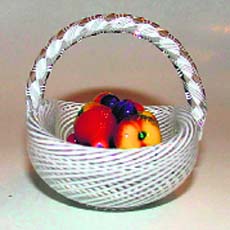 Saint Louis
A stunning work of art, this paperweight is from the French company Saint Louis, which is one of the oldest glassworks of Europe. The pears, plums, red cherries and other fruits are beautifully placed delicately over a bed of leaves. The entire fruity set up is rested over a white lattice bed.
Price: Rs 1.44 lakh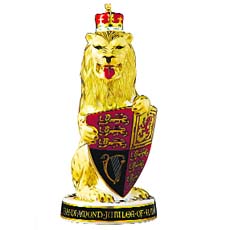 Royal Crown
This intricately designed lion with its fierce facial expression is from the Royal Crown Derby of England. Designers had to pay special attention to sculpt the mouth with the vivid red tongue. The lion's yellow coat and red crown is hand-painted to achieve the exact expression of a lion.
Price: Rs 9,950
Leo Kaplan
The rare Russian glass paperweight seal, being market by Leo Kaplan Limited, has a central red flower surrounded by five smaller flowers and clear glass lower section. It has an engraving at the bottom and stands tall at 7 cm. This is a 1870 vintage paperweight and its value has multiplied over the years.
Price: Rs 2.85 lakh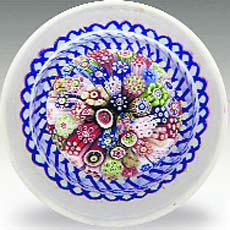 Baccarat Millefiori
The retro Baccarat Millefiori mushroom paperweight is a colourful close packed arrangement consisting of dozens of assorted complex designs surrounded by a ring of bundle canes. A cobalt blue and white latticinio torsade encircles the star-cut base of the paperweight.
Price: Rs 1.65 lakh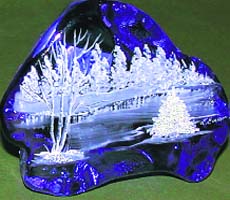 Linda Everson's Iceberg
American glass artist Linda Everson considers this stunning cobalt blue Iceberg glass paperweight as one of her best creations. She has painted an exquisite winter scene on this marvellous medium. The artist has used natural colours to create the snowy scene.
Price: Rs 90,000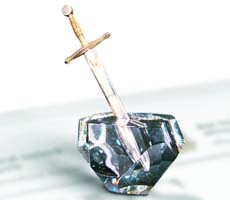 Steuben Excalibur
This vintage paperweight designed as a sterling silver sword represents the legend of King Arthur. Created by America's leading Steuben Glassworks it has a gold wire-wrapped handle mounted in glass stone. It has a colourless lead glass cast with sterling silver and 18-carat gold.
Price: Rs 1.62 lakh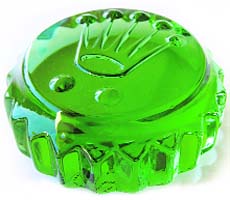 Rolex Salviati
The Rolex Salviati crystal paperweight is a rare accessory from the Swiss watchmaker. It was especially created for the recent opening of the new Rolex museum called The Rolex Experience in Shanghai. It has the new wave pattern that you can find on many modern Rolex accessories.
Price: Rs 3.72 lakh
Louis Vuitton
This Louis Vuitton crystal trunk paperweight is made like a steamer trunk and has all the details such as leather binding, rivets, brass detailing, handles, latches and a press lock. It has the LV logo of the Italian luxury goods company. An excellent desk accessory it also makes a great gift option.
Price: Rs 29,400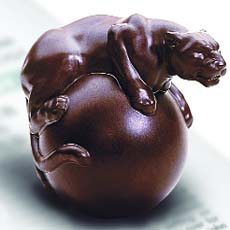 Lladro
The all-black leopard from Spanish porcelain figurine company Lladro makes an exotic paperweight. It is filled with sand to make it weighty and is sealed to prevent any accidental spilling. It is very appropriate for men's gifting and it will fit very well on an office or home desk.
Price: Rs 11,400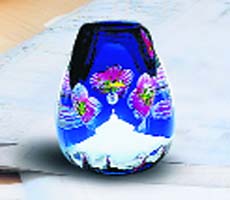 Caithness Disney
This extremely rare, colourful roses paperweight, is from the French Glasswork company Clichy. The company founded in 1842 soon came to rival Baccarat, particularly in paperweights. It produced an amazing variety of complexly designed weights which now have a vintage appeal.
Price: Rs 27,000