The marriage mystique
Reviewed by Kanchan Mehta
To Be Happily Married
by Mohinder Singh
Kalpaz Publications. Pages 230. Rs 720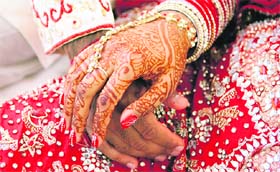 The mystique surrounding marriage has remained intact notwithstanding the vast corpus of literature available on this inexhaustible subject. Since this key institute of any society involves two partners with diverse backgrounds, temperaments, needs and desires. Besides, it is manipulated by biological, psychological and socio-economic factors. Obviously, it makes demands, which deprive the partners of individual freedom. Yet, it hopefully equips them with much-needed emotional warmth and a sense of physical fulfilment. Hence, it can not be denied that it is a two-edged sword.
Against the backdrop of the current times with both partners working, marriage relationship and married life have undergone a drastic change. With the rising vulnerability of marriage to pitfalls, a happy and everlasting marital bonding has become a serious challenge, the married couples face.
The author has made a creditable effort of offering assistance to the partners with his research on the secrets of a happy married life.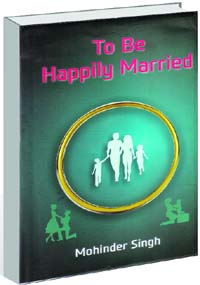 Focusing on different types of marriage, he attempts to make an illustrative, critical study of various issues related to marriage – sex, money, children, couples living in joint family, healthcare in marriage, married life in middle years, forgetful husbands, a few wifely likes and dislikes, to nag or not to nag, the deliverance of divorce, etc.
A variety of sources — studies, surveys, recent research, philosophical observations, feminist viewpoints, representation of married life in fiction and a number of books related to the issues — used by the author, turn this discourse into a well-researched guide to marriage.
Challenging certain traditional beliefs/myths related to infidelity, middle age sex, childless couples, effects of maternal employment on children, etc. the author stimulates new patterns of thought. However, dwelling on some of the measures to make marriage joyful, he highlights the potency of humour as an effective antidote to petty irritations, grievances, anger, hurt, etc. the common problems of marriage.
"Between marriage partners, money is always a partner, too", argues the author, so, proper management of money is stressed and illustrated.
Finally, with a thought-provoking Prologue, an Index and a concise Epilogue, the discourse also merits appreciation for its plain language and direct, illustrative and analytical style. Reading of this informative, stimulating and easy read will be particularly rewarding for married couples as they learn a great deal about each other and ways to revitalise their relationship.