The legendary Bodo heroine
Reviewed by Parbina Rashid
The Bronze Sword of Thengphakhri Tehsilder
By Indira Goswami.Translated by Aruni Kashyap
Zubaan. Pages 32. Rs 295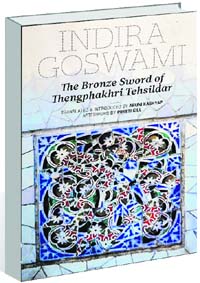 Thengphakhri— quite a mouthful for a name, but nevertheless befitting for a woman who was quite a handful! The legendary Bodo heroine Thengphakhri was arguably the first woman revenue collector in pre-Independence India, who, till Jnanpith awardee Assamese author Indira Goswami decided to resurrect her in her words, lived through Bodo folklore.
Now translated by Aruni Kashyap, Goswami's novel The Bronze Sword of Thengphakhri Tehsilder acquaints us with this brave and patriotic woman who could kill a tiger with her gun, ride a horse along with her British superiors and collect tax from her tribesmen across the plains of Bijni kingdom in lower Assam. Thengphakhri, unable to witness the extortions by the British in the name of taxation, gives up her lucrative job to join the anti-British movement that gained momentum prior to the Sepoy Mutiny. But unlike the other Assamese legendary women like Mula Gabhoru, who fought the Turbak army in 1532, Phuleswaree Kunwari, a devdasi who ruled the Ahom Dynasty in 1722 or fourteen-year-old Kanaklata Barua, martyr of the Quit India Movement in 1942, Thengphakhri's courageous saga remained confined to only the Bodo people, with a few songs and stories dedicated to her.
So Goswami's endeavour to bring alive the character of Thengphakhri and present her to a wider audience was seen as a move to build the bridge between the Assamese and the Bodos, especially at a time when the demand for a separate Bodoland was at its peak and slogans like "Divide Assam Fifty Fifty" were creating a rift between the two communities.
Thengphakhri lived and worked in a time when the rest of India was still grappling with problems like Sati, child marriage and the purdah system, and the imagery of this woman galloping in her horse along with her senior Macklinson Sahib, wearing a hat and seeping in the wind of political change that swept through the region, speaks about the progressive and liberal thinking of the tribal society.
Written in a linear narrative fashion, the book pinpoints three years of Thengphakhri's life, from 1857 to 59, capturing her gradual transformation from a loyal British employee to a rebel. Nothing appears to be overtly dramatic in Thengphakhri's life. A woman of few words, she does everything quietly — she surprises her own self when she shoots the tiger, she barely shows her inner turmoil when her men force people to part with their last belongings as revenue and nobody has a clue what is going on in her mind when she returns her appointment letter and her horse to the Company's office, until she tells her grandparents—"Don't try to look for me. This is my motherland. I will come back to this land." There is scope for arguments about Thengphakhri actually being the first Indian woman revenue collector or whether she was elevated to the post of a tehsilder or even the year she died (1879 or 1895) for Goswami heavily relied on verbal information to reconstruct her character as there is no proper historical evidence.
By giving Thengphakhri a rebirth, Goswami has managed to rekindle readers' interest in the Bodo as a community, their culture, their history and most of all, their contribution to India's struggle for freedom.