Food talk
Healthy fusion dish
Pushpesh Pant
There are some vegetable combinations that are time-tested classics. Most rely on the trusted potato but then there are many others that dispense with the starch-laden tuber. Gajar-matar, gobhi matar and bhindi-pyaaz for instance. There are other vegetables that are seldom paired — pumpkins and gourds of different description are at the top of this list. It is for this reason that we are thrilled whenever we encounter an unusual combo.
Petha or ash gourd is normally reserved for the eponymously named confection Agra is famous for. Drumsticks only adorn the South Indian sambhar. To be honest, we have devoured greedily a fish-and-drumsticks curry cooked by a Bengali friend that was outstanding but that experience was alas never replicated. This time what had "mothered" this culinary invention was the "necessity" of coping with the sky-rocketing prices of onions. This Bengali lady worked her jadoo with paanch phoren and a couple of plum yet pleasantly pungent green chillies. We strongly recommend that you dear readers try it out in the time of onion famine and enjoy it with either rice or phulka.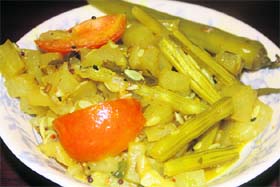 Ingredients
Petha (ash gourd) 500g
Sahjan ki phalli (drumsticks) 200g
Chillies (plump ones wiped clean with moist cloth or washed slit if you like it hot!) 4-6 green
Paanch phoren (mixture of saunf, 1 tsp
rai, methi, jeera, siyah jeera)Haldi powder ½ tsp
Salt To taste Mustard oil 3 tbsp
Method
Peel and cut the petha in small thin pieces. Scrape lightly the drumsticks after washing. Chop into four- inch long pieces. Heat oil in a thick-bottomed pan and when it reaches smoking point reduce heat and add the paanch phoren. Wait till these begin to crackle then put in the petha and sahjan. Stir in the haldi along with salt, cover and cook for about 15 minutes. Stir a couple of times in between but don't add any water. Five minutes before the dish is done add the green chillies. That's it!