Entertainment
Fear factor
Director producer writer Vikram Bhatt may not nurse any delusions about being the greatest or the best. Whether mediocre or bright, he asserts nothing can deprive him of the right to make and market films in the genre he believes in
Nonika Singh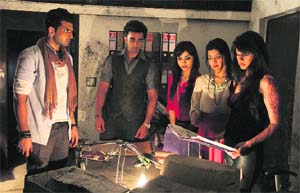 I like to sell fear...." with these words director-producer writer Vikram Bhatt not only explains his fascination for the genre of horror but also why he has been sticking to it for quite some time now. As his film Horror Story hit the screen last Friday, the maker of hits like Raaz and Raaz3 shares how occult fascinated him since childhood.
In his growing up years, he would regale his cousins with ghost stories and lap up conversations related to the supernatural. Today as he is basking in the success of movies, he remarks that it is important to brand yourself, "for we are living in an age where marketing is more important than creativity."
He reasons, "A family going to a multiplex spends at least Rs 2,000 to watch a film. They want to know upfront what the film is about." Horror Story, interestingly, set in a five-star hotel is unadulterated thrills and chills sans romance or songs.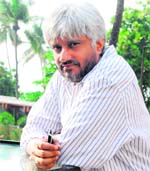 Within the genre of horror, he opines that experimentation is very much possible. His next Creature starring Bipasha Basu is not only highly innovative but also a very ambitious project on the lines of Jurassic Park. His ĎCreatureí is no alien but once again a supernatural being.
Incidentally, though Vikramís career began with films like Jaanam, Fareb and Ghulam, he found his calling in horror for, "Donít we all tell stories that we want to tell and are best at recounting?"
On critical acclaim eluding him, he says, "Yes, it did bother me to begin with but now I am cool with it. Perhaps, critics donít see aesthetics in horror."
While he opines that few filmmakers can strike a perfect balance between commercial success and critical appreciation, delivering a hit is of greater importance to him. Making a horror film, he asserts, isnít easy, "for nothing ever is."
So how does he know this particular sequence will run a chill down viewersí spine? Well, there is no set recipe. Only an intuitive sense tells him that this would work. In case, you are itching to know, well the master of fear gets scared rather easily. He laughs, "Even though I know that itís all make-believe, I am frightened by films like Paranormal Activity."
However, he doesnít have any role models in the business of horror filmmaking. In his own family of Bhatts, he concedes that he did learn a lot from his father film editor Pravin Bhatt, uncles Mahesh Bhatt "mentor and guide", Mukesh Bhatt "more like a friend."
But ultimately as he puts it, "Having a legacy only ensures that you will get your first film. Thereafter, you are on your own." So where does he see himself 10 years down the line? He chuckles, "I am only worried about the Friday on which my film releases."
Living from Friday to Friday or day to day, all he is bothered about is whether he would succeed in taking viewers on yet another fear-full ride.
Wearing many hats
Fridays on which his film releases might give Vikram Bhatt sleepless nights but otherwise he looks at life simply from day to day. Only his is never a regular day but one that entails writing, direction and, of course, wearing the hat of a producer. Being a director may mean he is a hands on producer who understands all there is to movie direction, he never interferes with other directorís work. So much so that he claims he doesnít even visit the sets and allows the directors working for his production house a free hand provided, "they donít meddle with the script." Out of the multiple roles, he essays he enjoys writing the most. He says, "The sheer magic of a blank paper coming alive with characters and tales is unparalleled."