Sports
New kid in the ring
Punjab pugilist Sukhdeep Singh Bhatti has infused freshness in the Indian boxing scene. After his recent bout against Vijender Singh during the selection trials for the World Wrestling Championships, the Olympics bronze medallist was all praise for the newcomer
Gagan K. Teja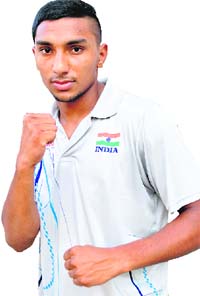 Haryana boxers have been dominating the Indian boxing for some few years, but a new pugilist from Punjab, Sukhdeep Singh Bhatti (21), has brought fresh challenge to the boxing scene. Having established his credentials as regards skill, stamina and confidence, the reigning national champion in the middle-weight category Sukhdeep Singh is believed to be the emerging face of Indian boxing. His recent bout against the Beijing Olympics bronze medallist Vijender Singh, who was making a comeback after the dope controversy, during the selection trials for the World Wrestling Championships, was evidence enough that the boxer has arrived.
Though Sukhdeep lost the bout to the more experienced Haryana boxer, the onlookers admitted that he was probably the toughest competitor Vijender has ever met in the domestic circuit. No one has ever faced the champion as fearlessly as Sukhdeep. And this has further brightened his future prospects. Even Vijender Singh could not stop praising the young talent for the superb skills he displayed during the bout. The bout has also helped Sukhdeep shed whatever apprehensions he had in facing tough opponents and is confidently eyeing future tournaments to win laurels for India.
Sukhdeep was also instrumental in India lifting the 2013 Limassol Boxing Cup at Cyprus in May as his silver medal empowered Indian boxers to claim the cup. He started boxing in 2006 at an academy set up by NRI brothers at his native Chakar village in Ludhiana district. He initially started the game to keep up with his friends since many had joined the academy. This decision has not only changed his life but that of his younger sister Parminder Kaur also, who following in his footsteps. She recently won a gold medal in the All-Indian inter-University Boxing Championship.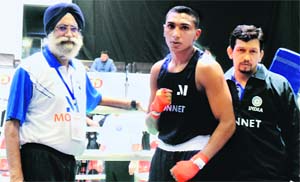 Sukhdeep at the ASBC Asian Confederation Boxing Championship at Amman, Jordan.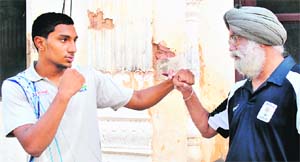 The boxer with national boxing coach Gurbax Singh Sandhu
Sukhdeep is a final-year student of Shri Ram College, Dalla. The college is affiliated to Panjab University, Chandigarh. Things seem to be falling in place since he took up the game. Says the boxer,"Though we don't have a regular coach there, boxing coach Harpreet Singh and TL Gupta often visit us on weekends for guiding us. Even our academy's chairman Balwant Singh monitors the training sessions to ensure that we were committed towards our goals. My hard work started bearing fruit almost after four years after I started training as I started winning medals in the domestic circuit. Identifying my potential, Sidhu brothers, who have set up the academy, sponsored my training at Canada and Cuba. This further helped in honing my skills," he added.
Talking about recent international tournaments, Sukhdeep says that he has donned the Indian colours twice now. "Ever since I joined the India camp, our chief coach Gurbax Singh Sandhu has been working on every small detail which has helped me in acquiring the skills that I could not in the academy. He is monitoring my strengths and weaknesses and we are jointly working on them to overcome the hurdles in the way of my training," he adds.
He said he is also learning a lot from senior players who are ever ready to provide inputs. "India is among the world's top boxing nations and I am glad to be a part of this fraternity. Now, I am working hard with an eye on the 2016 Olympics," he adds.
Meanwhile, national boxing coach Gurbax Singh Sandhu, too, has high expectations from this young player. "Bold and fearless are the words that best describe Sukhdeep. He is very quick on his feet and throws amazing combinations of punches which are enough to unsettle any boxer. All he needs to do is work little more on his skills and channel his superb energy level. There will be no stopping this guy," added the coach.
Hard hits
Born and brought up in Chakar village in Ludhiana district, Sukhdeep hails from a humble agricultural background. He never imagined he would come this far. He gives the credit of his success to NRI Sidhu brothers Ajmer Singh Sidhu and Baldev Singh Sidhu, who have not only helped in development of his native village but have also placed it in the league of best sports villages of the state. Apart from finacing various development projects in the village, they have set up a world-class sports academy in the village, which has become the lifeline for the entire area as far as sports is concerned.
Sukhdeep Singh is one of the products of this academy. It is being run at Government Senior Secondary School, Chakar, under the guidance of school principal Balwant Singh, who is also the chairman of the academy. Till a few years back the crime rate in the village was very high. Like any other village in Punjab, kabaddi was the only game that caught the fancy of villagers. But then the Sidhu brothers opened a football academy in the village. Impressed by their initiative, SP Davinder Singh Ghuman convinced them to open a boxing academy, which proved to be a boon for the villagers.
Chief Coach of Boxing at NIS, Patiala, TL Gupta and coach Harpreet Singh Sidhu have made repeated visits to the village to inspire youngsters to take up boxing explaining the academic part as well as the practical skills.
Now, almost 200 players, including a large number of girls, are training at the academy and many of them have already won laurels at the national and international levels. The Sidhu brothers have not only provided for sports infrastructure in this village but have also helped the players to undergo training abroad.