Sports
Second coming
Archer Trisha Deb has beaten many odds to find a place in the Indian compound archery squad
Gagan K. Teja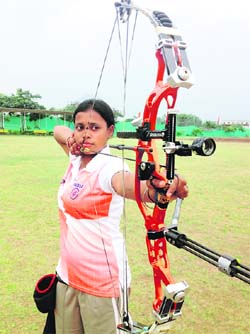 Trisha Deb recently won the bronze medal in the World Cup Series this year. Photo: Rajesh Sachar
From becoming a sub-junior national champion twice in a row a few years back to almost being sidelined, Kolkata archer Trisha Deb has seen many ups and downs in her career. However, nothing could stop her from chasing her dream of playing for India. With a strong will to fight against all odds with the help of her coach Jiwanjot Singh Teja, Trisha rose like a phoenix to become a permanent member of the Indian compound archery squad. She recently won the bronze medal in the World Cup Series this year. Till date, she continues to be the top ranked in her event.
An only child, 21-year-old Trisha, belongs to a lower middle class family. While her father Pralay Deb holds a private job, her mother Supra Deb used to take tuitions to chip in the family budget. Since her mother was busy in tuitions, she would drop Trisha at her maternal uncle's house so that she could be taken care of. Just near her uncle's house was the Bada Nagar archery club where India's star archer Dola Banerjee would undergo training. Trisha enjoyed watching her. So her mother made her join the club.That's how her journey in sports began in 2000.
Within four years, Trisha went on to give spectacular performances and became a sub-junior national champion in 2004 and 2005 in recurve event. She then won a berth in the senior category at a very young age and bagged a bronze medal in 2005 in the senior national championship. However, she could not really sustain her form. She was out of the spotlight for a few years and had lost all hopes of a comeback. Her fellow players from Punjab encouraged her to come to Punjabi University, Patiala, and take another shot at success.
She came to the university two years back and started training under coach Jiwanjot Singh, who realised that since she had a short height, she was not suited to recurve event and shifted her to the compound event. Within a year, the experiment started bearing fruit. Trisha not only went to become an individual compound round champion in the All-India Inter-University Archery Championship but also succeeded in carving a place in the Indian team. Her winning a bronze medal in her maiden World Cup tournament and becoming the highest-scoring Indian compound women archer in the tournament was the icing on the cake. Now, she is all set to represent India in the World Championship in September, followed by the Asian Championship in October.
Trisha says she has struggled a lot to attain this place and is working really hard to make the most of it. "I had almost lost hope when I came to Punjabi University but my coach and director sports Dr Rajkumar Sharma reposed faith in me and helped me in every way. I was provided the best of equipment and the university bore all my expenses - right from providing free education and accommodation under the sports wing. My fellow archers from the same university — 2010 Commonwealth Games bronze medallist Gagandeep Kaur and Parveena — also played a key role in helping me to regain my lost confidence and I am glad that I am finally getting an opportunity to live my dream," she adds beamingly.