Sports
In the select club
Amit Kumar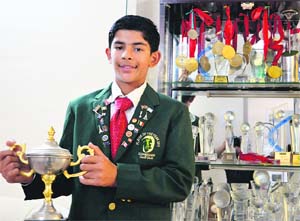 12-year-old Aadil Bedi recently represented India at the World Junior Masters
The trophies and medals hanging in the cabinet tell you what to expect. A plaque with stylised letters 'Golfer's Paradise' greets you. Meet Aadil Bedi, a professional golfer in the making. Just 12-years' old, he represented India at the World Junior Masters recently.
Q: How did you start playing golf?
A: My dad initiated me into the game. He started taking me along to the golf course and I used to watch him. Sometimes, I would walk all the 18 holes with him. I was just five then. He told me to first have strong muscles and then think of hitting the ball hard. I took it as a challenge.
Q: At five, did you find it tough?
A: The golf clubs of my size were not even available. My first putter and seven-iron were ordered from abroad and I started playing full-18 holes with just one club and a putter.
Q: Who is your role model?
A: I like Jeev Mikha Singh for the way he plays his game and is concentration personified.
Q: How did World Junior Matsers 2013 happen?
A: I started playing golf professionally in 2007 and I topped the Indian Golf Union (IGU) merit list last year. Based on my performance in the European Championship in Scotland in 2012 and my current showing in the IGU matches, I was selected to play in the World Junior Masters. The event was in Las Vegas last month.
Q: How was the competition as well as the learning from the event?
A: At Vegas, it was an all-stones course. At one time I thought why break my club for just one shot. I finished sixth with scores of 77, 73, & 73. I also took part in the 14th World Cup Championship which was held in Pinehurst, USA. With scores of 74, 74, and 70 (2 under par), I finished 21st. A total of 159 players from 49 countries took part in it. It was great for my learning curve.
Q: How do you manage your studies along with various competitions?
A: Whenever I am away, my mom e-mails me the assignments and I try and finish them off. At home, I concentrate on my studies. My mom makes me work hard on my assignments.
Q: What kind of training you undergo daily?
A: It is a five-day a week schedule, which I follow. I have recently got some special equipment and my coach Jesse Grewal makes me work hard on my game. My physiological coach Ms Irina Singh takes care of my putting and chipping. Besides I go to the gym regularly to build strength.
Q: Any tournaments in the offing?
A: In October I will participate in the IGU tournament to be held at Kapurthala.
Q: Is there any other game you like to play?
A: I play football, cricket and basketball in school. I represent my school teams.