travel
The lure of the Alps
Tyrol in Austria is a picture-postcard region with lovely valleys, snow-covered mountains, small villages and verdant pastures covered with wildflowers. It has a rich cultural history and colourful folklore and customs
Kalpana Sunder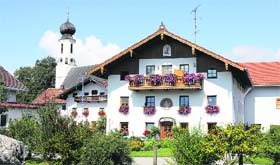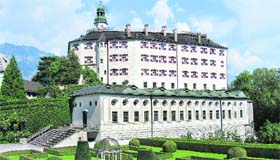 A typical chalet in Tyrol with sloping wooden roofs and window boxes with flowers; Schloss Ambrass castle or Ambras castle is a 16th century Renaissance castle and palace located in the hills above Innsbruck ; and (below) the brass band in St Anton
It's a boisterous show — where the sheer energy of the performers enthrals the audience seated at long tables with steins of beer in front of them. A unique orchestra with tuned cow bells, a wooden Xylophone and instruments of the Alpine region like the folk harp, zither, as well as the resonating sound of the iconic Alpenhorn- all sounds that you expect to hear echoing across valleys. It's fascinating to see the yodellers. Yodelling started off as a means of communication between famers and their animals as well as between family members on opposite sides of a mountain. A special attraction of the evening is the zesty woodchoppers dance with mobile workbenches. This is in St Anton, in the Tyrol region of Austria — a picture postcard region with narrow valleys, snow-covered mountains, small villages and verdant pastures blanketed with wildflowers, inhabited in ancient times by the Celtic people. Today the region is divided between Austria and Italy. Surrounded by the mountains, Austrian Tyrol had remained isolated from the rest of Austria and developed a strong sense of national identity. It has a rich cultural history and cuisine as well as colourful folklore and customs.
To get a glimpse into the region's traditions and architecture, the Tyrolean Museum of Folk Art in the capital, Innsbruck, housed in an ancient Franciscan monastery is the best place to start. Tyrol is famous for its varied arts and crafts from glass blowing to wood carving. The museum is a crash course in Tyrolean life. There are beautiful butter churns, handmade plates and painted cooking utensils from the 1700s. The show stoppers are the colourful dresses of the region as well as those worn on religious ceremonies and on special festival days. The museum showcases local life from birth to death starting with painted baby cradles and ending with intricate grave markers. The devil is in the details: ceramic room heaters that are embossed with details of flowers and animals, wooden, handpainted ancient sleighs, and decorative cabinets painted with scenes from history. There are Christmas cribs with nativity figurines carved by Tyrolean tradition wood carvers. Walking into the Stubens- authentic wood panelled log cabins with low doorways from Gothic, Renaissance and Baroque periods (that have been brought from farms in the region) is really time- travel. These cosy rooms have simple wooden benches, ceramic room heaters, weaving looms and fireplaces.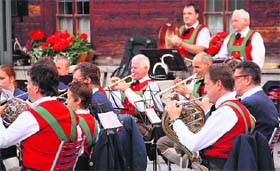 Drive around the region one can see typical Tyrolean chalets made of pine wood, weathered to a rich deep brown with sloping roofs and the balconies festooned with flower boxes bursting with colour. Roadside crosses, small churches with onion domes and paintings and murals reflecting religious themes and family history adorning the sides of many buildings in picturesque villages like Sistrans, are tangible signs of the strong Catholic influence.
An integral part of Tyrolean life are the mountain huts ( derived from the German hutte meaning cottage) in the high mountains which are like rustic inns providing basic meals, refreshments and beds. There are more accessible ones, and easily reached in a morning's walk, built by local families as summer houses where they can stay and care for their cows and goats in their summer pastures. These just have some tables and chairs on a terrace with home-cooked food being served. Typical Tyrolean specialties influenced by the cuisine of both Italy and Germany, are wiener schnitzel ( bread crumb fried veal cutlets), local version of the pasta with fried onions and cheese called kässpätzle, ravioli with spinach called schlutzkrapfen. Desserts include shredded pancake desert called kaiserscharmn . A must-try is the local beverage called almdudler — a kind of lemonade with Alpine herbs as well as schnapps made from fruits and berries.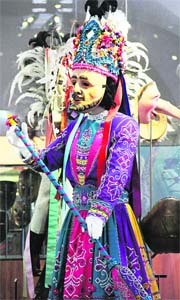 Tyrolean life seems to be bucolic bliss with entertainment in the form of music shows where locals with their families got together to provide entertainment. Music and dancing seem to be in the DNA of every Tyrolean. Every small town or village has its own brass band that performs outdoor to an audience, who keep warm with schnapps sold by local lasses out of a small cask they strap on their shoulders. National costume seems to be part of a lifestyle rather than restricted to special occasions and festivals. Fashionable Wilma Himmel of St Anton tourism has a wardrobe of traditional dirndl in vivid colours which she wears daily to work. It is an ensemble of frilly skirts, white puff-sleeved shirts and a lace-up bodice. For the men it's lederhosen — short pants, white socks, white shirt and a jaunty alpine-feathered hat.
Since most of Tyrol is a rural region, the livestock form part of people's lives — most Tyroleans have their cattle high up in the pastures through the short summer, where many of them have mountain huts. When the cattle return to the valley in September, it is a time of celebration, when the cows are decorated with wreaths and flowers and bells attached to heavy leather collars and paraded on the streets.
Though the region is a winter wonderland, spending the summer in Tyrol is as enjoyable. "They call it the lure of the mountains, but you will find a reason to come back," signs off Wilma.
Fact file
How to get there
Fly Lufthansa to Innsbruck and drive down to towns like St Anton and Langanfeld.
Where to stay
Historic Grand Hotel Europa in Innsbruck and the family rum Himmelhof in St Anton.
What to do
Trek, hike, see a Tyrolean show, ride funiculars and cable cars to mountain tops, and visit museums.
What to Eat
Enjoy Tyrolean specialties like Käsespätzle (macaroni and cheese), wiener schnitzel ( pork cutlets), desserts kaiserschmarrn (shredded pancakes) and apple strudel. Try local beverage almdudler, or hugo, an elderflower cocktail. Finish with schnapps, a liqueur made from fruits and berries.
What to Buy
Bells, local honey and wine, cuckoo clocks, ceramics.