Bumpy but blazing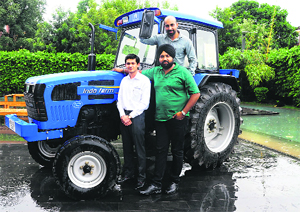 From the boundary of the green fields, he brought the tractor out and put it on the highway — pulling it all the way from Chandigarh to Kanyakumari! You might think it is insane or even weird, but for Jaibir Virk this was a way of satiating the desire to play an 'adrenaline pumping game' of a different kind.




Track trail: (clockwise from left): Anshul Khadwalia, Amit Chaudhary and Jaibir Singh Virk

Eye on the stars
Dhriti Saharan dreamt of being an actor right in her childhood. She did become one. Glamour attracted her to the vocation that she found to be non-glamorous on ground. She is happy with three Punjabi films and one in Telugu, as also the opportunity to work with Partho Ghosh.
She means business
Reshma Nagpal is the founder and CEO of e-bee, a product by Dynamic Vertical Solutions. While her business passion lies in adding value through two core areas, innovation and marketing, she is responsible for formulating and executing the business strategy for IP creation, which can then be translated back into country specific GTMs and Product USPs. With 18 years of rich analytical, industry specific and international research experience, Reshma employs a mix of economic and competitive strategy tools in driving existing and new initiatives for the business globally. Born and brought up in London, Reshma, who comes across as a rather enterprising businessperson, talks about her business, personal life and a lot more…
Knot worthy
A satire on arranged marriage steered Nandini Krishnan towards writing a book on the same topic. Hitched Modern Woman And Arranged Marriage is the result, a 272 pages non-fiction book published by Random House India.
At your service
Six senior students from Vivek High School participated in Round Square International Service Projects. They worked with international student community and have returned with a great sense of achievement.
Master Chef
Kashmiri Charisma
Looks like the monsoon season took a U-turn and beat down on us with a fierce vengeance! Condiments like 'heeng", Kashmiri red chillies, dry ginger (saunth) powdeer and "saunf" are the basic additions to their gravies. The use of cloves and yogurt too is common though the yogurt must not be sour.
star track
Lauren Gottlieb: Now I want to act!
Why should girls have all the shoes!
The toast of the week
Ali bags Fast And Furious 7!
Saif's natural look in Bullet Raja
On tips and toes
Of appointments and commitments
Delving into the dark
Ranbir doesn't mind
chatter box
Role call
Just friends!
Moving away
Bharti getting flirty
For the society
Adnan's show
Cyber-proof yourself