M A I N N E W S
Time not conducive to talks: Rajnath
Pradeep Sharma/TNS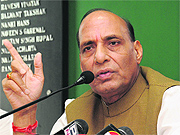 Chandigarh, September 23
The BJP today vehemently opposed the forthcoming talks between Prime Ministers of India and Pakistan.
Manmohan Singh and Nawaz Sharif would be meeting on the sidelines of the UN General Assembly session in New York later this month.
"What is the hurry for Indo-Pak talks when there is no conducive environment to dialogue? Pakistan has failed to act against those involved in terror activities in India," said BJP president Rajnath on Monday.
The BJP president pointed out that the Prime Minister had categorically said after the Mumbai attacks that there would be no talks with Pakistan till it takes action against terror elements.
"The Prime Minister owes an explanation to nation on the need to have talks with Pakistan," said Rajnath.
Clarifying that war was not the only option to resolve issues between two neighbours, Rajnath asked the government to build diplomatic and international pressure on Pakistan.