Jatt don't ignore!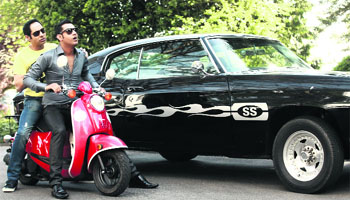 It's a regular affair now, so regular that almost every week a bunch of 'sometimes known' and 'sometimes unknown' faces gather at swanky place to announce the launch of a Punjabi film. Every Friday sees the multiplexes put up hoardings of a Punjabi film release. If only you were to travel back in time, you would have to scout hard for hit Punjabi films made almost ten years ago!
Best of luck

Sculptures that speak out
As part of their film screening programme, the Chandigarh Lalit Kala Akademi

showcased the film Contemporary Indian Sculpture, directed by Buddhadeb Dasgupta, at the Government Museum of Arts, Sector 10, on Sunday. The contents spoke volumes about the prolific works of several Indian sculptors.
Stills from the movie Contemporary Indian Sculpture

A liberating tune
It's a mother-daughter collaboration of a different kind! When young people today shun the old on account of 'generation gap', Jasleen Aulakh has come out with an album that she totally credits to her mother Polly Saghera, who has penned the lyrics!
Wearabout
Vampire inspired!
When fashion's step child Vidya Balan gets it wrong, it's forgivable. You don't expect her to follow Anna Wintour's fashion directives but when someone known as fashion's own prodigy fails at the cause, it's unpardonable. Especially when the celebrity in question is Kangana Ranaut, who was a head turner in her Audrey Hepburn look last year and partied with Tod to send signals that fashion is high on her radar. Seems like she took her character in Krrish 3 a tad too seriously! At Rakesh Roshan's birthday bash earlier this month, she looked straight-from the sets of Krrish 3. Here are the details…
Wedding made easy
He believes that marriages are made in heaven. "Mine surely was," he laughs looking at his wife. Puneet Gaur, a young entrepreneur from Chandigarh who is a co-partner with Delicious Dine Catering Solutions, wanted to make this 'heavenly arrangement' a bit easy for everyone. He came out with The Wedding Magazine, a magazine which is an answer to all wedding problems!
Burger and more
Underdoggs Sports Bar and Grill in Elante Mall has brought for food enthusiasts a Gourmet Burger festival. Through the fiesta, the sports bar is offering burgers using the freshest ingredients. The burgers available at the festival are quite different than usual burgers and special care has been taken to make them a gourmet delight. Says Rish Saini, owner, Underdoggs Sports Bar & Grill, "We have perfectly grilled or char grilled gourmet burgers for you. The succulent lamb and chicken burgers have a strong and smoky flavour."

Master Chef
Snack time
We are always looking for a variety when it comes to food, dishes that look good and taste good. These cheesy bites do promise to look good and the best part is that they are made from ingredients available in the kitchen shelf.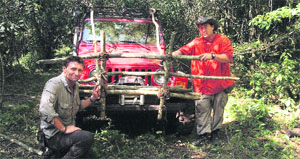 Adrenaline junkies
When a race rally addict meets a real-life bond, every step becomes an adventure. And every adventure a sheer example in survival! Hosts Bill Wu and Gary Humphrey welcome the extremities and wild side of nature to emerge victorious with the smug feeling of having conquered the wild. Or at least having challenged nature!
A still from Car vs Wild

star track
Floral & feminine
Floral-hued gowns dotted the red carpet at the Primetime Emmy awards on Sunday, mirroring the blue and pink palettes that graced runways this season. Deep blue tones stood out against the red carpet and actresses favoured feminine silhouettes at the Emmys, the first in Hollywood's six-month-long awards season.



All well in Hrithik-Sussanne's paradise


Pamela to celebrate Yash Chopra's birthday


Going places
chatter box
It's show time folks
With new serials on television, there's a lot of variety for the audiences to choose from. Here's a quick check.
Mahabharat
Having replaced Ek Hazaaron Mein Meri Behna Hai, this big-budgeted mythological show has taken a good start. A pacy storyline, great special effects; this story might have been repeated on this Indian screen but this one stands a good chance.