But naturally!
The demand for organic products in the Indian beauty market is increasing day by day
Manpriya Singh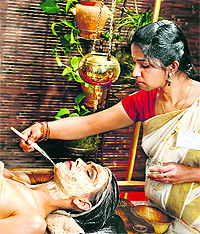 Since ancient times, women have religiously believed in the power of natural cosmetics like turmeric, aloe vera etc.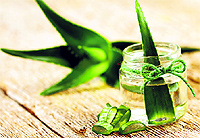 If the statistics are to be believed, we end up using close to 50 chemicals by the time we've stepped out of just the shower area. It is worrisome fact that needs urgent solutions. No wonder, in the chemical-driven life of today, Indian herbal and organic industry is on a roll and the natural cosmetic companies, all the more.
As per analysts, Transparency Market Research, global demand for organic cosmetic products is expected to reach $ 13.2 billion by 2018, growing at an annual rate of 9.6 per cent. If the statistics don't make immediate sense, the fact that each of us has at least one herbal product, definitely will. "The numbers are huge when we talk of natural cosmetics in the organised sector. Just think of the sheer number of products and companies in unorganised sector. As it is, the herbal products and cosmetics lend themselves easily to small-scale production and unorganised sector," says Dr Chiranjiv Chhabra, from Skin Alive Clinic, New Delhi. She adds, "These days patients are well versed with the new technology in skin care, which has advanced quite a lot. No matter what treatment they get done, at the end of the day, they are happy to be recommended a herbal product."
Granny's tips
Since ancient times, women have religiously believed in the power of kitchen cosmetics and everyday things like turmeric and gram flour ubtan, a face pack handed over by our grandmothers, among countless others. The tried and tested and trusted methods worked well for the former generations. Just when technology-driven life and turmeric became difficult to co-exist, the MNCs stepped forward to fill the gap and satisfy the need. The Indian beauty market is an attractive one since the women have been traditionally handed down natural beauty secrets. With the rampant urban lifestyle, the skin conscious women are left with no alternatives but to believe in the ever-growing green labels. "A large percentage of people are apprehensive of chemicals; that is yet another factor driving the demand," says Dr Indu Ballani, consultant dermatologist from BL Kapoor Memorial Hospital, Delhi.
Brand wagon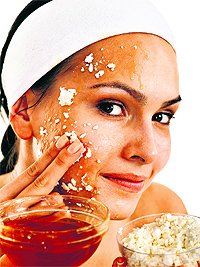 Biotique, Forest Essentials, Khadi, Shahnaz Hussain, Fabindia…there was never a dearth of natural brands already existing in the Indian market. However, when the alternate cosmetics became mainstream and the hitherto well-known brands became widely known, that's when the organic practices became an industry. The penchant for going all natural and organic has ensured that each year, many international players enter the market. L'Occitaine, Seacret, Body Shop, H2O… are increasingly making their presence felt in the salons and on the shelves.
As per a KPMG study, the organic segment is growing at a rate of 15 to 20 per cent a year, which is reportedly much faster than the overall cosmetics segment. It only points to a bright future for the natural beauty and skin care products. The latest to arrive the market is the Italian beauty brand Bottega Di Lungavita. It hopes to capture a share of the large pie. "Indian consumer has always been inclined towards natural and organic products and it is in keeping with that philosophy that we believe that our brand would be a great fit for the Indian market," says Tisha Khurana, beauty expert from Bottega Di Lungavita. This brand claims to use the purest spring water from San Pellegrino Lake, Italy, for its products. There is a lot more that makes the Indian markets a viable option for foreign and domestic players. Adds Tisha, "It is anticipated that the Indian cosmetic market will register a significant growth of around 17 per cent in the next two years. The Indian cosmetic market registered impressive sales worth Rs 264.1 billion in 2011 itself."
Attribute the increase in demand to growing consumer consciousness or the sheer numbers coming forward and spending on themselves. "No matter how much the technology advances, a bio-ingredient will always find favour to botox. The demand stems from the inherent trust in natural products," claims Harveen Kathuria, clinic manager, Cleopatra, a chain of salons which have recently started a range of organic treatments and facials. She adds, "People are now even switching to organic make-up. They have been able to see the harmful effects of chemicals and the positive results of natural products."
Doctor's version
Every natural product need not be organic, just as every herbal ingredient need not mean goodness of nature. A simple aloe vera if used the wrong way, can spell contact dermatitis. Just before you grab that avocado and aloe vera night cream with organic sea minerals, there is a need to read it in conjunction with the fine print. "Most of the herbal companies would put one single herb in their products and market it as herbal. Many herbal products can have chemicals too. An almond oil by a famous company had just 2 per cent of almond oil content," claims Dr Anup Dhir, senior cosmetic surgeon, Apollo Hospital, Delhi. "One has to check the label at the back and the list of ingredients. One must be careful of the dispensing medium, it is the base in which the product is made. That should be natural," adds Dr Chhabra.
Know your labels
Herbal, organic, 100 per cent natural, made with organic ingredients; the green jargon used by the cosmetics companies, doesn't sort much things out for the consumer. The words herbal, organic, botanical might sound similar, there's a well-defined meaning and distinctive feature of each of them. As if they weren't enough, the latest cosmetic terminology often includes bio-active ingredients, vegan and among others.
Natural and 100 per cent natural: Natural is the most claimed word used by the companies. By and all large the labeling of products as natural and 100 per cent natural is supposed to mean that the product does not contain artificial fragrances, chemical preservatives and colourings.
All organic, organic, made with organic ingredients: When any food, cosmetic or product is organic, it is supposed to mean that it is farmed, produced and manufactured in a way or with ingredients that do not use chemical pesticides and insecticides. In nut shell, 100 per cent organic means that the product contains only organically produced ingredients.
Herbal: The term herbal, especially in cosmetics has become ubiquitous. Unfortunately, products even with one herbal ingredient are being labelled as herbal cosmetics. Always read the ingredients including their per cent age content to truly understand the herbal value of the product. Even as many as 10 herbs and herbal ingredients could form only one per cent of the cream.