Behind the mask
Reviewed by Suresh Kohli
Meena Kumari: The Classic Biography
by Vinod Mehta,
HarperCollins, Pages 248. Rs 350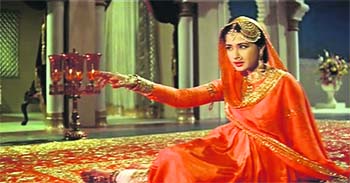 Meena Kumari in the iconic film Pakeezah
"I confess that I was never a goddess.
I am not a goddess
and I don't intend to be one. I confess that I am not
the ideal woman whom you often see on the screen.
No, I am just a woman who wants to live,
who wants to love, and who wants to be loved." – Meena Kumari
that's not what emerges from this "classic biography" that was written when the dust had just about begin to settle in that godforsaken, "most unkempt" Shia cemetery at Rehmata Baug, Mazagaon, Mumbai on that day of March 1972.
Originally published in 1972, when the author was still in his early twenties, it is a delightful read despite the fact that he never met Meena Kumari, nor had he much access to people who knew her closely, and those who, indeed, did revealed little before embarking on the challenging task of attempting the actor's biography. Vinod Mehta, like a clever conman, frequently seeks refuge in confessionals like: "I was uniquely unqualified for such an undertaking". Yet Mehta accomplishes the account of the subject's life, her journey from the womb to the grave, displaying the confidence of chronicler who has observed it all from close quarters. So good is the narrative. He seemingly begins to falter in the last two chapters: "The Actress" and "The Woman" — laboured, opinionated full of pontifications, superfluity that could have been pruned considerably for the "revised edition, with a fresh introduction."
"Time, finally, for an unambiguous verdict on Meena Kumari the artiste: She was easily the greatest, most accomplished film actress this country has produced in the last twenty years." A tall, debatable claim, and comparisons are odious. Mehta cites names of many of her contemporaries, rivals and dismissing most of them in terms of comparative histrionics, citing Nargis as a close second and not mentioning Nutan in the margins, the actor who, in comparison (though not the reviewer's favourite) could have given a run for every rupee in any of the roles the "great tragedienne" essays. Mehta sums up the woman, as separate from the actor, as: "I think it was essentially a sad one: of a lonely, dejected, unloved, suffering person who found great artistic satisfaction, but slight personal joy. Bereft of parental love and happy family life she rose from the very low only to discover the rightness of the cruel maxim that money cannot buy happiness." Often faulting in his assessments, at the cost of contradiction. Take, for instance: "Meena Kumari was neither a gullible human being nor a stupid human being`85and painfully aware that she was surrounded by sharks, pimps, profiteers who had not the slightest sympathy in her welfare." Surely, a subjective view. While on the one hand the author has sought authentication from varied sources, he fails to highlight the sense of insecurity she suffered and sought gratification in indulgences that a saner person overcomes. Overcome by obvious sympathy for his subject, Mehta also relies considerably on asides, rumours and gossip magazines. Had he trotted a little mole in Janki Kutir, Juhu corridor, or residents of Landmark, the tall structure on famous Carter Road, Bandra (where Meena Kumari spent several ailing years consuming liquids other than brandy. Filmworld the irrepressible, ruthless Baburao's Patel's magazine: "She remained in the mid-ocean just looking at the horizon, never crossing it. The only happiness she found was in the fatal kiss of death, when God took her into his bosom to grant her eternal peace and bliss."
Despite flaws, a must, must read.