ENTERTAINMENT
I am not in the rat race
Shoma A. Chatterji
Shahid Kapoor is more on the news for his extra-cinematic engagements than for his cinematic repertoire. But he begs to differ. Bubbling over with enthusiasm over his first cinematic interaction with Raj Kumar Santoshi's Phata Poster Nikla Hero, he holds forth on his upcoming films.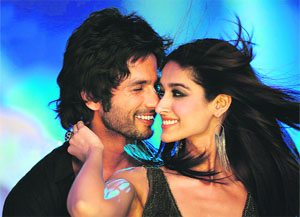 Shahid Kapoor and Ileana D'Cruz in Phata Poster Nikla Hero
How close or different are you from Vishwas Rao, the character you played in Phata Poster Nikla Hero?
The film is about a young man called Vishwas Rao, who once lived in a dream world fantasising that one day, his face would spread right across the city and the state on huge posters and billboards. It is a world of dreams he lives in. If you want to know how close or distant the character is from the flesh-and-blood Shahid Kapoor, I have to say that for any actor, taking on any film is like dreaming in your sleep and when it is morning and you wake up from that sleep, you realise that you were dreaming and this real world is different. Sometimes, some common elements may be there between the dream world and the real world. But more often, there aren't any.
Why do we hear more about your off-screen relationships than your on-screen work?
I do not agree because then you would not be asking me about my forthcoming films. You would be asking me about my off-screen relationships. I have time on my hands. I can afford to sit back and really enjoy the work I am doing. If I play my cards right and make the right choice of films, banners, directors and roles, I should not have any problems. So far as off-screen relationships go, I feel it is the media that spreads it around, not actors.
What attracted you to Raj Kumar Santoshi?
I have been a great fan of Raj Kumar Santoshi since I was a boy. I have not missed a single film of his. I am especially fond of his sense of humour as his films show. He did not give me a script. He only gave me a narration. He can show how exactly to act — facial expression and body language, style, everything. He has given me a completely different look in this film. It was great fun just listening to the script. I kept laughing all through.
Do you dream of portraying the characters your father Pankaj Kapoor has played over his long career?
This is a very difficult question to answer. The way my father has shaped his acting commitments, the manner in which he has essayed each character is not something I should be asked to compare with at this point in my career. I am not sure whether I will be able to justify myself in the kind of characters he has done. It needs some deep thinking. Directors and producers I work with have not yet conceived of putting me in the characters that are similar to the characters my father has played. There is a lot of time for that, if ever it comes. I wish I were half as focussed as he is.
What about Milan Talkies?
Ekta is producing Milan Talkies and it is being directed by Tigmanshu Dhulia. It is Tigmanshu's first collaboration with Balaji Motion Pictures. Though it is basically a love story, it falls back on a young man from Uttar Pradesh, who gets involved in the duplication racket of pirating feature films in a small-town cinema hall he is employed in. He shoots the film on his video-cam to create video duplicates for the underground market. The film explores how the two young people in love will be able to sustain their love story within this volatile environment.
You have been paired with Sonakshi Sinha for Prabhudeva's Rambo Rajkumar. What is the film all about?
This is my first film under the directorial baton of Prabhudeva. It is the first film pairing me with Sonakshi. It is Prabhudeva's original film not copied from any Southern hit. It is wonderful working with Sonakshi who has created quite a stir at the beginning of her career. She is a true-blooded, committed artiste and there are no two ways of looking at her. It is an action film packed with music and masala. I have a lot of action scenes. Some schedules were shot in Bhuj in Gujarat and some in Satara district in Maharashtra in Wai. Sonakshi taught me a lot about how to dress and what to wear when and so on.
What do you enjoy more — the working world or the extra-cinematic world?
I take it as it comes. I am not fiercely ambitious and I believe in walking along a path that is being created as I walk along. I will face life as and when conflicts occur or work comes along. My definition of success might not be to run to the finishing post in this rat-race of having more roles in more films.
An irrational act
The assassination of rationalist activist Dr Narendra Dabolkar reminisces of Amrit Manthan, a film that was a caustic critique of god men and prevailing conformist edifices
Rahul Sahgal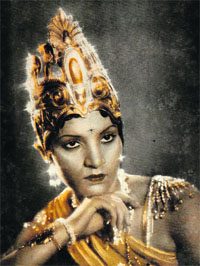 The shocking cold-blooded assassination of rationalist activist Dr Narendra Dabolkar draws a parallel with pre-Independence progressive Maharashtra and how far it has regressed since then. In 1934, two of Maharashtra's favourite sons got together to collaborate to address the specifically archaic issue of exploitation of religion in the garb of blind faith.
Influenced by 19th century reformist movement, Narayan Hari Apte, a bestselling novelist, was writing simple stories with soul-stirring themes. And film director V. Shantaram, co-founder of Prabhat Studios in Pune, with a slew of boxoffice hits like Ayodhya ka Raja and Sinhagad saw art as a harbinger of change. Blending artistic merit with social concerns was to become his hallmark.
This mutual engagement of minds resulted in prying open a contentious can of worms which promulgated the cult of necromancy and sorcery. The film Amrit Manthan (1934), written by Apte and directed by Shantaram was a caustic critique of god men and the, then, prevailing conformist edifices.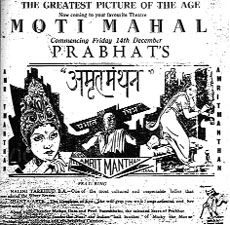 Diving headlong into the age-old ritual of sacrifice, human included, to appease the Gods, Amrit Manthan was a direct assault on this antiquated practice. The plot revolved around a cult that worships the Devi Maa Chandika and is led by the high priest Rajguru. Like Emperor Ashoka, when the enlightened King Krantivarma embraces ahimsa and bans this inhuman tradition, an enraged Rajguru hypnotises a disciple to assassinate the king. After the deed, the assassin is betrayed by Rajguru and during the coronation of the princess, is tortured and killed. As the plot unravels, the conspiracy is unveiled and the indoctrinated citizens awaken and rise in revolt, royalty and peasantry join hands to overthrow the evil priest.
Subtly cloaked as an analogy to urge freedom of mind and body for the people and to overthrow all constricting regimes, including the British, Amrit Manthan was the first silver jubilee of Indian film industry, running 25 weeks. Shantaram, having visited Germany the previous year used multiple techniques he observed there: deep shadows, Dutch angles and for the first time in Indian cinema, the telephoto lens to show screen filling extreme close-up of the hypnotic eyes of actor Chandra Mohan, who played the evil priest.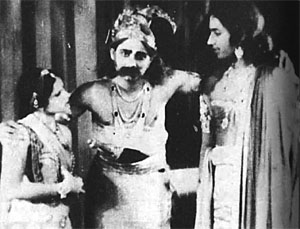 Stills from Amrit Manthan
Inspired by the age-old Puranic tale of Samudra Manthan, which appears in the Bhagvadapurana, the underlying metaphor was not lost on the audience: for change to occur, a disturbance or upheaval in the status quo is imperative. This can only come about from education and comprehension but before that stage is breached, from this churning will arise vicious elements demanding supreme personal sacrifice.
The 19th century egalitarian movement, which brought Maharashtra to the forefront, had the intellectually driven progressive thinkers rebel against the archaic religious beliefs of the Brahmanical orthodoxy, which brooked no arguments. Driven by the teachings of erstwhile saints like Dyaneshwar, Eknath and Tukaram, issues such as abolition of the caste system, sati and female infanticide, uplift and education of women, remarriage of widows and championing of education for all were brought to the fore.
Ironically, the ordinance making Maharashtra Eradication of Blind Faith Bill as a law came the day after this two-century-old battle claimed its latest victim recently. The gun that killed Dabholkar was fired near a park but it may as well have been at the altar of a bigoted belief system. In a world where personal liberty is threatened by fanatics and detrimental customs impede intellectual progress, would Apte and Shantaram have any place in 21st century India? Would they have faced death threats if Amrit Manthan was released today? Will we ever learn that religion was created to include and embrace, that the primary purpose of faith is to give us succour and strength; and anything that precludes the possibility of love for humanity is to be abhorred and abandoned, let alone practiced or preached.