This pulav is different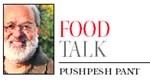 There is something about an anaar aka pomegranate that makes our heart leap like at sighting the rainbow mentioned in a famous poem. It's brilliant in colour and divine in taste. We can't have enough of it. To be honest, we are partial to the ruby red Kandahari stuff to the thin-skinned bedana variety paler in hue and milder in sweetness.
Imagine our delight when we encountered by chance the anardana pulav in a food promotion. When we talked to the chef in charge we were a bit disappointed to learn that it is not descended from a blue-blooded ancestor but is a recent creation to please vegetarian patrons whose palate is jaded with navaratan, jira and peas pulav. It is easy to cook, has subtle flavours and is beautiful to look at. What more can you ask for? We tell our guests that this is a "lost-and-reclaimed" recipe that an itinerant Kabuliwala gifted our mother
Anardana pulav
Ingredients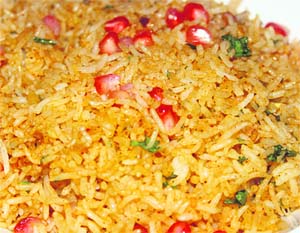 Long-grained rice 250 g
Bay leaf One
Cloves Two
Brown cardamom 1-2
Cinnamon One-inch stick
Cumin powder 1/2 tsp
Kashmiri mirch powder `BC tsp
Mace powder A pinch
Green cardamom powder A pinch
All-spice powder A pinch
Pomegranate seeds One cup
Vegetable stock 1-1/2 cup
Pomegranate juice 1/2 cup
Lemon juice 1tsp
Red bell pepper (cored, cut in tiny pieces and stir-fried for 20 Half seconds no more!)
50 ml butter +10 ml (optional)
Salt To taste
Method
Pick, wash and soak the rice then spread on a plate to dry.
Heat butter in a pan and put in the bay leaf along with whole spices and when these change colour add the rice stir lightly to coat the grains with butter then put in the powdered spices with salt and pour in the vegetable stalk.
Bring to boil, cover reduce the flame to medium and cook till rice absorbs all fluid. (Uncover to check). Sprinkle pomegranate juice all over and maybe a little more butter to moisten the pulav.
Sprinkle lemon juice and add the pomegranate seeds and mix with very gentle touch to distribute these evenly. Garnish with tiny bits of bell peppers and enjoy!