Bold and bare
the new colours of Bollywood
Sex, the forbidden three- letter word, has suddenly not just leapt out of the closet but is there right in your face. It is often graphic, both visually and verbally
Nonika Singh
"I don't know the question, but sex is definitely the answer." ? ó Woody Allen
Hard to know in which context the Hollywood actor said it but today a whole lot of Bollywood directors and producers certainly believe in sex lies the answer to cinema and the key to commercial success. So there it is in film after film, if not as a leitmotif then certainly as an add-on to spice things up. The three-letter forbidden word has suddenly not just leapt out of the closet but is there right in your face, often graphic both visually and verbally too. And it's not just a lone Dirty Picture that revelled in its new dirty image of uninhibited sexuality. Sex, be it between husband and wife, phone sex, in the life of a commercial sex worker or as part of adult live- in partners, has never been more talked about or shown so openly in Hindi cinema.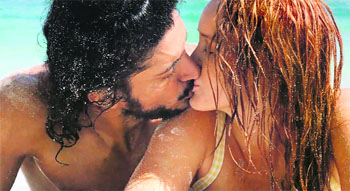 Farhan Akhtar and Australian beauty Rebecca Elizabeth Breeds in Bhaag Milkha Bhaag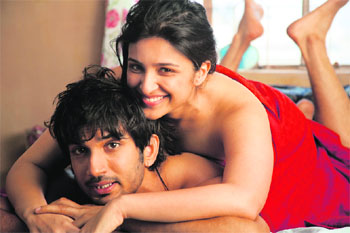 Sushant Singh and Parineeti Chopra in Shuddh Desi Romance
Liberating vs titillating
Having liberated itself from the shackles of good old notions of morality, Bollywood is turning many shades if not fifty shades of grey. Hot, hotter, hottest`85.. Hindi cinema's new avatar is sexy and all sexed-up, revelling in sins of flesh. One that till recently didn't even dare to show a liplock not only boasts of serial kissers but the kiss count record is out there to be broken by the next on-screen kisser. So off with the symbolic imagery, sex is more than obvious and it is not just passionate but carnal too. Besides, its not just vamps and villains who are being shown as sexual beings, but heroes and more pertinently heroines too seem to be enjoying the primal desire. Premarital sex between onscreen lovers is no longer taboo, rather close to becoming a way of life. Few makers are shying away from depicting love, yes even those set in 1950s like Lootera, finding its true colour all the way to bed.
Film director Abhinav Kashyap of Dabangg fame thinks in a way the increasing boldness is a welcome change. But the pendulum could swing both ways. On the plus side the new winds do mean that once the subjects usually brushed under the carpet are discussed openly there would be a platform where adult content is available for those interested in watching such stuff. Besides, those making issue- based films can tackle such subjects with the seriousness these deserve. Indeed, few will objectify both sex and women. The bold steps could and do translate into a license for some to cater to the perverts.
Not necessarily. In fact, young Chandan Roy Sanyal, who has played cameos in Kaminey and D-Day, wonders if today's cinema can be dubbed bold at all. For him, films made in 1950s and 1960s by makers like Guru Dutt, Bimal Roy, Mehboob Khan were far bolder and more radical as these dealt with path-breaking subjects. Sure more and more films are being peppered with sexy scenes but to what effect and impact. Are they saying something or making any kind of statement, adding layers to the characters? So even when a film like Shuddh Desi Romance deals with a live-in relationship, the moot question is what is the message really? In contrast, he feels movies such as Aavishkar and Ek Chaa dar Maili Si succeeded in showing the tension (sexual too) between man woman far more emphatically. To say that cinema is the business of entertainment and boxoffice collections and not pontification is missing the point really. Cinema can't ignore the social reality of the country in throes of sexual violence against women. Can talking about it curtail it? Kashyap thinks once repressed sexuality finds some kind of a vent it could help. And it's not happening Sanyal feels and believes Hindi movies of today are deafeningly silent on serious concerns related to sex.
Not surprising, Mahesh Bhatt whose production house has consistently redefined sexuality feels, "Hindi cinema is no more bolder than it was in the 1990s or before that. Whatever changes you see are there are just on the surface and quite superficial." Actually, he doesn't even rate his own films like Jism (and its sequel) who in a way set the sexuality ball rolling as bold. He qualifies, "These movies only looked at the man woman relationship a little more closely". But yes among movies of today he does draw a firm line between say a BA Pass, dealing with the predicament of a male sexual worker, and Grand Masti that is replete with sexual jokes. He quips, "While BA Pass is a serious film, the latter is crude and lewd." Sex as tool of titillation and to boost up boxoffice collections isnít a new phenomenon, only now its being unleashed with maximum effect to cater to a receptive audience.
Is bold always beautiful?
Judging by the success' of movies like Grand Masti, an adult sexual comedy, the answer ought to be an unequivocal yes. But one look at this year's real money spinners be it Aashiqui, Madras Caf`E9 or Chennai Express, would have you believe just the opposite. Quips talented actor and costume designer Dolly Ahluwalia Tewari, "Today the audience has become very intelligent. If sex gels with the storyline they will accept it else they will throw it out." Bhatt, however, opines that in India of many Indias, audience isn't a homogeneous mass and there will always be adults whose approach to sex will remain typically schoolboy, gigglish kind and this class of repressed sexual adults will ensure the success of films like Grand Masti. The ultimate showman Subhash Ghai in whose films songs like Choli Ke Peeche Kya Hai have flirted with the risqu`E9, too, refuses to pass any judgment and views films such as Grand Masti too as a valid expression of entertainment for a certain class of audience. He reflects, "We are living in times when youth looks at the world differently. What is vulgar for us is merely a freedom of expression for them." Kashyap opines that so it be, as long as filmmakers are making cinema within the legal framework, they can't be questioned for their liberty and expression."
Why be judgmental
Dolly feels we can't take a holier-than- thou stance on such subjects and must understand how the rest of India, especially youth, relates to these issues. She sounds a note of caution and the need to treat the so-called bold subjects with sensitivity and purpose.
After all there is a Lakshmanrekha between sleaze and daring, between sordid and audacious, that both actors and directors have to consider. So as an actor who played quite an unconventional swig-happy mother in Vicky Donor, her reaction to an off-beat role is never one of rejection but of deliberate perusal.
Yet acutely conscious of the rider, "You can't take a bedroom on to silver screen." Right now she is weighing the pros and cons of a role set in the world of flesh trade. Sanyal, who has a kissing scene in Prague, admits that he does debate within himself whether such scenes are integral to the storyline. Randeep Hooda, whose smouldering intensity has often set the big screen ablaze, is noncommittal and canít say whether the changing hues of cinema are a refreshing refection of society or a mere marketing gimmick.
But crucial or jutting out like a sore thumb, Hindi cinema is unlikely to bid adieu to its new romance with onscreen intimacy anytime soon. Right now it might be a flirtation that may or may not blossom into a meaningful dialogue.
But as in our lives, so in films sex is here to stay. Actually, soon erotica will find a new lease of life in 3 D as Rupesh Paul is busy with Kamasutra and Anubhav Sinha intends to make a graphic one on an erotic theme.