society
Love in the autumn years
Relationships which were an absolute taboo and unthinkable in the golden years are no more considered awkward and outlawed
Seerat Toor
Our cultures have gradually opened and paved way for acceptance of bonds that were earlier unthinkable. Relationships in mature years solicit greater role of emotional acknowledgement and satisfaction before acceptance. When one becomes a singleton by will or by fate, after a long innings, the meanings of love and relationship change. You no longer indulge in frivolous feelings and settle for the typical "be-my-Valentine" affair. It is important for you to address your appetite for a new bond and decide how much are you ready to shift your priorities and lifestyle. Remember, grown-up love can indeed be taxing both socially and mentally, not to leave the physical traumas behind, of course unless you donít care a damn.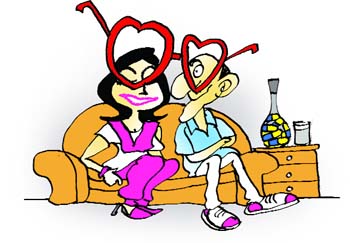 Veerji Sharma, co-head counsellor of ([email protected]), a successful marriage counselling firm Integra Counselling at New Delhi and Gurgaon, adds that society is surely opening up to such relationships. The media has played a decisive role in bringing the change in mindsets. He is of the view that: "One should listen to oneís heart and seek approval from inside. This is what ultimately matters. Seeking personal space and happiness when you are not cheating or walking over social boundaries, is completely okay. Also, one should be cautious of not falling prey to any false pretence as lonely hearts are the most vulnerable."
Hereís a pocket template which may assist you to decode your inner thoughts:
* Make your age your best asset. The 50 is the new normal in love.
* You want to walk out of the bleak cobwebs life created for you and want to catch new horizons.
z Being alone is not destiny but a choice you consciously made when situations were grim and you didnít have a choice.
* You still have the power to love whole-heartedly and appreciate the differences of opinion and ways.
* Your interests are not alien to society. Times have changed and have given rise to novel equations in love and their acceptance. The time-honoured pictures of marriage have been taken over by more dynamic and practical notions.
* Lastly, to put it realistically, "Donít try to walk across the river because the average depth is 4 feet", so donít overrate your assumptions. Wait for the unsaid approval of your partner to take the form of words and then give your imagination a go-ahead.
Once you have addressed your secret guide, itís time for some tips before tying the knot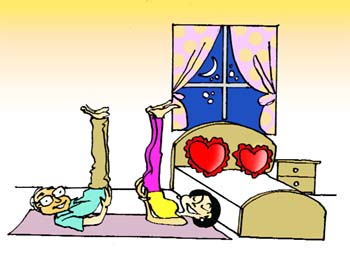 You and your partner
Unless you have done an elaborate pre-wedding planning, your remarriage and the new family will result in competing attitudes, pushing children, distasteful communications and can wind up in an eventual fiasco. This calls for spending ample time sharing each-otherís lives to know the differences and solutions to tackle them in advance. It is important to acknowledge the reasons which are leading you to enter into wedlock at this age. Mr. Singh (56) and Mrs. Singh (50) from Delhi, planned to remarry after they found real peace in each other, years after they both had lost their ex-spouses. In spite of having grown-up children, they have successfully completed five years of married life. Their success is due to mutual understanding and being good friends to each otherís children rather than step-parents.
Children, the major stakeholders
Children mostly end up taking a lot of emotional load in such marriages, unless they are properly counselled and given enough exposure to your would-be spouse before marriage. This usually shows up in their behavioural patterns and attitudes. Remember step-parenting is a very delicate balance between the truth and perceived notions. Make room for the relations which exist previously and encourage your spouse to spend some private time with his/her natural children daily. New family rules should not intrude upon existing households but slowly merge with them.
The immovable assets
It is often said that love knows no language or greed. It is the purest form of emotion. Contrarily, there have umpteen incidences wherein love took a backseat after a while, especially in cases where big money or assets are involved.
So, if your intentions are clear, there is mutual trust, and one should not hesitate to explicitly talk about sorting the assets involved before the marriage. This, if communicated properly to all the stakeholders, especially to the biological children is even more appropriate. "My assets belong to my children" is the rule which normally takes the lead. When none of the legal heirs are shortchanged, the scope of acceptance increases and there is less bickering.
Love is not a sin and is legal
As Shakespeare puts it: "The course of love never did run smooth", and you both are mature enough to understand and face the repercussions. It is a well-informed decision you took to be able to lead your lives more meaningfully.
You have to make people who matter, believe in your convictions and give reasons for putting yourself first, make them aware of the emptiness in your lives which your ex left you with.
So, take family, friends and relations into confidence and be open about your feelings and relationship. It will lend it more authenticity and make you at ease with the world. Put each other first in your formal introductions, praise and make your partner feel important.