Fashion Fiesta:

(l-r)

Neeta Lulla, Shane and Falguni
Honest take
He is suave and the moment he starts speaking in fluent Punjabi, you know that this is the man cut out for Punjabi cinema. All that he awaited was a good script. Now, he will soon be seen as Himmat Singh on the screen early next year.
Sharing notes

Let's not talk about anything other than the sounds that touch every heart, the rhythm that can make you fly like a feather. Let's talk about music. The unit of Punjabi film Heer & Hero releases the film's music with actor Aarya Babbar, Yograj, Gurpreet Ghuggi, singer Labh Janjua, Preet Bhullar, music director Gurmeet Singh and director Sagar Sharma sharing their notes. Hi-Five: (L-R) Preet Bhullar, YOgraj, Gurpreet Ghuggi, Aarya Babbar and Sagaar Sharma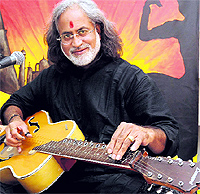 All the right strings
He is the Hindustani classical music instrumentalist who brought the gramophone home. As a master of classical music, he does not indulge in artistic snobbery or sneer over other genres or rue the overnight products of reality shows.



Classic shot: Pt Vishwa Mohan Bhatt. Photo: Pradeep Tewari
Let's celebrate
A step into one of Chandigarh's oldest and most important entertainment and shopping destinations—Piccadily Square, gives one a feel of festivity as the whole mall was decorated with white and red coloured balloons symbolising peace and celebration. The environment is so charged up that people from all walks of life came in droves to participate in the Mall's first anniversary celebration, after it made a makeover from a single screen cinema hall to a reverberating multiplex.
star track
Romantic take
Director Imtiaz Ali, who has been behind films like Socha Naa Tha, Jab We Met and Love Aaj Kal, says he should not be categorised as 'romantic' filmmaker because every movie comes with a love story.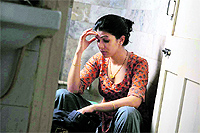 Hope for The Lunchbox
The Good Road's selection as India's official entry to the Oscars was a tough call with other entries being The Lunchbox and Bhaag Milkha Bhaag. Interestingly, all the three films were backed by the National Film Development Corporation of India (NFDC). Apart from The Good Road, NFDC co-produced The Lunchbox and Bhaag Milkha Bhaag.
A still from The Lunchbox
Objection, your honour!
The hugely hailed trailer of Hansal Mehta's hard-hitting, controversial film Shahid that has been released online, have been missing from national television. The Central Board of Certification (CBFC) felt that some dialogues in the trailer was 'sensitive' and unsuitable for public viewing.
Get Jap-ped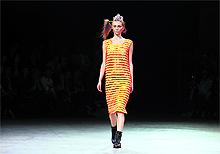 A model presents a creation by Japanese designer Yohji Yamamoto as part of his Spring/Summer 2014 women's ready-to-wear fashion show during Paris Fashion Week. --Reuters
Stars' comfort clothing
Siddharth loves his jackets and blue shoes. The young actor is often spotted with a pullover, seems like the Delhi lad has a collection of them. He also swears by his blue shoes which Sidharth finds both comfortable and trendy.
chatter box
Experimental mode
Actor Vishal Malhotra seems to be looking quite different these days. We hear that the actor is sporting a brand new look, which seems to be quite refreshing. The latest buzz has it that the actor has taken on his first negative character, as he will be seen doing an episodic in Arjun.