M A I N N E W S
Lalu gets 5-yr jail in fodder scam
* Fined Rs 25 lakh; ceases to be MP * Bihar ex-CM Jagannath Mishra jailed for 4 years
Ranchi, October 3
Rashtriya Janata Dal chief Lalu Prasad was on Thursday sentenced to five years imprisonment in a 17-year-old fodder scam case by a special CBI court. It immediately disqualifies him as MP and will keep him out of elections for 11 years, raising questions over the leadership of his party ahead of Lok Sabha polls next year.
Special CBI judge Pravas Kumar Singh pronounced the sentence of the two-time former Bihar Chief Minister, another former Chief Minister Jagannath Mishra and sitting JD(U) MP Jagdish Sharma and other convicts, who are currently lodged in the Birsa Munda Central Jail here, through video-conferencing.


Jagannath Mishra
Prasad (65), who was convicted on September 30, was also fined Rs 25 lakh. He, like other politicians, was convicted under the provisions of the Prevention of Corruption Act. He claimed through video-conferencing that he was innocent. Mishra (76), who has faded from politics, was sentenced to four years rigorous imprisonment and a fine of Rs 2 lakh.
Lok Sabha member from Jahanabad, Jagdish Sharma, also faces disqualification in the wake of a Supreme Court judgment that an MP or MLA would lose the seat immediately if convicted by a court for crimes with punishment of two years or more and under some other laws even without jail sentence. In case of failure to pay the fine, the convicts would undergo another six months simple imprisonment.
Six other politicians and four IAS officers, among the convicted, were also sentenced to prison terms for fraudulent withdrawal of Rs 37.7 crore from Chaibasa treasury when Prasad was heading the RJD government in undivided Bihar in the early 1990s.
Prasad becomes the second MP in three days after Rasheed Masood of Congress to face disqualification following conviction. — Agencies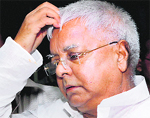 I'm innocent

Lalu Prasad on Thursday claimed he was falsely implicated. "Sir, I am innocent. I have been falsely framed in the case," a subdued Lalu pleaded said to the special CBI judge during a video conference from the Birsa Munda Central Jail

No change in leadership: RJD

The RJD alleged its chief Lalu Prasad had become a victim of political conspiracy by the BJP and the JD-U, but ruled out the possibility of a change in party leadership. Lalu is innocent. He has been punished because he was voicing the concerns of the poor and strengthening secularism, said party MP Ramkripal Yadav.

"The verdict which has been delivered today would certainly weaken RJD. The long arm of law will get people involved in corruption."

— Shabir Ali, JD(U) MP

"If you are indulging in corruption, law catches up with you and this is the message I would like to highlight."

Ravi Shankar Prasad, BJP

"We do not comment on court verdicts. Lalu's party has said it will go in for an appeal in the higher courts and that is it."

— Meem Afzal, Cong