The new party numbers
Dripping with opulence and promising unmatched service, ultra luxe night clubs are transforming the happening party scene and redefining high-end entertainment
Subodh Samuel
It defies all norms of a night club. It has no dance floor and yet there is adrenalin-pumping music and you can dance anywhere - even around tables and on the furniture. It gives you the option of buying booze by the bottle. A VIP table can cost a whooping Rs 4 lakh a night.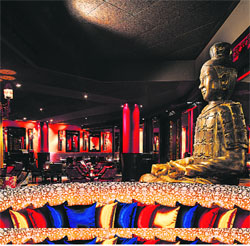 Buddha bar is an international night club at Delhi's Select City Walk Mall
But if you happen to be A-Listers, who have partied in this ultra luxe lounge in other cities like New York, London, Miami, Monte Carlo or Singapore — this kind of money is just part of one-night revellery.
Welcome to Pangaea, Delhi's latest night club at Hotel Ashok, brought to India by American entrepreneur Michael Van Cleef Ault and B. K. Modi-led Spice Group. It is the newest watering hole of Delhi's glitterati and the uber rich.
Pangaea's founder Ault says, "Pangaea is a Ferrari of the nightclub world." In some of his other Pangaea clubs, a table reservation can cost you anywhere from $2,000 to $15,000 (Rs 1.20 lakh to Rs 9 lakh).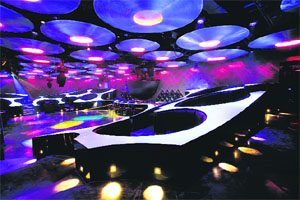 Blue Frog at Seven Style Mile in Mehrauli is the ultimate platform for live music
Impeccable service
Pangaea has classic art on its walls framed between velvet curtains. It has foreign hostesses who provide VIP concierge and bottle-services which means you can buy full bottle instead of lining up at the bar or waiting for a drink to arrive on your table. Every element is meticulously designed, from the surrealistic entry tunnel and exotic furnishings to the inspired music by DJs.
But Pangaea is not alone. Dripping with opulence and promising unmatched service, more such night clubs are transforming the party-scene in the capital and redefining high-end entertainment.
The Buddha Bar that has been re-branded in India as B-Bar (in deference to Lord Buddha), is another acclaimed global night club that arrived in the Capital last year. This after-hours club has been credited for creating a distinctive lounge and fusion sound that has spawned a passionate fan following the world over.
Spread across over 25,000 square feet at Delhi's Select City Walk Mall, B-Bar has the same Far-Eastern elegance as in its other branches in Monte Carlo, Paris, Kiev, London, Monaco, Prague, Budapest, and Washington DC.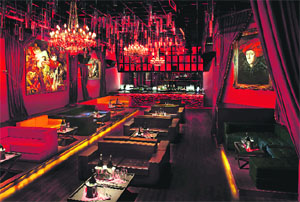 At Pangaea, Delhi's latest night club, a VIP table can cost Rs 4 lakh a night
Vintage spirits
Featuring a peaceful resting Samurai as a centrepiece (instead of a Buddha statue in its other outlets), it boasts of a glamorous bar located beneath the central atrium that houses a list of fine and rare vintage spirits and Japanese sakes. With four opulent private dining rooms, B-Bar offers guests their own island with some heart-pounding music.
Music mania
Music is central to most of these new-age lounges. Blue Frog at Seven Style Mile in Mehrauli offers European panache to Delhi's night life. Conceived by music lovers, it is the ultimate platform for live music and has a unique seating area that slopes onto the dance floor.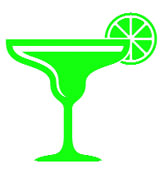 Musicians from India and around the world perform six nights a week at the club, which is known for its immaculate acoustics. Genres of music range from jazz, blues, funk, soul and Afro/Latin to electronic, club, rock and folk. Added to that are musical theatre performances as well as stand-up comedy, poetry and film nights.
The spaced-out bar (literally) with spaceships on the ceiling offers a mélange of cocktails, wines and straight shots and the modern European food with Asian influences is an epicurean's delight.
Blue Frog, which launched in Mumbai a couple of years ago, decided to come to Delhi in 2012 when night life began perking up in the capital even as an increasing number of young, upwardly mobile professionals started looking for exclusive places to unwind in the evening. With its own set of high net worth individuals, the party scene seems to be shifting from Mumbai to Delhi.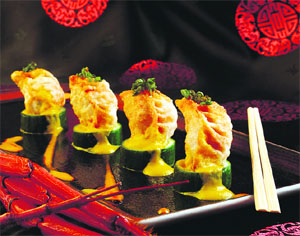 Most of these high-end clubs offer international cuisine
Members-only club
The Bangalore established Monkey Bar is making a foray into Delhi. Reports are the Sanctum Club from the Silicone Valley of India is making its way to the capital. Modelled on London's private members-only clubs, it is known as much for its culinary delicacies as for its immaculate service and luxurious interiors.
The exclusive club invites prominent bands and a wide range of national and international DJ's and has a variety of other entertainments. International stars are invited to give members a real bang for their bucks.
A number of theme-based lounges, too, are making their way to the capital. The Dirty Martini at the Olive Qutub is one of them. The décor is set in the prohibition era in America in the 1920s when cocktails were served in teacups and the entertainment was around live bands and floorshows….an era of molls and gangsters, of flappers and flamboyance.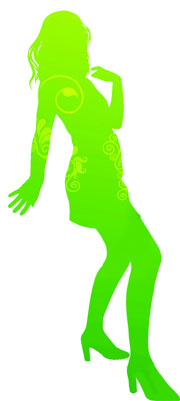 Top rated in the world, celebrity bartender Zdenek Kastanek, has whipped up his own brand of moonshine with a beverage menu that has an array of exciting martins and cocktails. The Dirty Martini's musical soul combines the chic character of the past with the funk of the present.
Ultimate clubbing
There's also plenty of foot-tapping music at the Ice Lounge Nightout at the Metropolitan Mall. It unveils the ultimate experience of clubbing with Delhi's first ever lounge with a water-based dance floor.
Though serious night life options opened up in Delhi with the launch of the members-only LAP in Hotel Samrat promoted by film star Arjun Rampal and restaurateur A D Singh, it was the Hauz Khas Village that heralded the boom a few years ago.
It is a watering hole for the Capital's well-heeled with lounges and gastropubs like La Bohème, Mia Bella, D'Destination Lounge & Bar and others that have become symbolic of the changes in Delhi's night life.
However, it is the new stand-alone ultra entertainment destinations like Pangaea, B-Bar and Blue Frog that seem to be setting the mood and heralding a boomtime for the $13-billion Indian restaurant and clubbing industry. The nightlife in Delhi is never going to be the same again.


TOP TEN NIGHTSPOTS OF THE WORLD
Apart from Pangaea and Buddha Bar over a hundred clubs make the grade as the top ultra entertainment destinations of the world. Here's looking at the top ten…
Cielo, New York: The state-of-the-art space in New York is the haunt of those ravers and techno junkies who crave the sounds of deep European dance music.
Ministry of Sound, London: A legendary night spot that is virtually a touristic attraction, the Ministry of Sound is devoted to the American house music and at the forefront of the global dance music scene.
Showcase, Paris: Located in an old naval hangar in the Champs Elysées, this is a dimly lit nightclub decorated in an Art Nouveau style and overlooking River Seine. A great venue for lovers of European music.
Watergate, Berlin: A hot spot for serious clubbers, it is a split-level nightlife venue overlooking River Spree. The LED lighting system runs the length of the club and the music is mind-blowing
Pacha, Ibiza: Among the best nightclubs in the world, Pacha in the Mediterranean Island of Ibiza in Spain, is known for its amazing house music. It also has five different rooms incorporating other musical styles.
Imperia Lounge, Moscow: Competing with the best in the West the Imperia lounge's two dance floors pulsate with throbbing music. The ceiling is a giant plasma screen projecting live, psychedelic video installation.
Womb, Tokyo: One of the largest night clubs in the world, Womb spread across four floors hosts guest artists from around the globe. The music usually centres on techno, drum, bass and electro.
Zouk, Singapore: Named after the French Creole word Party, Zouk's tagline is "One people, one tribe and one dance." With its fabulous dance floor, the club sets the night on fire with its intense and energetic music.
Eyebar, Hongkong: Located on the 30th floor of a skyscraper, the aqua blue themed Eyebar offers a panoramic view of Hong Kong's skyline. Listen to some great music relaxing at the lounge sofas and enjoying exotic in-house cocktails.
Chinese Laundry, Sydney: One of the hottest nightclubs of Sydney, the Chinese Laundry's party music is simply electrifying. From hip-hop to techno, drum and bass, it is a dream come true for those who like to dance.