ENTERTAINMENT
Simply Sharman
Versatile actor Sharman Joshi is all set to wow audiences once again with his latest film War Chhod Na Yaar
Seema Sachdeva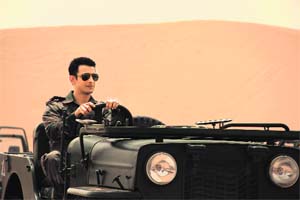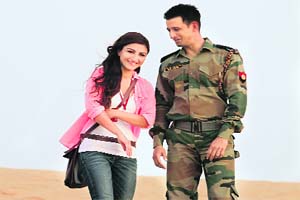 Sharman Joshi with Soha Ali Khan in War Chhod Na Yaar
Actor, theatre personality, TV presenter, voiceover artiste, a hands-on father, a loving husband, 34-year-old Sharman Joshi plays all his roles with equal ease. The actor, who is all set to regale the audiences with India's first war comedy, War Chhod Na Yaar, likes to do challenging roles. While signing a film, it is important that his role should be exciting. As the actor says, "I don't like to do the expected. I need to keep exploring the performer in me. Also, I have a responsibility towards my audience."
The ease with which Sharman acts speaks volumes about his grounding in theatre. Sharman did Gujarati theatre for eight years before he took the plunge into movies. Belonging to a family of actors and theatre veterans like Arvind Joshi and Sarita Joshi (Bhosle), Sharman always wanted to be an actor. This commerce graduate started acting early in college when he particpated in stage shows. The appreciation he got hooked him to the medium. After college, he joined professional Gujarati theatre. It was while performing at one of his shows in 1999 that Satyajit Dubey recommended his name to director Vinay Shukla, who offered him a role in Godmother. His role as Karzan in Godmother was much appreciated. After that there was no looking back. This was followed by Style, which did fairly well at the boxoffice.
Thereafter, offers kept coming and he had a run of fairly successful films. His roles in films like Life in a... Metro, Golmaal, Rang De Basanti won him more accolades. The game changer, however, was Vidhu Vinod Chopra's 3 Idiots. According to Sharman, the love and appreciation he got as Raju Rastogi in 3 Idiots was phenomenal. He also went on to do a key role in Vidhu Vinod Chopra's Ferrari Ki Sawari. The fairytale movie, which had the theme of cricket blended withfather-son relationship, had adults as well as kids going gaga over the film.
About his latest film War Chhod Na Yaar, Sharman says, "The film is a sensitive portrayal of the relationship between soldiers posted on the border areas of India and Pakistan in times of peace." The constant friendly banter that takes place between the warring sides has been dealt with sensitively. The genre, which looks at the lighter side of war, has so far not yet been dealt with in Indian cinema.
According to Sharman, debut director Faraz Haider, who had assisted Dibakar Banerjee in Oye Lucky, Lucky Oye!, has been quite careful in handling this sensitive subject. "By the time, Faraz finished narrating the script, I was sure that I wanted to do the film and the way Faraz shot the film was amazing."
He shares screen space in the film with co-actor Soha Ali Khan, with whom he'd worked before in Rang De Basanti. According to Sharman, there's a good comfort level between them. "Soha is an extremely witty girl and it was fun working with her again."
For his role as an Army officer in War Chhod Na Yaar, he says, he was required to be physically fit. Since he was already in good shape, there was not much he had to work at. "Besides, it was the uniform that did the magic. I felt a sense of pride when I wore the uniform."
The natural actor enjoys doing his roles with spontaneity but likes to rehearse well when the story demands. The artiste, who found his forte in drama and emotion initially, had to work hard to improve his comic timing. This improvement paid off in roles in Style, Golmaal, 3 Idiots, etc.
According to Sharman, while script and direction are important for a film to do well, marketing it today is equally important. The producer has a very important role. Marketing helps to attract initial crowds to cinema halls. Thereafter, a film does well on its merit, besides publicity by word of mouth.
Sharman, who likes to maintain a low profile, is a private person and does not let his hair down in public. This hands-on father of three children likes to spend time with his family. "I find a sense of peace and calm when I am with my family." Sharman, who has been married for 13 years to his childhood sweetheart, says that his wife, Prerana Chopra, daughter of Prem Chopra, has been a pillar of support, especially during testing times.
He is also experimenting in the supernatural genre. He plays an exorcist in 1920 London, a supernatural romantic drama from the stable of Vikram Bhatt and Reliance. He'll also be seen in Satish Kaushik's Gang of Ghosts and Indra Kumar and Ashok Thakeria's Super Nani, a family comedy, which will have Rekha in the role of nani. This boy next door is surely going places and exploring new realms.