ENTERTAINMENT
Not just another story
Anup Singh's second directorial venture Qissa has given Punjabi cinema a huge fillip and a new sheen
Saibal Chatterjee
The NETPAC Jury award for the best Asian entry at the 38th Toronto International Film Festival was won by Anup Singh's Qissa. It came as no surprise. The Punjabi-language film is 52-year-old Anup Singh's second feature but it is marked by the kind of mastery that is usually the preserve of seasoned veterans of the medium.
Qissa is indeed an exquisitely crafted piece of cinema. It tells the haunting and disturbing story of a Sikh man who is uprooted from his village at the time of Partition and is unable to live down the wound in a style that is both profoundly poetic and unsettlingly stark.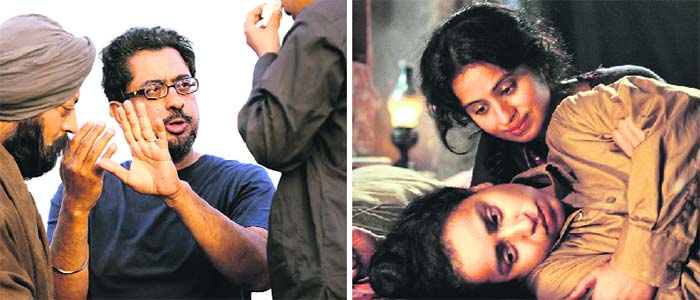 Anup Singh with Irrfan Khan on the sets of Qissa; and a still from the film
The film explores the darkness that descends on the human mind and soul when life and history inflict scars that refuse to go away. Yet, Qissa, an Indo-European co-production that was in gestation for over a decade, is a film that you cannot take your eyes of. It is cinema at its most captivating. Qissa stays with the audience long after it has run its course, its questions ringing in the ears, its truths implanting themselves in the heart. It deals with multiple skeins of reality and emotions, delivering a cinematic experience of rare depth.
"It is a story that is being told by somebody, so the line between the actual and the imaginary is blurred," explains Singh. "I want people to let the film stay inside them and provoke questions." That is precisely what Qissa does.
The film's raconteur is the bitter and vengeful protagonist himself, Umber Singh, played with customary distinction by Irrfan Khan. After being forced to flee his village when ethnic violence erupts, he assiduously rebuilds his life with his wife, Mehar (Tisca Chopra), and three daughters, but the wound on his psyche continues to fester for what feels like an eternity.
When Umber's wife bears a fourth child, he sows the seeds of another painful dislocation, this time of the mind, body and spirit of the youngest offspring and, by extension, of the entire family. He sinks deeper into the quicksand with each act of desperation as he increasingly loses control over his own destiny. The tale is fable-like, an intriguing parable about hate, delusion, gender identity and oppressive patriarchy that plays out in a landscape that reflects the mood of the times and the fate of the characters.
"This is not only my story," says Singh, "it is everybody's story. All of us carry a certain wound." The male protagonist of Qissa, caught in a spiral of violence and loathing, is a universal figure, who owing to his inability to exorcise the ghost of the past, is condemned to be trapped in a muddle of excruciating memories.
Anup Singh, a Film and Television Institute of India alumnus whose ancestors had roots in Rawalpindi, was born a decade and a half after Partition in Dar-Es-Salaam, Tanzania. But he grew up on his grandfather's tales of that cataclysmic event. "His consciousness of community stemmed from his not being able to go back. It made him bitter, but my sense of dislocation was not so violent," says Anup.
"Violence never visited me. I only felt it in the moral and metaphysical sense," says Anup. As a 12-year-old, Anup was cut away from the land of his birth, Tanzania, and had to relocate with his parents and two younger sisters to Bombay.
He discovered the unifying power of cinema during that fateful sea voyage, when on the third day a white screen was unfurled on the deck of the ship and a film was screened "in the middle of nowhere, between the boundless sky and the unfathomable ocean".
He says, "It was a moment of epiphany. I knew instantly that I could invoke the experience of cinema as part of the larger universe and never miss the land of my childhood."
Anup Singh's Facebook post after the TIFF win was an extension of that very sentiment. He wrote, "I am grateful and humbled that my film about a refugee on this earth, a film in a minority language like Punjabi, can find a home within the wondrous community that is world cinema today." The film's lead actor, Irrfan Khan, describes Qissa as a film that with a timeless quality. "It will resonate even 10 years later exactly the way it is resonating with us right now," he says. The film draws much of its strength from the wonderful performances by the three actresses in the cast — Tillotama Shome, Tisca Chopra and Rasika Dugal. In an environment fraught with distrust and disaffection, the women in Qissa provide the sliver of humanity that sums up Anup's worldview.
"The women have compassion and empathy. They are willing to listen," the writer-director says. Qissa is indeed about listening and feeling and introspecting. It touches raw nerves with courage and honesty — in a way that few Indian films have ever done.