food talk
Yummy dessert in a jiffy
Pushpesh Pant

TO be honest we owe this one to Baba Ramdev. Don't get us wrong, we haven't become addicted to the brahmkapali yogic exercises or fallen for his brand of politics; it's just that we find the products from Patanjali food factories great value for money. The quality is superb, be it the chyawanprash or amla candy and now to this list we can add the amla, gajar and bahar ka murabba. But this plug has a sting in the tale. The label assures us that no artificial colours, flavours and preservatives are added but the sugar in abundance is enough to knock a normal palate out. We tried rinsing, soaking in water for a while and pairing the stuff with dahi, nothing satisfied the inner self. Then dawned the idea of using the traditional preserves as sweeteners and garnishes. What could be better than the makhana to experiment with? It's this time of year with the pitripaksha (shraddha) and navaratra approaching that lotus seeds are in great demand. We recalled the kheer prepared with it that was staple once on all Kosher vrata-upvasa thaali. And the rest as they say is the recipe!
Well what we ended up with is not the kheer but a close cousin of kalakand. No grounds for complaint. Tastes great, is ready in a jiffy, is satvik — nourishing and so different!
Gajar-Makhana-Kalakand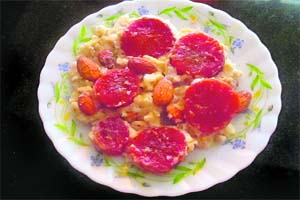 Ingredients
Makhana phool (Lotus seeds) 1 cup
Milk 1 cup
Gajar ka murabba (Rinsed under running water to remove excess syrup) 1 large piece
Almonds 2 tbsp
Ghee 1 tbsp
Method
Heat ghee in a pan and stir-fry makhana lightly. Transfer to a mixer bowl and grind in a short burst to a coarse powder. Heat milk in a pan, add makhana, along with the gajar ka murabba. Keep stirring till milk reduces to half. Scrape the flaky film from sides. When a rabarhi-like consistency is obtained, remove from stove and cool. Remove the carrot and cut in bite-sized round slices. Arrange the condensed milk on a platter and garnish with gajar murabba slices and almonds. Slurp!