societY
May we have more privacy please!
Everyone desires privacy and rightfully so. Supervision that parents call "checking in on kids" is termed an invasion of privacy by the latter, who feel hemmed in. Where should parents draw the line?
Aditi Garg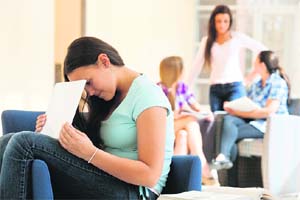 Parents are responsible for their kids and need to monitor their interests and security, which sometimes means checking in on them for their greater good. Teens may not always be able to take sensible decisions and without the involvement of their parents in decisions with far-reaching consequences, they could land themselves in trouble.
A study by Bullguard Internet Security Survey in 2011, found that 11per cent parents joined Facebook to "spy" on their wards and 55 per cent used it to "keep an eye" on them. Of the 2000 users from Great Britain covered in the study, 24 per cent thought this was the only way to find out what their kids were up to.
From a teen's point of view, privacy is something non-negotiable. Gauri Kahnna, a teenager studying at Modern School, DPS, feels snooping is simply unacceptable. "Being friends with your children on Facebook is perfectly okay but logging on to their account is simply creepy. It is a good idea to talk to your child and if you have been interacting with them regularly, you will be able to tell if something is amiss." The same thoughts are mirrored by Rishi Raj Gupta, a 16-year-old student at a leading school in Ajmer. He says, "Every teenager has stuff that he would not want to share with his parents and should the parents ever feel concerned, it would be preferable to be upfront about it, instead of going behind the back."
But simply saying that is not enough to relax parents who read and hear about unbelievable things happening to young children around them. Trusting the kids gets difficult with the teen hormones playing truant and all queries getting answered monosyllabically. In the techno-age, not being on a group chat platform could mean social banishment and endless chats into the night drive parents up the wall. Then, should they keep tabs on phone conversations, emails and everything else?
Experience at having brought up a daughter who is now 20, Namita Prasad doesn't feel the pangs of apprehension while bringing up another teenager. Her mantra, she says, is, "Be a friend to your growing up children and don't boss over them. Keep all channels of communication open and inculcate a sense of mutual trust. The need is for the child to respect you, not fear you." Supriya Thakur from Ludhiana doesn't agree with the non-interference policy. Her take is, "Kids during their teenage years get easily influenced by their peers and think the world of their opinion. One wrong move and they could end up ruining their life. Though I trust my daughter, I know how easy it is to get carried away and am not ashamed to admit that I have no qualms in going through her call details, email, WhatsApp and Facebook account using her passwords that she has shared with me."
Renowned relationship expert and family counsellor from South Delhi, Dr. Nisha Khanna has had experience with parents and teens embroiled in a tussle for privacy. She says, "I would advise that till 18 years of age, the mind of the child is not fully mature and it is alright if you want to see if they are getting involved in something that they should not. Strike a balance between keeping an eye on them and becoming a control freak." Till the time your teen gives you a reason to doubt his intentions; stay calm and check in occasionally. If caught, a teen will try to divert attention away from the problem using various tactics, like why did you invade his privacy. The need here is to tell them that the problem is not that you went through their stuff but that they were engaging in unacceptable behaviour. Be firm and remember that they need to follow the rules of the house till they are old enough to support themselves.
Deciding whether to snoop or not
Consider it your responsibility to go online and check on your child's activities, go through mobile bills and call up a few numbers if you have to, should you notice that he is:
Unusually quiet,

Being aggressive for no reason,

Being overtly secretive,

Not ready to go out and interact with friends,

Has new friends who don't seem right to you

Not very forthcoming when you ask them where they went or what they did.

When money or other precious things start disappearing and no one else is to be suspected, it could be a clue to something as serious as drug abuse.