US forces capture top Qaida leader in Tripoli raid
Washington, October 6
In daring raids, US commandos have captured a fugitive Al-Qaida leader from the streets of Libya and raided the seaside villa of an Al-Shabab militant in Somalia, signalling America's determination to pursue dreaded terrorists abroad.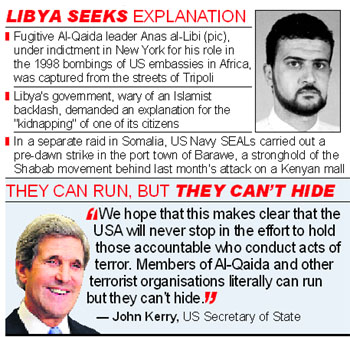 In a US special forces operation in the Libyan capital of Tripoli, Nazih Abdul-Hamed al-Ruqai, known by his alias Anas al-Libi, was nabbed yesterday. The FBI had offered $5 million for his capture and he is under indictment in New York for his role in the 1998 bombings of the US embassies in Africa.
Describing Libi, as a bigger prize catch, the officials confirmed he was alive and in US custody. "As the result of a US counter-terrorism operation, Abu Anas al-Libi is currently lawfully detained by the US military in a secure location outside of Libya," Little said.
In a separate raid in Somalia, US Navy SEALs carried out a pre-dawn strike against Al-Shabaab and Al-Qaida terrorists in Somalia. Confirming the covert operation, a senior US official said it was aimed towards capturing a high value Al-Shabab terrorist leader allegedly involved in the Westgate Mall attack in Kenya that killed nearly 70 people, including Indians.
Although the Shabab leader was believed to have been killed during the assault, the SEALs had to withdraw before they could confirm the kill, a senior US official was quoted as saying by the New York Times. After a fierce firefight, the Navy SEAL team aborted the mission to capture the terror suspect.
"I can confirm that yesterday, October 4, US military personnel were involved in a counter terrorism operation against a known al-Shabaab terrorist. We are not prepared to provide additional detail at this time," Pentagon Press Secretary George Little, said. A US official said no US personnel were injured or killed in the attack.
"It was not immediately known if the two operations were coordinated or even related. While Al-Shabab is affiliated to the Al-Qaida, it is not known that Al-Libi had any connection with that group or was linked to last month's deadly attack on Nairobi's Westgate Mall," CNN reported.
The twin raids, two years after a US Navy SEAL team killed Qaida founder Osama bin Laden in Pakistan, demonstrated American reach at a time when Islamist militants have been expanding their presence in Africa following the Western-backed overthrow of Muammar Gaddafi. — PTI