M A I N N E W S
Don't air grouses in public, Cong tells Haryana unit
Geetanjali Gayatri/TNS
Chandigarh, October 6
The Haryana Congress has been told not to wash its dirty linen in public anymore. With talks between warring factions, snubs and even notices delivering no results, Congress general secretary Shakeel Ahmed today invoked party loyalty as a reason for its leaders to refrain from going public with their grievances.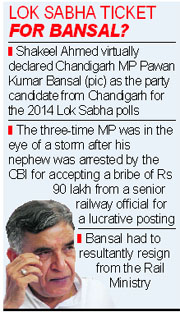 On a day when Congress leaders of all shades came together on a stage, Ahmed — who was in Chandigarh to launch the state unit's official website and hold a workshop on Food Security and Land Acquisition Bills- decided to use the opportunity to drive home the much-needed lesson of unity.

In a cautious attack on Hooda's detractors, Ahmed urged the leaders to thrash out their differences behind closed doors. "Going to the media and making your grievances public won't yield results. Anybody who goes public with his complaints is very weak and incapable of fighting his own battle. Also, airing grievances to quarters other than those in the party hierarchy is an insult to the party and against its interests," he said.

At a meeting where the "detractors' camp", headed by Union Minister Selja and Birender Singh, who arrived together at the venue, was

present in full force, Ahmed drew an analogy, saying: "The Congress party is a big family where members can have their own point of view. Having divergent views does not mean that you are opposed to each other or that the family is not together. There is nothing that cannot be worked out. Anybody with grievances has the right to approach the next rung of leadership in the party hierarchy. For those still dissatisfied, the doors of Congress president Sonia Gandhi and vice-president Rahul Gandhi are always open."

Ahmed urged the leaders to bury their differences and present a united face. Haryana Chief Minister Bhupinder Singh Hooda highlighted the finer points of the two Bills and appreciated the pro-common man initiative taken by the party. Selja and Birender, too, addressed the gathering. Other MPs present included Ram Prakash and Selja loyalist Ishwar Singh.

A number of MPs and MLAs, including Shruti Chowdhry, Ashok Tanwar and Naveen Jindal were conspicuous by their absence.