M A I N N E W S
Domestic violence complaints flood Helpline 181
Sanjeev Singh Bariana & Ravi Dhaliwal/TNS
Chandigarh, October 6
Distress calls received on Helpline 181 reveal a shocking state of affairs with a large number of women complaining against brutality at the hands of their family members.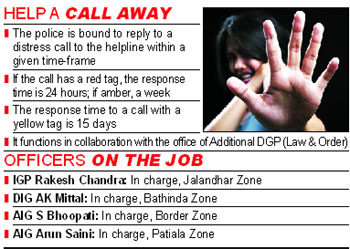 Over one-third of the total 3,161 complaints received since the launch of the helpline in August have been from women. A resident of Fatehgarh Sahib called up on September 30 to inform that her mother was being thrashed by her father. The call centre 'escalated' the complaint following which a police team reached the spot and arrested the man.
A woman from Amritsar called up to say she was regularly beaten up by her father-in-law. Another woman from Jalandhar said her in-laws were troubling her for dowry. A sizeable number of women complainants, reluctant to lodge a formal complaint, wanted the police to issue a warning to their oppressive kin, say sources. The helpline also received several calls to complain against "callous" police response or "police indifference".
Punjab Police Additional DGP Dinkar Gupta, Helpline 181 coordinator, said: "Though we are facing the problem of frivolous complaints, it will not be wrong to say that most of these are genuine and are looked into within the stipulated time frame." As Helpline 100 was not functional at several places, they were receiving emergency calls too, he said.
Senior officers complain that the helpline 181 is taking a toll on policing. They say personnel have to be taken off other duties to address the calls, many of which turn out to be "frivolous". The helpline, meant for women and children in distress, is being used by almost everybody to register grievances. The first call that the Pathankot police received when the helpline was set up last month was from a retired ex-serviceman who complained of "domestic violence".
Gurdaspur Senior Superintendent of Police (SSP) SK Kalia asked his men to immediately respond to the "distress" call. Once the policemen reached the ex-serviceman's house, they were shocked to learn that he had called them up only to test the efficacy of the 181 initiative.
The helpline works in collaboration with the office of the Additional DGP (Law and Order). The police is bound to reply to a distress call, whether frivolous or not, within a given time frame. If the call has a red tag, the police needs to respond within 24 hours, if amber, within a week. Then there are yellow tag calls which need to be taken up within 15 days.
"The government expects us to act on a distress call with alacrity, but we have not been paid fuel bills for the past two months," lamented a police official.