Changing face of farming
Field of promise and potential


Rural management


Market experts have termed rural India as the future of Indian business and the corporate world's efforts to reach this huge but fragmented market have opened the gates of various opportunities for urban as well as rural masses.
Beyond the sickle and plough
With courses in medicine, computer, management, engineering, finance and accounting and law remaining the top choices for students over the past several years, not many youngsters opted for a career in fields related to the agriculture sector. However, with jobs becoming scarce in the popular fields, more and more people are gravitating towards agriculture as a career option, making it modernised and a metaphor of change and innovation.
Career Hotline
FPM programmes
Q. I've done MCom and have worked for two years. I now wish to pursue research in the field of management from a prestigious institution. Could you please tell me where such programmes are offered? — Sumeer Panchal
I am stuck in an uninteresting course
Q. Since I managed to get a decent percentage in the Boards and had won medals in dance, I got admission to BA (Hon) Economics in PU. However, despite hardwork my performance in college is pathetic. I barely manage to scrape through most of the papers. I find the course very dry and uninteresting. Subjects like linear algebra, statistical methods and economic history seem academic and pointless (Eco in school was so scoring and interesting). I am very depressed. What should I do at this stage? — Jaspreet
Is maths necessary for environmental science course?
Q. I am a student of Class X. I am very keen to pursue a career in the field of environment. Can you please tell me what subjects I should opt for in Class XI and XII to pursue this subject in college? Is maths necessary for this field? — Ankita Johri
cat: common errors to avoid
Don't trip in CAT chase
The countdown for this year's CAT examination has begun and lakhs of candidates are making last minute preparation for this coveted test. A good score in CAT opens the doors to the top league B-schools. This test, however, is different from most of the examinations that a majority of the test takers have written in school/college and many times some last-minute goof ups derail the students' dreams of getting into a good B-school. Here are some of the major errors that CAT-takers can make and how these can be avoided:
CareerCature
SANDEEP JOSHI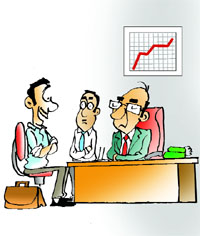 Sir, I don't know much about goals, scores and targets, I never took interest in sports in college
scholarship roundup
Research opportunity in France
The Department of Science and Technology (DST) and AgenceNationale de la Recherche (ANR), France, have made a joint call for research proposals for collaborative research. In India, on behalf of the Department of Science & Technology, Indo-French Centre for Promotion of Advanced Research, IFCPAR (Indo-French Centre for the Promotion of RechercheAvancée, CEFIPRA) invites pre proposals from the Indian scientists / researchers under DST-ANRMoU.
campus calling: dav college, jalandhar
Renaissance of research
Over the past few years while many cried hoarse about education being sans creativity. But there have been institutions that have slowly and silently tread unfamiliar grounds. These have addressed subtle concerns and shaped a new generation, besides setting a cycle of enrolment, education and employability. In a new series J&C takes a look at some such institutions in the region that have made a difference.
field in focus: computer hardware
Master the hardware of success
This is projected to be one of the fastest growing occupations
A career in IT, no doubt is among the most high-paying jobs at present and is full of opportunities. The pool of talented computer engineers working in IT companies of the USA and Canada shows that IT can take a person to higher levels. Numerous IT companies from India employ huge number of computer professionals in their Indian and overseas offices.
course cruising
Design courses
The National Institute of Fashion Technology (NIFT) is inviting applications for four-year bachelor programmes in leather, accessory, textile and knitwear design.
Culture of freedom catches on
Each one of us can recollect getting conscious while writing answers in an exam on sensing that a teacher was watching us from behind. Even the right answers seemed to be wrong because one would get scared. What if I am writing a wrong answer and the teacher gets to know it?
Indians most committed
Survey shows highest level of employee commitment in India
India leads the bandwagon in employee commitment globally, with 50 per cent of workforce being totally committed to their job, according to a recent survey. "Highest levels of employee commitment is in India (50 per cent totally committed), Indonesia (43 per cent) and Malaysia (34 per cent)," according to Workforce Index survey 'Employee Engagement and Retention' by Kelly Services.
Happiness @ work
Gems of ancient wisdom
Trust your lieutenants
Once a talented and dedicated junior has been spotted, it is vital that the boss gives him space to function. With the junior's blossoming, the organisation and the product will grow.
work station
Not an 'open and shut' case
The modern office, which took shape in the 20th Century, was designed to be a place of openness, teamwork and cross-creativity. The idea behind moving from separate offices to one or two wide open spaces was to get everyone working together, with the least amount of hierarchy and the maximum amount of transparency.