Forearmed is forewarned
Mriganka Dadwal
Not many women are willing to take the first step towards personal safety. They neither know basic self defence nor have an SOS plan in place. Sexual assaults are at an all-time rise, yet rarely are women either taught or counselled about combating an attacker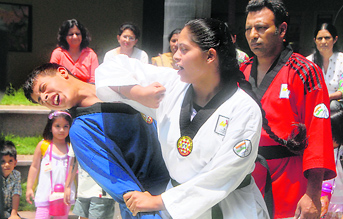 A self-defence workshop, "Fight Back" was organised for teachers by British School, Chandigarh. Tribune photo: Vinay Malik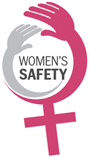 SLAP stands for Street-Level Awareness Programme. It was conceived as a reaction to the Damini rape case. Like many others, one too participated in the candle-light march at Jantar Mantar on the fateful night of December 29, 2012. However, I realised that the anger needed a more profound outlet for it to become productive. Since then some of India's best mixed martial arts and Krav Maga experts have joined hands with us to run SLAP workshops.
SLAP aims to make women ready for SOS situations by empowering them physically as well as psychologically.
We also do street plays to sensitise society. We have involved children from orphanages in our activities to boost their confidence so they can raise their voice in case of sexual abuse. Currently, we run open workshops, counselling sessions and free fortnightly seminars. Sadly, people are willing to shell Rs 500 on a movie and pop-corn but when it comes to self defence, they feel spending Rs 100 is a useless expense. These same people make a hue-and-cry about changing the system. If each individual changed, the system will automatically become better.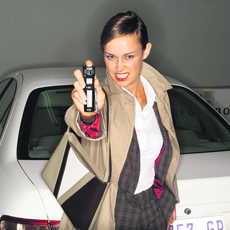 Carrying pepper spray helps you to ward off an attack

Despite protests, demonstrations and candle-light marches, assaulters are on the prowl. Is amending the law enough? We already have enough laws to protect a woman's dignity. It may be a law-and- order issue but at a basic level this a personal safety issue. Our reaction never goes beyond armchair activism or, nowadays, Facebook activism.
Not many women are willing to take the first step towards personal safety. They neither know basic self defence nor carry an SOS plan. Parents rarely talk to their daughters about how to avoid/tackle such an emergency. Sexual assaults are at an all-time rise, yet how many women are taught or counselled about combating an attacker?
When in our workshops we encourage women to talk about any assault or eve-teasing incident they have faced, we often get a response that she "froze" for a while. The "freeze" by itself is an indicator that the woman was not alert to her surroundings and the assault took her by surprise. Since her reflexes were not conditioned to respond to an attack, she "froze". In the SLAP workshops, women are trained physically and psychologically to outsmart an assaulter. When a case is reported, the participation of women goes up. As the heat dies down, people tend to forget that the threat is very much present on the very street of our cities, waiting to raise its ugly head when we expect it the least. If you can anticipate them, you can beat them. Personal safety is not an option, it is every individual's responsibility.
A workshop of Street-Level Awareness Programme in progress in Delhi


A trainer demonstrates self-defence techniques to school girls as a part of the Women Safety Initiative in Mumbai. Photo: PTI

An action plan that can equip you
Be alert on the street. A woman whose body language says she is lost or oblivious to her surrounding is a more likely target of assault.

Always have your near and dear ones' numbers on your speed dial and inform them that they are your emergency rescue point.

Be assertive in your body language.

You can carry pepper spray or chilli powder but these will work for you only if you have conditioned yourself to street combat.

In case you are being followed at night, walk into the nearest ATM. ATMs have CCTV cameras and you can threaten an assaulter that his crime will be captured.

If you can't avoid getting alone into a cab late at night, take down the license number, make a call and recite this along with your co-ordinates loudly into your phone to a friend/family member. This will deter the driver from taking advantage of your situation.

Bridge of nose, groin, ribs and eyes are soft spots of every individual — no matter how strong or weak he is. In case of a life-or-death situation, aim for these spots, hit him and run away.