M A I N N E W S
Nobody untouchable in politics: Pawar at Gadkari's function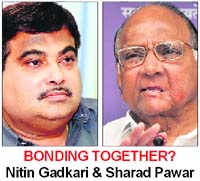 Nagpur, October 13
Attending a function where former BJP president Nitin Gadkari rolled out business plan of his Purti Group, NCP president and Union Agriculture Minister Sharad Pawar said "there are no untouchables in politics".
"There should be no untouchables in politics as well as social work," Pawar said in his address at Gadkari's function held here last night.
It is recalled that Purti Group came under the scanner last year over reports of investment by shell companies, which eventually led to Gadkari stepping down as BJP president.
On the occasion, Gadkari declared a tie-up with Essar Group for launching 100 petrol pumps across the country which would sell ethanol blended fuel at a price lesser by Rs 2 than being sold by PSU oil companies. In his address, Pawar praised Gadkari for promoting smaller check-dam-like projects as against fund-guzzling huge dams. "…Take example of Gosikhurd project. It has taken almost 25 years for its benefits to reach the people. Smaller dams on the other hand start giving results in a year's time...Years have gone by but Vidarbha's irrigation woes remain unresolved," said Pawar.
Interestingly, the project, which commenced in 1983 in Bhandara district, has been mired in allegations of corruption and misappropriation of funds which led to massive escalation of costs. — PTI