LIFE+STYLE

CHANDIGARH

LUDHIANA

BATHINDA

JALANDHAR

AMRITSAR TRIBUNE

JALANDHAR TRIBUNE

BATHINDA TRIBUNE

JAMMU TRIBUNE

KASHMIR TRIBUNE

DELHI

DEHRADUN

DEHRADUN PLUS
Five injured as Pak shells forward posts in Jammu
* Three children among hurt * Two Pak Rangers killed
Jammu, October 17
Pakistan troops today opened heavy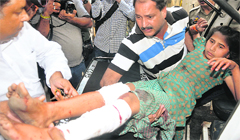 fire on at least five Indian forward posts and villages in RS Pura and Pargwal sectors along the 191.5-km-long international border, injuring at least five villagers, including a woman and three children.
A minor girl hurt in firing being shifted to a hospital in Jammu on Thursday. Tribune photo
Govt hikes wheat MSP by Rs 50; too less, say farmers
New Delhi, October 17
The government today increased the minimum support price (MSP) of wheat by Rs 50 per quintal to take it to Rs 1,400 per quintal claiming to "encourage farmers to cover more area under the crop in the ongoing season". Farmers, however, rejected the "dismal increase" over last year's support price of Rs 1,350 per quintal.
9 Ambala tehsildars booked in power of attorney racket
Ambala/Yamunanagar, Oct 17
Six years after the state Vigilance Bureau initiated an investigation into the multi-crore Thatipur General Power of Attorney scam, nine tehsildars, who remained posted at Ambala since 2005, have been booked by the bureau for their alleged role in the scam.
OTHER PAGES

HIMACHAL: Delhi-
Dharamsala airfare among highest in country


CHANDIGARH: CTU's loss is pvt operators' gain


LUDHIANA: Use money or return it, MC to


DELHI: Woman, child killed in fight over extramarital affair

OPINIONS: Back from the brink

SPORTS: Rohit's bat does the talking

WORLD: Pakistan PM vows to take bold decisions to combat terror


Lahore Log

The tribune guide to best colleges

Budget
2013-14

INDIA CHINA WAR 50 YEAR LATER

EARLIER FEATURES

Adnan Sami says he has got visa extension
Mumbai, October 17
The Union Home Ministry has extended the business visa of Pakistani singer Adnan Sami by three months. In a statement posted on online networking sites, Sami said the extension was granted on October 6, the day his visa expired.
Prez poll: Foreign Secretary meets Maldivian leaders
New Delhi, October 17
Foreign Secretary Sujatha Singh today met former Maldives President Mohamed Nasheed amid concerns over attempts to derail the electoral process in the Indian Ocean Archipelago.

Artillery gun hopes go up in smoke
* UK vendor shuts production * Decision to hit mountain strike corps efficacy
New Delhi, October 17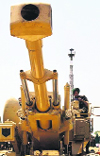 In what could be a major blow to the Indian Army's artillery purchase programme and also the efficacy of its newly created specialised mountain strike corps, the gun maker, contracted to supply the specialised light weight artillery guns, has announced that it was shutting its production line in the UK, albeit after waiting for the Ministry of Defence to decide on the matter.
PM took final decision on allocations:
Ex-Coal Secy
October 17, 2013
Coal scam: CBI books Birla, former Secretary
October 16, 2013
Flood challenge in Phailin's wake
October 15, 2013
109 killed in MP temple stampede
October 14, 2013
Phailin fury strikes Odisha, north Andhra
October 13, 2013
Odisha, AP brace for severe cyclone
October 12, 2013
Punjab, Haryana farmers key to food security scheme: Rahul
October 11, 2013
Payoff row: J-K House to summon VK Singh
October 10, 2013
15-day Keran operation ends, Army Chief blames Pakistan
October 9, 2013
India rejects Pak denial on incursion
October 8, 2013