An uneasy question
After capturing the pangs of Partition in Bhaag Milkha Bhaag, filmmaker Rakeysh Omprakash Mehra is all set to find out the reasons behind Sahiba's betrayal in his forthcoming film based on the folk legend Mirza-Sahiba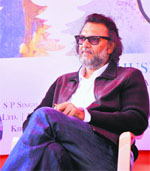 At the opening day of Khuswant Singh Literary Festival at Kasauli Club in Kasauli, filmmaker Rakeysh Omprakash Mehra might seem like an odd man out. Perhaps his presence is partly explained by the fact that he based his film Bhaagh Milkha Bhaagh on Flying Sikh Milkha Singh's biography The Race of My Life. Indeed, he too senses a link between literature and cinema as, 'both are a reflection of time and society and are a part of the big ocean called life'. But Mehra's connection with thinking man's world runs deeper. He is every bit a reflective and introspective person.
A balancing act this!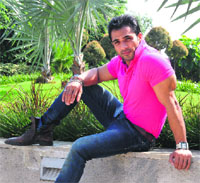 At JW Marriot, when you stand acquainted with Mohammad Nazim, who plays the lead role of Ahem in the show, Saath Nibhana Saathiya that is telecast on Star Plus, he greets you with a smile that conveys sheer warmth and affection. While you relish a cup of hot coffee over an effortlessly transparent conversation with him, he spills the beans and comes straight to the point as he details the purpose of his visit. "I am acting in a Punjabi film, Full Fukrey, which will release in January or February. The film is about three brothers and it is an out and out comedy film," He says.
Emotional CONNECT
Oscar winner Tom Hanks says he is an emotional person and that he weeps too much when he is alone. In a recent interview, the Captain Phillips actor has confessed that he gets deeply affected by certain incidents even though he may put up a brave front in public, said a statement.

Bullett Raja loves to gym
The shooting of Tigmanshu Dhulia's Bullett Raja gave actors Saif Ali Khan and Jimmy Shergill a lot of time to spend together on and off the sets. Saif and Jimmy have earlier worked together in films like Eklavya and Hum Tum but they never got a chance to connect as co-actors.
First day First Show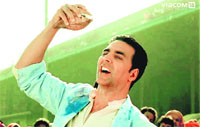 Two shades of B-town Boss
Directed by Anthony D'Souza, Boss is a Bollywood action masala film that is produced by Cape of Good Films and Ashwin Varde Productions. The film features Akshay Kumar, Mithun Chakraborty, Shiv Pandit, Aditi Rao Hydari and Ronit Roy in lead roles. It is apparently a remake of Malayalam film Pokkiri Raja starring Mammotty, Prithviraj and Shriya Saran.
punjabi scope
No hero can save this one!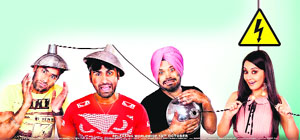 Film: Heer & Hero 
Director: Sagar S Sharma
Cast: Aarya Babbar, Minnisha Lamba, Gurpreet Ghuggi, Preet Bhullar, Yograj Singh Rating: «
It comes back, like a bad dream, a bad prophesy…but something in you has gone numb, something in you doesn't react, nevertheless you want to run out of the cinema hall shouting help, help! If you experience the same while watching Heer & Hero save others from going through the same trauma.
Master Chef
Bring on the biriyani!
Vegetarian food is the happening thing. Most of my friends are resorting to light vegetarian meals, keeping in mind the festive season ahead! Some degree of self-control now would create a balance when we feast on shaadi-grub later. Satvik is serenaded for its cooling qualities, leading to equilibrium and clarity of mind and body. Milk, cereal, fruit and vegetables, ghee, butter, yogurt, cheese, daals, nuts and honey come under the satvik umbrella.
Mane point
Karan Saggar, a second year BDS student is out and out for a sophisticated look and we too feel that when elegance is combined with the latest trend, it becomes a 'wow' combination which would turn many a head.
Words are all he has…
Rajbir Deswal's twelfth book Melting Frozen Glow, an anthology of poems, reflects the softer side of this super cop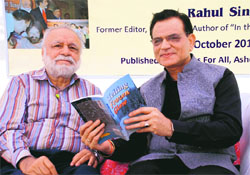 Words cascade down effortlessly, he picks them up carefully lest they lose their fragrance, he puts them together admiringly, and later sits down to arrange and rearrange them with precision, just like a master craftsman. Rajbir Deswal knows the importance of words and what difference they make to the heart, mind and ears. His twelfth book, which is an anthology of poems Melting Frozen Glow released by Rahul Singh, is a basket that carries all kinds of flowers. The song of the birds, the enticing nature, of soulful renderings…..everything is frozen in the glow of words.
CELEB POINT
Friends are forever
I had to fly to Jodhpur for an event. I met Sonali Bendre and Tabu on the flight. There is something strange about our industry. You meet lovely people at work, you connect and then you move on to other things. It becomes difficult to stay connected. The pace and demand of the city and the profession takes the better of you...even though you intend to stay in touch. Sonali and Tabu have been two such people in my life.
Oh! fish
Fish lovers have reason to rejoice. The delicacy of Himachal Pradesh known for its mild flavour, the trout fish will now be made easily available in Chandigarh by the Fishery Department of Himachal Pradesh. Gurcharan Singh, director, Fishery Department, Himachal Pardesh says, "All over the world people come to Himachal to savour the trout fish. Now, we our trying to promote this delicacy across the region starting with Chandigarh. The Fishery Department would soon open an outlet. For the purpose, a two-day fish festival is also being organised at Himachal Bhavan."
Sizzle your taste-buds
Hometel Hotel, Chandigarh is organising Sizzler Food Festival, Season 2. The festival is being organised at the open-air Terrace Grill in the evenings. The beautiful ambience of the open air restaurant lends a perfect match to the sizzling sound of the food and creates a harmony with soothing echo of the tranquil water body.

Living life on her terms...
Soha Ali Khan is in a happy and secure place. She is close to her family, her love life is sorted and she has decent films in her kitty. She talks about celebrations and living life.
Durga puja
As a family, we celebrate different festivals which include Navratri and Durga Puja. This year, Kunal's (boyfriend Kunal Khemu) mom made me promise that I would turn vegetarian for two days during the festival (laughs). I remember the time when we attended the Durga Puja in Kolkata.

P.K. lands in trouble
Rajkumar Hirani is worried about his production controller who is in judicial custody for last three days. He is checking on him every hour. Over the years, Bollywood has faced a lot of problems while making a movie. This time a debacle has been thrown in front of a big movie. While on the shoot of Rajkumar Hirani's next P.K. at Delhi, a MLA has filed a FIR against the movie.
Kangana in for image change


Actress Kangana Ranaut, who will be next seen in Rajjoo, says that she gives more importance to commercial success than critical acclaim. She says, "Critical acclaim is not important to me. Critics are just a small group of people who express their personal opinion about the film and performances. For me box officer acclaim matters the most. If my film is accepted at the box office and makes money it makes me happy. If a film earns 100 crore it means a vast majority has liked it and that's what matters ultimately. I wouldn't mind even if critics dislike my movie. Critics form a small minority."
Ship of Theseus goes to Australia
Months after its release, Ship of Theseus continues to create buzz on Indian and foreign shores. Actor Sohum Shah and director Anand Gandhi's Ship of Theseus are ready to set sail to foreign shores, and this time there's an international star who is steering the ship. Film personalities have been getting involved with independent films as presenters for quite some time in Hollywood. The trend has seen filmmakers like Quentin Tarantino and Martin Scorsese presenting films like Chungking Express, Hostel and The Grandmaster.
What Esha loves
Esha Gupta has a shoe fetish. She has travelled to many places around the world and as mementos; she collects shoes from every country she has visited. She has a separate section in her house dedicated to shoes as she loves shoes in different colours and types.

chatter box
Sara wants to dance
Sara Khan and her boyfriend Paras Chhabra might be one of the couples on Nach Baliye 6. Apparently they are talking to the makers but the deal hasn't been signed yet. Both are shooting a film in Ratnagiri, Maharastra and with the first episode of Nach Baliye due for shooting on October 21and 22-it seems dicey.
The year ahead
If your birthday is October 19...
The year is a good one to follow religious and spiritual interests. Investment made will enhance your prosperity and financial security. Time to revive your friendship. The sun makes you strong, truthful, reliable, confident, responsible and creative. You may inherit ancestral property or purchase one.
Astro Turf
ARIES: Turn your attention to money matters and budget. Go over the figures and see where you stand. If there are problems, discuss them with partners or close associates.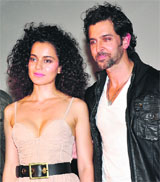 Super spectacle
Bollywood's beloved 'superhero' Hrithik Roshan says the stunts in his forthcoming film Krrish 3 go much beyond the past films of the franchise. "In terms of stunt spectacle and action, we have gone way beyond the other Krrish films," Hrithik said in an interview. The actor plays the lead in the third installment of the franchise that began with 2003 hit sci-fi movie Koi... Mil Gaya. Krrish 3 releases Nov 1. — IANS

Krrish cast: Hrithik Roshan and Knagan Ranaut
First day jitters


Bollywood star Abhishek Bachchan began shooting for Umesh Shukla's Mere Apne. "Today starts yet another journey. First day jitters always get to me. New dawn, new day, new film... Send some love," Abhishek posted on his Twitter page. Several of his friends from the Hindi film industry responded to him with loads of wishes for the project. Punit Malhotra, Sonu Sood, Neha Dhupia, Ruslaan Mumtaz and Divya Dutta were among those who wished the junior Bachchan. The movie is a family drama. — IANS
Game on
Excel entertainment has launched a game on Fukrey called Fukrey Rooftop Runner under Excel Media which will create digital and gaming content across platforms.