What a way to wed
We zero in on some weddings that took place in a crazy style, with a high surprise quotient
Jasmine Singh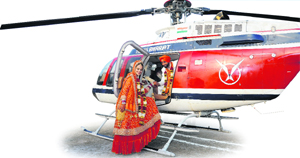 WHILE most people would go the civil way, dropping an invitation, inviting family and friends to an acceptable, 'read' posh venue, offer them a never ending buffet with a zillion counters, a dance floor where everyone can rock n roll…there are a select few who truly believe that marriage is a once-in-a-lifetime experience, and they would do everything to make it one. Then be it taking the baraat and the entourage of guests dressed in colourful attire on a jhonga tractor or flying down on a chopper to surprise the girl or even diving underwater to take the vows, they put the stamp on the ceremony in their own crazy style. Reasons for such craziness vary, but most believe that they want to do something memorable.
Shaadi in the snow
Their wedding was as interesting as their meeting. Vishal, a businessman from Patiala, who is now based in Bangalore, met Beth on a 300-km bicycle ride from Bangalore to Mysore and back. Beth laughs as she shares how the two, exhausted from bike ride, took a small break at CCD, started talking, shared numbers, went for a movie later and finally decided to get married. The two tied the knot at a Summer House, Woodville Palace Hotel in Shimla in the outdoor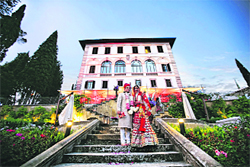 on the snow carpet. "There was a huge snow storm three days prior to our wedding. We both thought that we would freeze completely if we went on with the plan," she narrates. However, things moved the way they had planned. A day prior to the wedding, the couple invited Himachali dancers and on the day of the wedding, which took place in snow, the couple organised a Himachali buffet. "We had arranged for outdoor heaters that kept everyone warm. Both I and Vishal love nature and the snow, also because most of my family couldn't make it to the wedding; I wanted it to be special, and different. It was crazy yes to marry in the freezing temperature, but when you want something special you want it," she adds smilingly.
Aman and Saneya Ghaei
Florentine fantasy
It was a fairytale wedding planned in the romantic city of Florence. Saneya and Aman, both Chandigarh-based IT professionals, had been dating each other for long, did not expect anything like this. They had no idea that their parents were planning to gift them a wedding they had never imagined. "My parents had been to Italy before and they abolsutely loved the place, which is why they choose this place as our wedding destination," adds Saneya,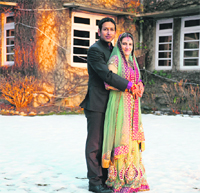 who can recall every single moment of her wedding that took place in the exotic city in July this year. The couple had hired a villa, and all the guests including the pandit, were flown in for the ceremony. A pilot from Mumbai was hired especially to ferry the guests. Sangeet, evening buffet, haldi chura and finally the marriage ceremony, Saniya and Aman's wedding was spread across three days. "Our's was a fusion wedding where the pandit chanted the mantras and we took our vows in English. I also had a bridal walk, which was the most ecstatic moment of my life," Saneya says. While live feeds of the sangeet ceremony were send to the couple's friends who could not make it to the wedding, some guest even extended their stay to spend more time in the city. "There is no logical reason as to why we did this, wedding is a romantic moment that freezes in your memory forever. And this probably was the best way to hold it in our minds for ever,"says Saniya.
Vishal Goel and Beth Fascitelli
Tractor doli
Delhi-based IT professionals, Priyanka and Gurkaran mutually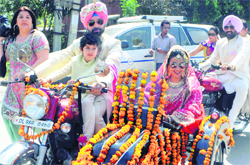 decided to give their wedding an unusual spin. and true to the spirit of Punjab, the dynamic dulha Gurkaran decided to ride to the wedding on a tractor. "It was actually Gurkaran's maternal uncle who decided this. It was crazy fun but this is what we both wanted to do, something out of the box," says Priyanka. She can't help laughing remembering how the tractor was decked up in flowers and how Gurkaran and she became the talk of the town. "The entire wedding was organised in a different way, the mehndi ceremony took place in a mock village set-up. It was fun and hilarious, I had a great time, in fact I am probably the first bride whose doli went on a tractor." And Gurkaran did the photography to make it look special.
Gul Panag & Rishi Attari rode a bike on D-Day
Eco-friendly bride
Actor Gul Panag known for her role in Dor and Punjabi movie Sikander knew her beau businessman Rishi from the age of 14. He was the headboy in my boarding school. Every girl had a crush on," she says. Gul had decided then and there that this was the guy she
wanted to marry. The couple actually wanted a small intimate wedding in Ladakh, but it turned out to be a grand affair. What caught the attention of everyone on the wedding day was the sight of 150 guests riding to the wedding on motorbikes. Even her 62-year-old aunt rode a bike. The reason comes from Gul, an adventure enthusiast. "Both Rishi and I are passionate bike riders. I was the one who actually initiated him into bike-riding," says Gul, who wanted it to be a low-key wedding. "Somehow, people got to know about it, and we had cameras trailing us and we got the best of pictures."
Priyanka & Gurkaran
Sky-high happiness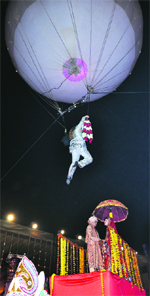 Simrit's family looked up to the sky, of course they had much to thank god for the 'perfect' wedding arrangements, but God had planned something more. Her groom, Aman, a tattoo artist from Mohali had come flown down on a chopper on the wedding day, Feburary 14, 2013 to take away Simrit with him. This indeed was a big surprise for Simrit and the family. She can't help sharing the pictures of her sitting in the chopper with Aman on social networking site. "It was crazy, and it was a dream come true. It was a scene pulled out from a fairytale," she makes no effort to hold back the excitement in her voice. This was an arranged marriage for the couple. Neither the groom, nor the bride knew about the chopper arrangement. "This was the brainchild of my father-in-law, all this while he was planning to give us a surprise. He shared it with my husband later, and my husband didn't tell me about it at all." Simrit has done nothing overtly crazy in her life, neither did she expect something like this. "My in-laws wanted to make our marriage a moment to remember, also they wanted to make me feel special. This was probably their way of telling me how glad they are to have me as a part of their family," she smiles ear to ear. The groom's family, including his parents, brother and grandparents arrived in the chopper. The couple exchanged garlands in it, and later on the same was used as the bride's doli. "Only this time, the groom was also in the doli," Simrit laughs.
An angel flies down with a garland before the couple's jaimala. Photo: Courtesy Yogi's Entertainment
For a crazy ceremony
It's all about doing something out of the box, and marriage is the perfect moment to apply your creativity. We suggest you some crazy ideas that will give your wedding a fun spin.
* Get hold of a company who will add spice to your creative ideas. The groom comes down in a halogen balloon! Now, who could have thought about this.
* If you want to dedicate your marriage to the most important event like where you met your love, how you met… just share the idea with the wedding planner. For instance, if you met on a boat ride, you can organise a wedding on the boat or if you met on a bike ride trip, the entire baraat can come on a bike.
* Marrying in a hot air balloon is the latest fad and a pretty much interesting idea. In your wedding attire, hop on the balloon and marry up in the sky, right under God's nose.
Wow factor of ideas
Imagine the groom floating down on a giant helium balloon, suspended in mid-air, he garlands the bride, who looks like a goddess with LED wings, surrounded by ultra-violet butterflies. Gaurav Gondal, owner and creative head Yogi's Entertainment, runs an international stage entertainment firm. Similarly, there are companies like KnotinFocus who focus on cinematograhy and Broken Compass that helps with wedding shopping and honeymoon planning. All those who are engaged in the sunshine sector of wedding planning have to think, market and popularise ideas (more weird the better) that are totally out of the box. You can have live props and even a buffet laid out on a dress.