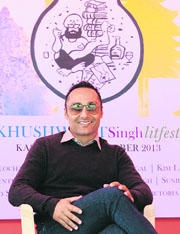 An activist actor
"I am no Box Office star." Yet at the Kasuali Literary Festival Rahul Bose attracts more then media glances. But then who doesn't know this fine actor of films like English August, Split Wide Open and Mrs Iyer. More recently seen in films such as Vishwaroopam and Midnight's Children he confesses that he has indeed become choosy and gone slow on signing films. He quips, "I want to do films like a Japanese Wife or a Midnight's Children that I can reflect back upon and feel proud of." Following the dictates of his heart rather than mind, however, this thinking man's actor is not just another actor hankering after glamour, fame and money. Every inch an activist, he has taken up issues and causes.
Thinking man's star Rahul Bose calls himself a 'feeler', not a 'thinker' and the activist in him feels strongly about communal harmony

Genetic inheritance

Pakistani singer Arif Lohar, who has more than one million hits on YouTube for his rendering of folk song Jugni, says the song is made for his family
Jugni and Arif Lohar... The two are so enjoined that it's hard to know whether Arif has touched the dizzying heights of success due to this folk song or the soulful singer has made Jugni a household number. Indeed, Arif's Jugni is like no others. The singer from across the border has no hesitation in admitting that the way he renders Jugni is unparalleled. He nods, "See some songs are just made for a particular singer just as Kishore Kumar's songs would sound odd on someone else's lips.... Similarly, I think Jugni is just made for our family."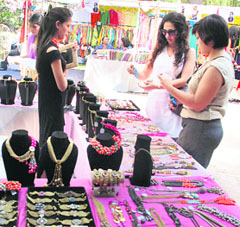 It's time to indulge
Chandigarh's one-stop-shopping destination Vanity Fair is here again!
First things first, rush to the nearest ATM, extract as much cash as you can. The more the merrier. Now, hop in your dashing SUV or MUV (that's all we saw), drive a little, dodging every other vehicle on the road, bring it to a halt outside Whispering Willows, Zirakpur, lastly touch your purse to feel the cash, slide your sun glasses (the Louis Vuitton, Gucci anything) to your head, roll on a smile and head to the one stop-shop destination called Vanity Fair.

Shoppers have a field day at Vanity Fair Photo: Nitin Mittal
Chatter box
Because family comes first
Cyrus Sahukar is back on television with a brand new show, Sab Khelo Sab Jeeto. The host, who has also done some movies, talks about his new project and other ventures that he is working on.
Doc Talk
Winter care
Skin happens to be the reflection of how one is affected by changes in our environment. As the summer slowly slips into fall, it is important to gear up for a whole new skin routine. Antibacterial soaps and those laden with fragrance are too harsh to use during the fall and winter. When the skin feels tender and slightly irritated, switch to a gentler soap or a soap-free cleanser. Milder, less drying soaps (with pH value closer to the pH of skin that is 5.8) or cleansing lotions should be preferred. Cut down the number of times you wash your face in the fall to avoid excessive dryness.
TRENDSETTER
Mane point
Karan Saggar, a second year BDS student is out and out for a sophisticated look and we too feel that when elegance is combined with the latest trend, it becomes a 'wow' combination which would turn many a head.
Astro turf
ARIES: You are likely to get a promotion or recognition today. Employment affairs are satisfactory. Your interest in overseas affairs is likely to stimulate. Tarot message: Rivalry and competition will push you to do your best.
The year ahead
If your birthday is October 20...
This is a great year to pamper yourself and do things that you enjoy the most. Avoid being forceful in love affairs. Ruling planet Moon bestows creativity, emotions, honesty, simplicity, generosity and an attractive and pleasing personality. Health will be proper. Elder's health may worry you a little. Try to avoid long journey.
Priyanka Chopra unplugged
Priyanka Chopra is extremely fun to talk to and she owns the room! She is down to earth and friendly. She might make you wait for hours for an interview, but makes up with an apology and her bright demeanour. She talks about her bad habits and more.
From Greece to Goa
Esha Gupta is a gorgeous and sexy head turner and yet, she says she is the most boring person at a party. She talks about resembling Angelina Jolie and more.
It's rocking
Of dhol and nagada
The latest offering from Bollywood that will tickle your traditional musical taste-buds is a song called Nagada Sang Dhol starring Deepika Padukone and Ranveer Singh. The song has been sung by Shreya Ghoshal and Osman Mir and is composed by Sanjay Leela Bhansali, which has some Gujarati elements to it.
Gavras, Kamal Haasan honoured
Mumbai Film Festival has become an integral part of this city's culture. At the festival coveted Lifetime Achievement Award was bestowed on French auteur Costas Gavras and National Award Winning actor/director Kamal Haasan.
Grand success
The success of Grand Masti was celebrated in a grand way by the makers, cast and crew of the film at a suburban hotel in Mumbai. Speaking at the occasion, Vivek Oberoi expressed his joy of the 100 crore rupees success, while thanking the audience for their love and support.
Hit formula
Bollywood actor Ajay Devgn says he does not like promoting his movies before the release as he finds the task very boring. "I don't like the phase of promoting my films as I find it very boring. I don't think anybody likes the phase of promoting films, because you end up answering the same questions over and over again. There is no creative thought process involved and beyond a point it does get boring," Devgn said in an interview. The show will give a peek into the superstar's life, where the 44-year-old talks about his love for driving, his friendship with filmmaker Prakash Jha and much more. The Singham star says the bond he shares with Jha is the reason behind their hit films. The duo have together worked on movies like Gangaajal, Apaharan, Raajneeti, Aarakshan, Chakravyuh and Satyagraha. — PTI
Sonakshi wishes for…
Actress Sonakshi Sinha says she wants to do an 'explosive' dance number with choreographer-turned-director Prabhu Deva and actor Shahid Kapoor. Sonakshi has even requested her director Prabhu Deva to make a special music video with the trio for R...Rajkumar. "I have been asking Prabhu sir to do a music video featuring Shahid, him and me. I think the three of us in a dance number would be an explosive combination and ensure full dhamaal. I hope it works out," Sonakshi said. Sonakshi has previously worked with Prabhu Deva in Rowdy Rathore. She also did a special song - Go Go Govinda, which became a rage, with Prabhu Deva for Akshay Kumar's film Oh My God. — PTI
Day 1 of the shoot!
Veteran actor Anupam Kher has commenced shooting for Yash Raj Films' upcoming movie Daawat-E-Ishq. The 58-year-old, who has been in the industry for more than three decades, said he still feels nervous at the first day of shoot. "The more I think I know about acting, the more nervous and insecure I feel on the first day of the shoot. Daawat-E-Ishq takes off," Kher tweeted. The film which is directed by Habib Faisal also stars Parineeti Chopra, Aditya Roy Kapur and Karan Wahi. — PTI
Freida goes racy
Remember actress Freida Pinto of Slumdog Millionaire fame? Well, the dusky beauty from India is in news again and this time it's her raunchy music video album with American singer Bruno Mars. In this see-all music video, Freida has shed all her inhibitions for her role as Isabella, the stripper. For all those who wanted to see the seductive avatar of Freida, this is your chance.
Fan mail
Deepika's career and fan following is just going from strength to strength. She has a large following on social media and everyday she takes time out to read mails and letters that her fans have sent her. Sometimes, she even replies to them. It is the favourite part of her day.
Biker mode
Shraddha Kapoor is taking biking lessons for her hatke character in The Villain opposite Siddharth Malhotra. She is also seen wearing her leather biker jacket wherever she goes!
Hands full
2013 has been a very good year for Sonam Kapoor with two critically acclaimed hits, finally! She has two more films coming up: Bewakoofiyan and the Khoobsoorat remake and has also signed another big project which she is not talking about as yet.
All new cast
It seems that Siddharth Malhotra has replaced Emraan Hashmi in the Karan Johar-Ekta Kapoor production and Alia Bhatt has replaced Kareena Kapoor Khan. The cast is all new now. Emraan is doing a film with Kunal Deshmukh next.
Brand bragain
Vaani Kapoor, the YRF find of Shuddh Desi Romance fame, has bagged an endorsement with Lux Body wash and is the new face of the brand.