M A I N N E W S
Army's claim over Keran ops under lens
Defence Minister, NSA to review 15-day gun battle against large group of intruders in J&K
Srinagar/New Delhi, October 20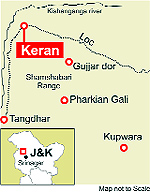 There is a growing disquiet over the 15-day Army operation, stretching on until well up to the second week of this month, in the Keran sector of Kupwara district in the north-west of J&K.
Defence Minister AK Antony will hold a high-level meeting with the armed forces later this month during which he is expected to review the Keran operation. The meeting comes against the backdrop of Prime Minister Manmohan Singh expressing his concern to the Defence Ministry over the handling of the operations, where it claimed to have engaged a large group of terrorists although nobody was found there after 15 days.
Antony's review meeting will also include Defence Secretary RK Mathur and National Security Adviser Shivshankar Menon, who had briefed the Prime Minister about the incident, is also expected to be present.
Prime Minister Manmohan had expressed concern over the incident as a lot of "exaggerated claims" were made by Army formations about their success. However, the results did not match the claims, reports said.
The army operations, which were said to have been stopped on October 8, continued even five days later till a joint BSF-Army managed to reach the three border posts located in Shalabhatu, a village divided between J&K and Pakistan-occupied-Kashmir, official sources said.
The Army's version that it killed eight terrorists around the site of infiltration appeared in contradiction with the FIRs filed by its units with the local police that said the causalities were reported from three different places that are far off from the Shalabatu village.
The three posts -- Khokhri, Kulari and Mangerta -- jointly held by the BSF and Army were taken over last Saturday.
In an email reply to questions, the Army Headquarters denied it and said, "This is incorrect. The troops on the ground were dominating the LoC and regularly approaching own posts at all times."
According to the FIRs, the Army recovered over seven bodies, 11 AK rifles, 20 pistols, eight rocket launchers, 12 grenade launchers, 44 grenades, one Tommy gun, 41 magazines, 24 magazine pistols, 985 rounds of AK ammunition, 80 rounds of pistol and 52 rounds of Tommy gun and nothing was recovered from Shalabatu area.
However, the Army, in its reply, maintained that during the operations, 59 weapons including 18 AK rifles were recovered.
Shalabatu village was one of the known infiltration routes in early 1990s. A report filed by central as well as state security agencies about the Keran encounter have picked holes in the Army's version of the episode.
The first FIR was registered on September 24 in which one militant, aged 65-70, was killed. The FIR, 237/13 was filed in Kupwara mentioning that an encounter had taken place at Lasadnath area, a place from where it takes three days to reach Shalabatu. — PTI
Claims, counter-claims
Army's version that it killed 8 terrorists around the site of infiltration appeared in contradiction with the FIRs filed by its units with the local police.
The causalities were reported from 3 different places that are far off from the Shalabatu village, the site of the intrusion
The Defence Ministry has discussed with the Army HQ the issue in which details of operations figured prominently