Foreign Universities in India
The Global Edge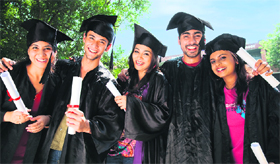 The government's decision to allow foreign universities to set up campuses and offer degrees without having a local partner is, thus, a timely move in the current context. The department of industrial policy and promotion (DIPP) and the department of economic affairs (DEA)'s executive order allowing overseas universities to operate as so-called Section 25 or non-profit companies under the newly passed Companies Act, recently has opened doors for prestigous universities to set up campuses in India.
Career Hotline


Internship issues


Is my joining family business a good idea?


What are the career prospects in fashion communication?
A date with cat
On October 16 the CAT was out of the bag. Like the annual budget, it attracted a mixed set of responses. For some it has been smooth sailing with a little bit of rough weather, while for others it has been a bolt from the blue.
know your course: business accountancy
A long-term career option
Commerce — management and accounting — has always been a student's basic entry point into the corporate world. With economic globalisation, business boundaries have melted and conglomerates have become 'glocal' across the world.


CareerCature
sANDEEP jOSHI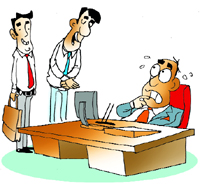 Sir, I know there's just one vacancy, but the consulting firm has sent us under its one-plus-one festival season scheme.
testing times: medical entrance
The return of IPMT
With the government's decision to scrap NEET, we are back to AIPMT. However, the students should not be bothered regarding their preparation, as the syllabus and pattern for AIPMT is a just a replica of NEET'13. So the candidates needn't fret over the right preparation strategies.
course chat: m.tech in building science and technology
The science of building
Jain University, Bangalore, in collaboration with Indian Green Building Council (IGBC), recently launched a two-year MTech programme in Building Science and Technology (with specialisation in Green Technology).
Lead from the front
Being a boss is not an easy job as most people don't naturally wish to have one, and not everyone aspires to be the one to lead a team or a group. But there is a distinct difference between being a boss and a being a leader.
work station
Finding a mentor
Ever thought about the fact that your workstation, your desk, or your office social circle can become a sweet trap that can prevent you from moving up in your career? It's true.
hiring scene
Job creation maintains a healthy trend
Despite the economic slump, companies continued to hire as new jobs creation grew at a healthy 9 per cent in the second quarter of the fiscal with top five metros accounting for 61 per cent, says a survey.