Haute over the collar
Collar jewellery is a broad, chunky piece of jewellery highlighting a woman's neck and collarbones. It is different from a choker. It fits at the base of the collar and spreads across flat from the collarbone, like a Peter Pan collar
Surekha Kadapa-Bose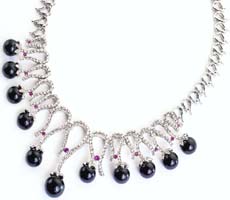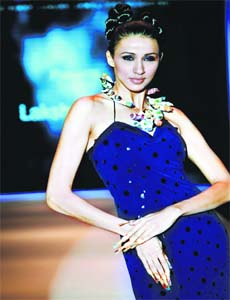 A collar by Laksh Pahuja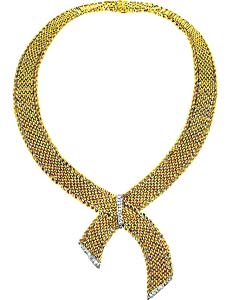 A collar by Olivia Collings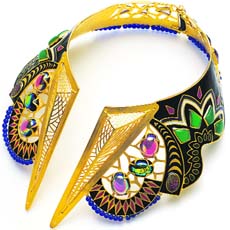 A Manish Arora piece for Amrapali jewellers
Photo courtesy: www.tribebyamrapali.com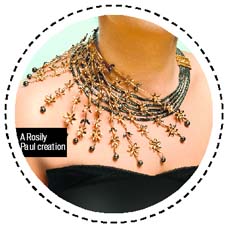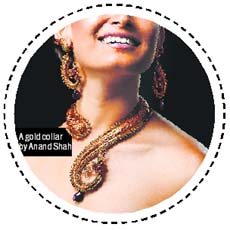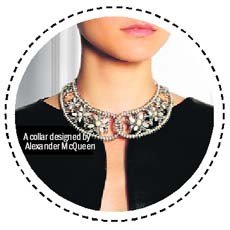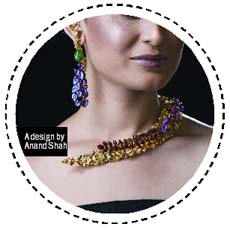 This festive and wedding season, add a bit of classic glamour to your dressing. Enhance drama, increase your allure, be feminine at the same be the power woman. Do away with traditional or usual run of the jewellery pieces. Wear a stunning collar jewellery piece.
A collar jewellery piece is broad, majestic and chunky highlighting the slender neck and the collarbones of the woman wearing it. The dramatic look makes a woman the envy of others. She also stands out from the clutter of other women decked in their finest jewellery.
A collar piece is definitely different from a choker or a bib necklace. It fits at the base of the collar and spreads across flat from the collarbone, just like a Peter Pan collar. It neither dangles nor slips below the base of the collar. Looks great on bare-slim shoulders!
As Delhi-based jewellery designer Annu Chadha says, "Collar jewellery is a classic piece. Only a woman of confidence, slim built and mostly less than 40 years of age can carry it off. It exudes power and has its own sense of beauty."
The power and confidence level can be gauged by the fact that collar jewellery is worn by several top actors and fashionistas — Kareena Kapoor was seen in a collar piece from Doir, Sonam Kapoor was seen in beaten golden collar, Shabana Azmi sported a beaded collar piece, writer-cum-columnist and former editor Shobha De flaunted one at several occasions and several models walked ramp wearing a collar piece.
In Hollywood many actors, including Anne Hathway, Angelina Jolie, supermodels Naomi Campbell, Posh and others were seen wearing the attractive jewellery on many awards ceremonies, evening parties, film premiers, fashion weeks etc.
Collar jewellery isn't a new phenomenon. History shows both men and women sported collar jewellery. In fact, it's one of the oldest designed jewellery items as it existed even more than two thousand years ago! Surprised? Jewellery history books say that the first known collar jewellery was made for the beautiful queen Nefertiti, wife of Egyptian Pharaoh Akhenaten, who lived in 1370 BC-1330 BC. The slender queen with a long neck loved to adorn herself with broad collar-shaped beaten gold necklaces studded with precious gems hugging her neck. Later this jewellery style became a rage during 13th century in the period of Inca dynasty. Even today several tribes all over the world especially Zulu tribe of South Africa, our own tribes from various states wear jewellery in the form of collar pieces.
This was also epitomised in all Hollywood films which had Egypt history as the backdrop of the story line. One can still remember Elizabeth Taylor in the role of Cleopatra, Joan Collins as Princes Nellifer in the film Land of the Pharaohs etc. In many Indian films or TV serials depicting mythology or history actors — both male and female —usually wear huge collar jewellery. The best recent example is that of Aishwarya Rai Bachchan in Jodha Akbar and actors in Mahabharat currently being aired TV.
Exploiting the popularity of this unique jewellery are several Indian designers like Laksh Pahuja, Pallavi Dudeja Folley, Rosily Paul, Anand Shah, Annu Chadha, Manish Arora to name a few and even foreign fashion houses or brands like Lanvin, Isaac Mizrahi, Louis Vuitton, Dior, Alexander McQueen, Roberto Cavalli, Chanel and others are specially designing collar jewellery for their niche clients.
With big names and brands stepping in, traditional style of collar jewellery designing has given way to contemporary designs and newer materials which are easy on the pockets. Though most distinguishing pieces are made up of gold or platinum and studded with diamonds and other precious gems, there are variants in the other metals, too. Today collar pieces are designed in acrylic, silver, leather, fabric, beads, wood etc. In fact, impromptu collar jewellery for a fun-filled youngsters party can be made by artistically cut colourful paper plates also. And these can be discarded after one event.
Delhi-based designer Rosily Paul, winner of many awards for her creativity in gold and diamonds, says, "Media and international travel connects everyone across the world. Awareness and exposure to international fashion is spreading to all corners. People look up to film stars and celebrities for style to emulate. So, socialites emulate each other and collar jewellery is something which has always been a hot product."
The best part of collar jewellery is that if you wear one, you needn't wear any other jewellery piece. Though simple, these make perfect statement jewellery for a powerhouse dressing. And as the style can vary from tradition to highly contemporary, these can be paired with any attire. Light materials look great on jeans or skirts with a strapless top or peplum or simple bustier and are good for day wear. But ones in precious metals look absolutely mesmerising on evening gowns or on contemporarily worn sarees with noodle strap, strapless or bustier blouses.
Echoing Paul, Mumbai-based designer Laksh Pahuja also said, "Designers need to innovate the designs to lure women to try newer designs in any jewellery style, especially collar pieces, as this is a very unique style and suits only a few."
Last year for the India International Jewellery week show, Pahuja had designed a collar based on the life and art of artists M. F. Husain. The collar, made in sterling silver, showcased Husain's lifestyle — bare feet, paint brushes, his iconic horses, his white-bearded head sculpted — as end line of the collar. It was one of the most unique pieces.
Similarly Bangalore-based designer Pallavi Dodeja Foley, who has designed not only for the beauty pageants but also other celebrities, says, "These jewellery pieces close to the neck bring neck and face of the wearer into focus. These also enhance the neckline there by making the wearer look very sophisticated and chic."
So in this coming season of dressing for the occasion, if you want to make a statement, then leave your usual necklaces, however beautiful these are, in your locker. Wear a collar jewellery piece and make a statement of your confidence.
ethnic roots
What makes India more beautiful is its ethnicity and adding to this is the hundreds of tribes we have spread all over the country — Todas, Warlis, Lambanis, Rabaris and many others. And they all have unique jewellery specific to their tribes — bold, big and traditional. One thing common to all of them is the collar jewellery.
Every tribal woman from the time of puberty wears a beautiful collar ornament around her slender neck. Most of these are made of silver with unique features of sun, moon, rain, animal, bird, leaf or tree motif engraved on them. The collar jewellery clearly shows the tribal love for nature.
These are called kasu sara, tikki mala, hansali, thewa, thor by various tribes and are made either in silver, gold, glass or wooden beads, ivory, feather and rarely even in semi-precious gem stones.
Because of its uniqueness, collar jewellery remains popular among women both as traditional jewellery among our tribeswomen or as a statement piece among our fashionistas.