M A I N N E W S
Akali leader, two aides abducted in Hong Kong
Gurminder Singh Grewal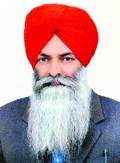 Khanna/Machiwara, Oct 27
The police has swung into action in the reported abduction of three residents of Punjab -- an Akali Dal leader of Machiwara Manmohan Singh Khera, advocate Gurinder Singh Dhillon of Landran and a bank manager Satwinder Singh Mavi -- who had gone to Hong Kong to finalise a big land deal.
Sources said Manmohan Singh has informed his family members over the phone about their abduction by the company and that it was demanding Rs 15 crore for their release.
The prime land in question is located near Jagraon Bridge in Ludhiana and belongs to Manmohan Singh. The trio was holding talks about it with the Hong Kong-based company.
After finalising the deal at Rs 10.9 crore through a local property dealer, company officials claimed that they had deposited two cheques of Rs 6 lakh each in Manmohan's bank account and had sent two receipts in this regard. But this money didn't land in Manmohan's account.
On the offer of the property dealer to accompany him to Hong Kong for resolving the issue, Manmohan, along with his attorney and a bank manager, started for the Chinese city on October 23.
In Hong Kong, the abductors reportedly told the trio that the company had deposited Rs 26 crore — despite the deal being of just Rs 10.9 crore -- in Manmohan's account through a money exchanger in Chandigarh. Now, the kidnappers want 'their' Rs 15 crore back in exchange for their release. They are threatening to kill the trio in case their demand is not met. When Manmohan's relatives contacted the money exchanger, he denied having transferred such a hefty amount.
Having no other option, Manmohan's family members informed the Samrala police which has taken some persons into custody for interrogation. The police has reportedly requested Interpol to locate the three victims and their alleged abductors who are said to include two Punjabis and two Pakistanis. SSP Khanna confirmed the incident and said that Manmohan and his two companions went to Hong Kong on their own without informing any official. He said that instead of the purchasing party coming here, the sellers had gone to Hong Kong.
According to him, this doesn't seem to be a case of abduction. He said that some residents of Mohali and Chandigarh seem to be involved in the case and that Manmohan's family is yet to give any written complaint to the police.
Land Deal gone wrong
Manmohan Singh Khera, an Akali leader from Machiwara, strikes a big land deal with a Hong Kong company. The deal was struck through a local property dealer
Two payments made by the company don't reach Manmohan's bank account
The Akali leader, along with his lawyer and bank manager, goes to Hong Kong to resolve the issue
There, the trio is abducted and the kidnappers demand a 'ransom' of Rs 15 crore