Light up your imagination

As it drapes a beautiful mosaic of different customs and traditions, which can vary dramatically, depending upon their mythological relevance, Diwali, is indeed one of the most cherished festivals of India. While the fondness with which Indians take to Diwali resounds in the cacophony that fills the busy markets even weeks before the festival, they defiantly take a serious note of accentuating their humble abodes with the best that they can. It is believed that Goddess Lakshmi showers upon the blessings of fortune and good luck as she enters the houses that are clean and well decorated. Keeping in sync with several legends, we chart a guide map to decorating your houses in the fanciest ways possible as Chandigarh-based designers show you how.
Culinary delight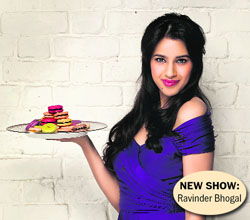 Celebrity chef Ravinder Bhogal is all set to take you on a new journey
across the world
She doesn't dwell on the stereotypical gender associated with a chef. She proudly plays the girl who does interviews, cooks with big men, big pots and commands ten in a row. "I think men and women have very different ways of cooking. Women are very emotional about cooking and use intuition," says Ravinder Bhogal. This food writer, celebrity chef from UK minces no words as she shares about her upcoming food series Ravinder's Kitchen. The show promises to take viewers on a gastronomic journey as the hostess whips some dishes from across the globe with her signature twist.
A road to success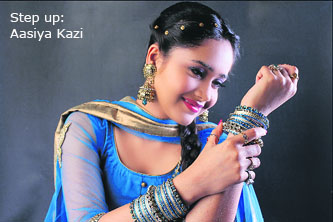 After doing hit shows like Bandini and Dharampatni, Aasiya Kazi is all pepped up about her new show, Yeh Hai Aashiqui
Aasiya Kazi would soon be seen as Juhi in upcoming show Yeh Hai Aashiqui. The telly actor who debuted with Balaji Telefilms' Bandini as lead actor and has been seen in Matti Ki Banno, Dharampatni and Na Bole Tum (Season 2), is quite pleased with her new act. She shares on her latest serial and more…
Chatter box


Kanchi finds her new best friend
Kanchi Kaul, who made a comeback to the small screen after a hiatus of one year has already found some new best friends and fans on her show, Meri Bhabhi that is telecast on Star Plus. Kanchi, who plays Shraddha in the show, seems to be taking her role of playing a mom a bit too seriously. She is often seen spending time with her onscreen son Dhruv (Sagar Cheda) who gives her a jadoo ki jhappi every morning before starting the shoot.
Deft strokes
From glimpses of Indian culture to landscapes, the group exhibition White Shadows in Bistro Flamme Bois offers everything that pleases the eye...
Novelty, both in ideas and expressions, is always welcome. At the group exhibition White Shadows in Bistro Flamme Bois, one stands treated to a symphony of thoughts and a melody of a colours by artists Purnima Grover, Prabhjot Singh, Akshi Babbar, Amit Kumar, students of Government Arts College with their professor Pankaj Saroj.
All that glitter
At times, what's exquisite otherwise, is overshadowed by the expectations. So when the Band Baajaa Bride host Ambika Anand did not turn up, we make-do with the collection being showcased, the people behind it and the models sporting it. Tanishq presents a preview of its wedding collection at Taj-17 with a lot of hype but what could have been actually takes the attention away from what already is!
Stress buster
Master your mind
I have spent long years of my life in doing research in science and spirituality and how we can make them work together. If we learn to believe in a divine plan or purpose we can drastically reduce stress. What we need to do is to look for lessons in life, treat all our relationships as our teachers and also to learn from the obstacles in our lives.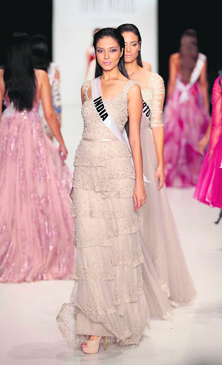 Universe at her feet: Contestant of the Miss Universe pageant, Miss India Manasi Moghe shows a creation by British designer Tony Ward at the Fashion Week in Moscow. — AP/PTI

Japan eyes Bollywood
The Japanese film industry is looking at deepening its involvement with Bollywood in the coming days. Nikkatsu, Japan's oldest film distributor, which struck gold with Aamir Khan's 3 Idiots, is now looking at more films releasing in that country. "We decided to buy four representative films from Bollywood to see how they would be received in the market. While 3 Idiots was a big success, the others - Don 2, Jab Tak Hain Jaan and Ek Tha Tiger also did well in Japan," says Akifumi Sugihara, vice- president, Nikkatsu.
Kitchen queen
Cook book writer Sarita Khurana is all set to make an entry into Sanjeev Kapoor Ke Kitchen Khiladi as a celebrity chef
Whipping up fancy dishes wasn't really her cup of tea. Now even cooking up a recipe is a piece of cake. Food and its myriad flavours got to Sarita Khurana, who's super excited and all set for Sanjeev Kapoor's Kitchen Khiladi on Sony TV. "I didn't know cooking at all. When I decided to jump into it headlong, I vowed that it won't be the regular cooking for me." A master's degree in music instrumental, she looks back and recalls when and how she got introduced to the kitchen. She adds, "You can't escape food and kitchen anyway. What you eat is who you are. I approached cooking with a health conscious mindset."
Sunday fun
Chandigarh Treasure League 2 (CTL 2) got off to a roaring start from Chandigarh Club. It was a pretty picture when about 250 participants, lined up their four wheelers and put on the ignition of the over 50 cars, that took part in what's Chandigarh's original clue based hunt for treasure adventure.
No more item songs for Malaika
Actress Malaika Arora Khan, who recently turned 38, continues to be one of Bollywood's primary head-turners.
Astro turf
ARIES: The temptation to help a friend with a loan should be discussed with your partner first. A sexual relationship might have reached its climax.
Tarot message: Be articulate to prevent people from making their own conclusions.
Lucky colour: Yellow. Magic number: 32.
TAURUS: Your boss supports you. This is the right time to purchase something that adds to the value of your house. Avoid eating out. Working towards your goals may seem a little harder than usual. Tarot message: Don't ignore any advice coming from youngsters around you. Lucky colour: Sea green. Magic number: 52.
The year ahead
If your birthday is October 28...
You'll be able to reinvigorate your finances and improve your income. However, keep in control of unnecessary spending.

No laughing matter this
Priyanka Chopra, who has been in the news for the alleged catfight with her Krrish 3 co-star Kangana Ranaut, is upset with the rumours. She says it is no laughing matter as it reduces the stature of women in the film. Enough is enough: Priyanka Chopra

Sleepless by the night
Actress Sonam Kapoor has of late been keeping awake all night. There is some construction work taking place in her neighbourhood and the noise of the machines gets too much to handle. As a result, she stays up at night to work and tries to sleep during the day. Poor little rich girl!
Nocturnal instinct: Sonam Kapoor
Aamir's Diwali plans
Aamir Khan will, once again, host a grand Diwali bash at his new sea-facing residence. He will be inviting his co-stars and friends from the industry. This time the buzz is around Dhoom 3.
When Shah Rukh stayed hungry...
At a recent event, actor Shah Rukh Khan recalled an incident where he was aboard a British Airways flight. The air hostess asked him his choice of menu. But since he could not understand her accent, he had to stay hungry during the entire flight!
On a promotional spree
The makers of Mickey Virus are going all out with the promotions and will release movie merchandise, for sale, starting with pen drives. They are not only useful but also in sync with the theme of the movie.