The buying tradition
Dhanteras is around the corner. And just before the big Diwali bash, here's a chance to splurge...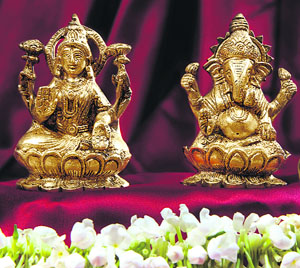 Come Friday and the markets in Chandigarh are going to be chock-a-block with shoppers. Not that they are not for a week now, but Friday is special as it is Dhanteras. The day is traditionally associated with shopping that adds to prosperity of the family. Dhanteras, also called Dhan Trayodashi, is associated with the 13th month, which is sometimes not considered lucky. But number 13 is actually associated with 'unexpectedness'. "Any person buying jewellery on the day stands to get unexpected gains," says astrologer P Khurrana. He advises that one should make a rangoli in front of the house and light five diyas or a panchmukhi diya in the evening. "It will fulfill your heart's desire," he says.
Devil's day out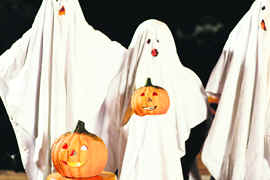 It's time to go a little crazy and let the dresses do the talking this Halloween…
If the costume parties, carved pumpkins and horror flicks don't make things obvious, the fact that you can 'dress to disgust' will! The day might be a borrowed concept from the West, but what makes it click is the connotation it carries and the connection it has with the youngsters. How often do you officially get to unleash the devil within? Tonight your date out with the evil awaits…Happy Halloween.
Beyond the comfort zone
Juhi Chawla talks about her journey in Bollywood, mistakes she has made, taking up causes and getting out of her comfort zone.
Lucky girl: Everything in life has happened by chance. I applied for the Miss India contest following in my friends' footsteps. There was no concept of grooming then. I remember wearing a friend's ghagra-choli. I don't even remember who did my make-up. Luckily, I won the competition. The next thing I know is that I was travelling alone abroad for the first time for the Miss Universe competition. But as luck would have it, I won the best national costume title. That's when I realised that God has given me extraordinary opportunities in life and I began working hard.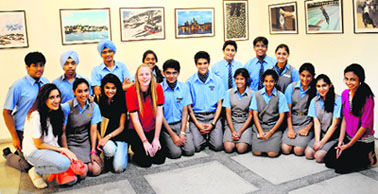 View point
The idea of education extends way beyond the academic stereotype, and just as one stands witnessed to the way that the students of Vivek High School explore their creative potential, one is delighted and overwhelmed.
Creative bonding: The budding photographers showcase their frames.
Chatter box
B' day bash
Recently, Kritika Kamra celebrated her birthday with a surprise party that her brother has organised. She wanted a quiet dinner but it became a big party. She went gaga to get two cakes - candy crush and red velvet cheese cake. Kritika was last seen in Sony's Kuch Toh Kahenge.
Astro turf
ARIES: Relax with your mate in the evening; it's just the antidote for the trials and tensions of the day. Someone you are attracted to at work feels the same way. It is for you to make the first move. Tarot message: Take limited risks while speculating. Lucky colour: Crimson. Magic number: 55
The year ahead
If your birthday is October 31...
It will be a progressive year at the work front with chances of travel. You will gain financially although expenses will come along. It will be a moderate time for relationships. Pay attention to your health. Eyes and teeth need special attention. Uranus and number 4 shower creativity, reliability and discipline. An unexpected encounter will throw you into a sudden dilemma. You will make the right decision, the one that's best for you. Your self-esteem is tied-up in your job. If you're looking for work, you will find a great position related to design, hospitality or human resources.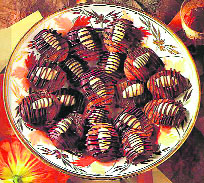 Master Chef
A sweet twist
It is festival time now and what do the celebrations bring? Lots of cheer but lots of guests also and then the home-maker thinks "what should I offer that is different"?
Usually the trend is to offer dry fruits or the quintessential 'mithai'. With everybody counting calories this sweet made with dried apricots, chocolate and almonds is going to be a winner in looks and taste both. It is something even the kids would try making easily.
It's rocking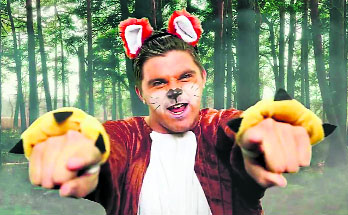 This fox says a lot
Talk of making waves and Ylvis, Norwegian comedy duo, seems to have taken the international music industry by a storm with their song The Fox (What Does the Fox Say?), which is an electronic dance song and viral video. Ever since the video was posted on YouTube in September, it has received over 145 million views.
A still from the song The Fox
Mohit Almighty
Devo ka Dev Mahadev is one of the most popular shows on television and has made its lead actor Mohit Raina a household name. He talks about the task of playing god.
Tough playing god: I have to shoot 18 hours a day because it is a costume drama and it takes time for me to get ready and prepare for the role. Since our set is located outside the city, sometimes I have to stay back on the sets in the night to resume work early next morning. Initially, it was hectic but now I am used to it. Television is such a big medium and this role and honour has made me a household name.
Sonakshi to play a struggler again
Actress Sonakshi Sinha's career might be rocketing high, but in Bulett Raja she plays a struggler again. She played a Bollywood wannabe star in Milan Luthria's Once Upon A Time In Mumbai Dobaara just a few months ago. Though when actors are offered similar roles they either inform the directors or opt not to do one of the two roles. Hrithik Roshan has now opted not to do Tigmanshu Dhulia's adaptation of Hamlet because he saw it as a father-son revenge saga similar to Agneepath he just did last year.
Malaika shoots for Happy New Year
After Sajid Khan, it's actress Malaika Arora Khan to join the cast of Happy New Year. It will reunite the 38-year-old actress with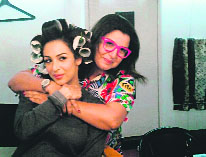 Om Shanti Om trio—Shah Rukh Khan, Deepika Padukone and Farah Khan. She will be playing the role of an actress of a film which Sajid Khan is directing and that she will be sharing the screen space with SRK and Sonu Sood. Farah shared a picture of her from the sets and tweeted: '15 yrs after chaiyyan chaiyyan..smthngs never change..malaika, still as stunning, hard working n punctual!!' The film will also star Abhishek Bachchan and Boman Irani.
Re-bonding: Malaika Arora Khan and Farah Khan
For children's sake
Ranbir Kapoor will attend the opening ceremony of 18th annual International Children's Film Festival of India in Hyderabad on November 14 and Salman Khan has recorded a video message for the same.

Time travel
Apparently, Aamir Khan will be seen travelling in time in Dhoom: 3. Lots of effort have been put into the sequence. The team has been tight-lipped about this. He plays Saahir, the clown thief.
Secret service: Aamir Khan

Puppy love
Shraddha Kapoor loves dogs. She has a cute lhasa apso. She loves the way her dog greets her when she gets home. She tries to take him for a walk two three times a week and she is very close to her doggie.

Finding self
Vidya Balan got married recently and is also part of Shaadi Ke Side Effects with Farhan Akhtar. She says that women should not lose themselves in marriage and should maintain their identity.
Vidya Balan

Sonam is friendly
Sonam Kapoor is very friendly and approachable and she is always there for her best friends, co-stars, and colleagues. She even promotes her peers on social media. She is a professional too and always turns up for rehearsals and narrations. Easy going: Sonam Kapoor
Idol worship


Esha Gupta has a younger sister who is quite inspired by Esha's achievements as she has made a name for herself in a very short time. Esha is her sister's idol.
Lead on: Esha Gupta