March of the light brigade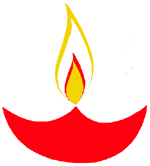 Illuminate your home this festive season with imaginatively designed and evocatively scented candles, which add a touch of class to the Festival of Lights
Nutan Sehgal
Their warmth and glow can lend a seductive charm to an evening. These can be used to enhance any occasion, especially the Festival of Lights. These come in all colours and sizes and in various avatars —plain or scented, in jars, as tealights or as floaters. Decorative and ornamental, candles light up homes every Diwali. There is an array of exotic varieties to choose from. The big demand this season is for aroma candles that help you connect spiritually with their fragrance, or even unscented decorative candles that are just beautiful to look at.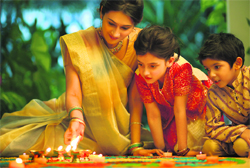 Ornamental appeal
Over the years, the melting pot of the candle industry has moulded many a success story during the Diwali season. What began as a flicker of hope to make ends meet has, for the more talented manufacturers, become a raging success even as manufacturers realise that designer candles have an amazing ornamental appeal and are a great gifting option.
Seen as the more attractive version of the ordinary variety, the fancy candle, lit or unlit, is this festive season's statement for the upmarket segment of buyers. After all, what could be a more appropriate gift than imaginatively designed and evocatively scented candles which add a touch of class to the Festival of Lights?
This festive season stores are offering a variety of candles that not just illuminate the home but also add a new dimension to the festive season. On offer are Feng Shui candles, whose colours and shapes represent different elements. According to believers, the spot in the house where you place the candle determines the effect it will have on the surroundings.
Then, there are large pillar candles used as decorative in the lobby. Also on offer are mashaals for the garden, which are encased in transparent shells that serve as windguards and produce a beautiful glow in a garden party.
Floating candles
For indoors, the preference this season is for floating candles. As the name suggests, these are special candles that float in a bowl of water. These are decorative and provide hours of soothing fragrance and calming light. These are plain yet stylish scented or unscented candles that add a warm flickering glow to a Diwali dinner, or simply as decoratives.
Interestingly, there is also a big demand for aroma candles for the Diwali puja. A refined offspring of the incense stick and wax candle, these usher in a calming effect on people as they pay obeisance to Goddess Lakshmi and Lord Ganesha.
"Aromatherapy candles, with their gentle glow and subtle fragrance not just relax but can change the atmosphere of the prayer room and help you connect spiritually," says Vandana Kohli, whose candles are in great demand during Diwali and Christmas.
And if you think that the prices for these ornate four to 18 inch tall candles will burn a hole in your pocket, you are right. You can, of course, draw satisfaction from the fact that candlemakers like Vandana claim to import the raw material — be it the wick, fragrance, colour and even the wax all the way from England or Italy.
Ornamental wax art
It is not surprising then that her range boasts of floating votives and tealights ranging between Rs 150 and Rs 225 a piece, mashaals with citronella oil for Rs. 750 a piece, silver pyramids with jasmine for Rs 1,675 per piece and pillar candles for Rs 1,750. Far removed from the ordinary wax sticks, these appeal to the high rollers who have the money to burn over the flames of these candles, which are virtually ornamental works of wax art.
Candles sold by Delhi-based designer stores like Brighton and Illuminati, too, can literally set your wallet aflame. Their lemon, basil or musk scented tea lights retail between Rs 400 and Rs 700.
Online designer and decorative candle store http://www.houseproud.in has on offer shot glass size Single Kim candles for Rs 1,020 a piece, scented tall glass candles for Rs 1,080 a piece and candles in the shape of animals like sheep, giraffes and elephants at Rs 2,960 for a set of two. Their colourful and attractive candle bouquets can range between Rs 5,890 and Rs 6,320. Casting their spell with every flicker, these candles find favour, especially during Diwali.
But there are buyers for all type of candles: be it the ordinary ones or the designer stuff. Be it Rs 15 a dozen or Rs 5,000 a piece, there's a demand for both during the Festival of Lights.
So go ahead. Light up and indulge yourself. Whatever the cost, make your world glow with a candle this Diwali.
Diwali candle decoration tips
* A bunch of different-coloured candles of varying heights has a stunning effect on the surroundings.
* Wow your guests with floating votives and tealights. The combination of water and fire is very alluring.
* Use a mirror as a base to enhance the effect of candles. The reflection makes illumination very dramatic.
* Place a floral arrangement around candles for heightened effect. Flowers and candles make a great combination.
* Put large candles in glass containers near the front door to welcome your guests on the Diwali night.



(Top 1) BAOBAB COLLECTION: The Baobab collection comprises a range of coloured and scented candles poured into transparent glass vases. This handmade collection comes in exclusive colours and is inspired by some of the world's highest mountains like Mount Everest, Mont Blanc and Kilimanjaro. price: Rs 15,000 to Rs 30,000 (2) TRADITIONAL DIYAS: There is nothing more illuminating on Diwali than earthenware diyas made by local crafts people. These ethnic diyas are being revived by clay artist Jasmin Ashwin Popat, who gives them different shapes and decorates them with stones, pearls and mirrors. price: Rs 50 to Rs 1,000(3) CUT WORK DIYAS: Traditional cut-work diyas from Mumbai-based graphic design professional Molisha Solanki are at once striking and unusual. These attractive diyas in vibrant colours of red, green, yellow and blue will blend in with traditional as well as modern décor. price: Rs 150 to Rs 1,000 (4) PORCELAIN TEALIGHT HOLDER: Add a designer finishing touch to your home with this handmade porcelain tealight holder finished with a rim of copper lustre. Inspired by coral to create shadows, its translucent quality is highlighted as the candle burns making the strands glow. price: Rs 3,600 for a set of 3 (5) HAND-PAINTED DIYAS: This set of four hand-painted decorated diyas by www.craftsvilla.com can add a sparkle to your home in the Festival of Lights. You can create a Rangoli design with flowers or coloured powder and place these diyas in the centre for that stunning effect.
price: Rs 350




(Bottom 1)) URLI DIYA THALI: Gift your friends this designer urli diya by Aapno Rajasthan. It has terracotta statues of Goddess Lakshmi and Lord Ganesha, along with seven gel-filled diyas. The diyas come with a Diwali card and a Lakshmi-Ganesha silver-plated coin. price: Rs 1,300 (2) ASSORTED LAGOON TEALIGHT HOLDER SET: This stunning set of four tealight holders is from the British handmade glass and porcelain company LSA. Measuring 7 cm, these tealights will add warm tones to your interiors, even when they are unlit. price: Rs 1,600 (3) ELTON JOHN CHARITY CANDLES: The UK-based Nest Fragrances has launched candles to benefit the Elton John AIDS Foundation Each candle comes in a deep purple, gold crown encrusted vessel and placed in a festive box price: Rs 3,900 (4) ACQUA DI PARMA CANDLE: Bring the festive season alive with the Acqua di Parma Gold Berries Candle. The scented candle ensures a truly sensory experience that permeates in your mind and body. It creates an attractive golden reflection and a beautiful radiance. The candle will burn for an amazing 60 hours.
price: Rs 7,200

CIRE TRUDON SCENTED CANDLE
Cire Trudon of France is one of the oldest wax manufacturing units in the world and specialises in candles for festive occasions. With a burn time of 75 hours, this scented candle has fragrance with hints of cinnamon, grapefruit and orange. A part of the money from the sale of these candles goes to charity.
price: Rs 5,400
FORNASETTI CAMMEI ORO CANDLE


This festive season add luxury to your home with this limited edition Cammei Oro candle from Italian designer company Fornasetti. The candle has been created by blending thyme and lavender with orris, cedar wood and a touch of incense for an alluring scent that's guaranteed to light up your living space.
price: Rs 24,000
HANGING TERRACOTTA DIYAS


This circular arrangement of nine terracotta diyas with a peacock design in the centre by www.tambulya.com will look very attractive as a hanging decorative during Diwali. Hand-painted in red, yellow, silver and gold with little bells hanging in between, this set of diyas makes a perfect Diwali gift.
price: Rs 395
DIPTYQUE'S SCENTED CANDLES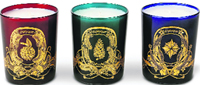 The Paris-based Diptyque's festive collection is a lush combination of wax and perfume. Completely handmade, the candles in this collection pay a tribute to nature and are made of carefully chosen materials. The candles are available in a choice of around 50 different fragrances and in a riot of different colours.
price: Rs 6,000 per candle
BOND NO. 9 MADISON SQUARE PARK CANDLE


This candle will make sure you are surrounded by rose-and-hyacinth perfumed air. The Bond No. 9 Madison Square Park Candle comes in a reusable frosted fuchsia-pink glass sleeve that will be perfect for the surroundings during a festive gathering. The candle has a burn time of 60 hours.
price: Rs Rs 11,000
CREED AVENTUS CANDLE


The 250-year-old Paris-based Creed luxury fragrances company is known for its candles. This hand-poured beeswax candle is housed in a tulip-shaped container and capped with a metal lid stamped with the crest of the House of Creed. The candle with a burn time of 60 hours will enhance the ambience of your home.
price: Rs 8,000
VASCOLARI PALM ROOT CANDLE


Create a natural and original atmosphere with this stunning Large Palm Root Candle by Italian luxury house Vascolari. Carved from a solid piece of palm root, each piece is beautifully unique. It features a honey scent and is made of natural bee wax with linen wicks and is available with vanilla and amber scents
price: Rs 20,000

LAURA MERCIER FIG CANDLE
Set the festive mood with Laura Mercier's limited-edition Signature Candles. In chocolate brown glass tumblers, each candle features Laura's signature style with a tone-on-tone snakeskin inspired deco. The candle with a burn time of 55 hours warms and delights with the sweet and intoxicating essence of fresh figs.
price: Rs 4,800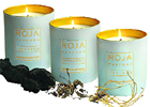 ROJA PARFUMS CANDLE
The Roja Parfums candle has been created for a perfect olfactory nirvana. The candle captures the essence of cedar wood and the majestic grandeur of the mountains. Enduring and aromatic with incomparable warmth the attractive candle comes in three different fragrances-labdanum, patchouli and vetiver.
price: Rs 7,500

JO MALONE LUXURY CANDLES
If it's good enough for Kate Middleton, then it's good enough for you. The Duchess of Cambridge had the Westminster Abbey lit up with Jo Malone candles at her royal wedding. The candle with a burn time of 230 hours comes in sensual pomegranate, frankincense, patchouli, lime and basil aromas.
price: Rs 3,800 to Rs 6,500 per candle

RALPH LAUREN CLASSIC DUCHESS CANDLE
Crafted from premium soy wax with a lead-free wick the Ralph Lauren's classic Duchess triple wick candle is elegantly presented in a sleek gold-tone glass holder. With a burn time of 100 hours the fragrance features a blend of rose, Egyptian jasmine, lily of the valley and it comes in a Ralph Lauren gift box price: Rs 8,500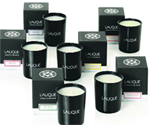 LALIQUE VETIVER SCENTED CANDLES
Lalique Parfums comes into the home with a luxurious collection of scented candles presented in a sleek black case. The Vetiver-scented candle evokes the spirit of Bali, Indonesia with the scent of incense, cedar and pine needles. These masterpieces combine the art of aromatic perfume and real bee wax
price: Rs 6,000