Matters of the heart

What happens when an actor gets neck deep into a role and virtually starts living it? Well, then it looks and behaves something like Ashmit Patel, the Superdude! Smiling, laughing and joking around, the good-looking actor leaves no stone unturned to showcase his comic as well as romantic reel side.

Three cheers: (L-R) Jividha Aastha, Ashmit Patel and Pooja Tandon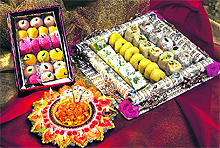 A festive platter
For those who've already had enough of the sweets coupled with sugar-coated pleasantries; food spelt in all caps stands for both change and joy! This year Diwali falls on a Sunday, which leaves ample scope and questions for the preceding Saturday night. If you are not caught in the give and take rigmarole of Diwali, there's abundant time on the hands. Soak in the festive spirit through food.
vanity box
Festive glow
Fresh dewy look won't do the trick because it's not a scorching summer month anymore. Nor will decking up like a Christmas tree work unless you are desperately trying to steal the limelight. Festival of lights and all the accompanying celebrations demand their own look book. We bet, a lot many would like to start with hair first.
CELEB POINT
Changing course of life
Dear life...
Be a sweetheart!
It's already begun… the door bell at home rings more than usual, relatives, guests and friends come calling with a gift in tow, and a box of mithais (the contemporary ones). Pleasantries exchanged, gifts accepted, now it's time to serve them something. Certainly, not the mithai from their boxes! Chocolates? Oh, too much sweetness everywhere already. Fruits? Just not the right…While you do a little mind work, we get you the master chefs to quickly rustle up something nice and interesting in the shortest possible time.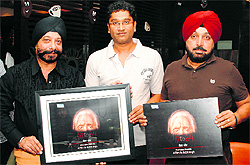 Of pain & suffering
The years 1947 and 1984 witnessed events that should have been avoided. Here's a movie that captures the tale of a woman who bore the brunt of both the years and yet lived a life that many would applaud.



hard facts: Babli Singh, Rajeev Sharma and Lally

first-day-first show
This superhero fails to impress
Produced and directed by Rakesh Roshan, Krrish 3 is a Bollywood superhero science fiction film. The film is the third instalment of Koi... Mil Gaya and Krrish series and it will continue the story of Rohit Mehra and his superhero son Krrish.
Anushka turns a producer
Anushka Sharma is joining hands with Phantom to produce Navdeep Singh's next film called NH 10. Anushka, who plays the lead in the film, liked the script so much that she has decided to co-produce it with Phantom.
Waiting for Ma Lakhsmi
Actress Juhi Chawla talks about her fond memories of the festival, her plans and more…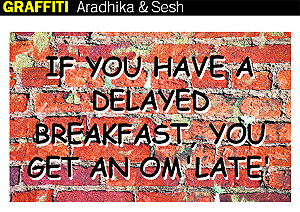 star track
SRK gets nostalgic
Filmmaker Yash Chopra's 1997 film Dil Toh Pagal Hai recently completed 16 years and actor Shah Rukh Khan got nostalgic.
chatter box
Oops! She did it again
Mallika Sherawat has shocked people many a times, and she did manage to do it yet again when she kissed a contestant on her reality show, The Bachelorette India-Mere Khayalon Ki Mallika that is telecast on Life OK. This is the last leg of the show and it sure is heating up!