The quest for the inner light
The celebration of Diwali or Deepawali might vary from one religious sect to the other but the lighted diyas convey the message: Let us remove darkness and therefore ignorance from the face of earth
Ashok Vohra
The Sanskrit word Deepawali means "an array of lights". It symbolises the triumph of brightness over darkness. Though the festival of Deepawali is primarily the festival of Vaishyas — farmers, cattle rearers, traders, merchants — it is celebrated all over India and by all varnas – classes and castes. Though the reasons for the celebration varies from one religious sect to the other.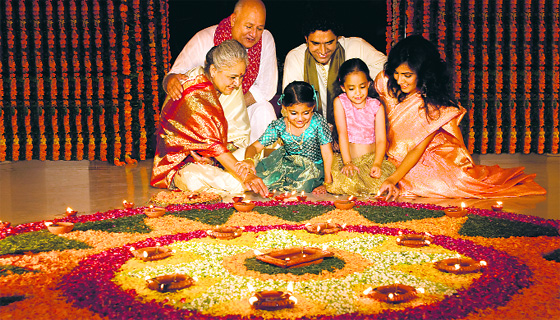 A priest's puja rituals (detail). By Nainsukh of Guler; Pahari, ca. 1740. Museum of Fine Arts, Boston.
---
'Art & Soul
Light Haat
From traditional terracotta diyas, craftwork to lanterns and candles, a huge range of artefacts are there to pick and choose from this Festival of Lights
Nirupama Dutt
It is the season of buying and gifting; and now not just sweets and more sweets or glass bowls that make for Diwali gifts. The past decade has seen Diwali art and craft coming of age with experiments aplenty to give a classy touch to the traditional terracotta diyas, lanterns, candles and what have you for the autumn festivity. The Diwali haat has brightened like never before offering an immense variety of artefacts to pick and choose from.
---
Fitness
good health
Celebrate the healthy way
Sweets, snacks and special foods are an integral part of festivals. Unfortunately, most of these foods are loaded with calories. Moderation and balance can help us avoid the festival pounds
Ishi Khosla
With the change in weather and arrival of the festive season, the party mood has begun. Sheer number of festivals, outings, extravagant food and alcohol, made even worse with late nights, can throw even the most disciplined off their fitness regimens. Not only does it result in extra kilos, it causes digestive disturbances and compromises on general well-being of the body.
The bitter 'sweet' truth
With a long festive period ahead, an array of sweets is bound to tempt even the most disciplined, leading to a marked increase in sugar consumption
Dr Rekha Sharma
The typical Indian diet consists of foods that are rich in carbohydrates, such as white rice, potato, white bread, sugary snacks and beverages. A long festive season ahead ensures intake of even more unhealthy, fatty foods and sweets. In every Indian household, the consumption of sugar and oil/ghee is almost double in the festive season. Even though sweet or starchy carbohydrates provide energy to the body, their excess consumption can lead to heart problems, obesity, diabetes, tooth decay, metabolic disorders, nutritional deficiencies and even cancer.
---
Society
Spreading sweetness and fervour in the downturn
Thanks to the roof-touching inflation, many people are using originality and creativity to cut costs and still have a rip-roaring time
Aditi Garg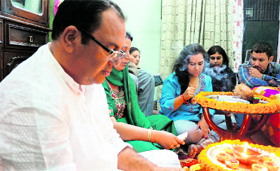 All over India, people celebrate Diwali in one form or the other. Depending on the region, the scenes vary but the spirit of the festivities is the same. The markets are dressed to the hilt to welcome the customers who line up weeks before to buy gifts to be given for Diwali.


The Diwali puja is a ritual followed by most families and all the members make it a point to be present for it, howsoever busy they might be.

The young & the restless way
Instagram, lights, smartphone camera, and lots of action. A look at how the young brigade makes Diwali fit into their fast-paced, white-collared lives
Swati Rai
Shopping sprees and festive cheer is here. Holidays are planned a year in advance for family reunions, flights are booked and Diwali festivities begin a year later. How does the youth connect with the festival of lights? We get some real candid answers.
Diwali in the Northeast
Upasana Chandan Sharma
WHAT crackers are to North India, banana trees with saaki (earthen lamps) is to the Northeast when it comes to the celebrating Diwali. In fact, a survey conducted last year pointed out that each year Diwali celebrations cost about Rs 2 crore worth of banana trees.
---
FOOD
Tradition with a twist
Light and sound and abundant splashes of colour are what make a festival. Food is no exception. Interesting garnishes and attractive presentation can enhance the appeal of even a plain recipe
Pushpesh Pant
The last quarter of the year in India is the season for festive feasting. It begins with Dasehra (Puja in Bengal). In Himachal Pradesh, UP, Bihar, West Bengal and Karnataka it marks the most mouthwatering day in the calendar. Eid follows bringing with it succulent kebabs, aromatic pulav, biryani, sevian and phirni. This is the time to gorge on pakwan and mishthanna.
---
Entertainment
Bollywood sparklers
Films from different genres and storylines are all set to entertain audiences this festive season
Shoma A. Chatterji
Diwali kicking off in November is spilling over with some out-of-the-box films with the masses as the target audience. These are glittering celluloid Diwali crackers and sparklers that will send our pulses racing and our hearts skipping beats. Diwali kicks off with Krrish 3 directed by Rakesh Roshan. This is followed by Sanjay Leela Bhansali's Ram Leela and writer-turned-director Vishwas Patil's Rajjo releasing on the same day.
Cinema at its best
With a sprinkling of many award-winning movies, the recent Mumbai Film Festival was a treat for lovers of good cinema
Ervell E. Menezes
Yes, it's one more film festival for me. Efficient as usual, S. Narayan, director of the Mumbai Film Festival, sees that the best films available are here for the cine buffs. If only the ground realities were as competent. But the slips between the cup and the lip persist as though caught up in some warp of the law of perversity?