Lines to cherish
Authors Vishwajyoti Ghosh, Kiran Nagarkar and critic Giriraj Kiradoo were in the limelight on day one of The Chandigarh Literature Festival. They share excerpts from their journey in the creative world...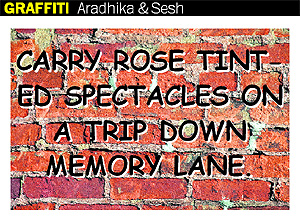 Write note
A civil servant by profession, Manoj Singh follows his passion of writing with zeal. He has penned several books, including novels Kashamkash and Hostel ke Pannon Se, collection of articles Vyaktitav ka Prabhav and Chinta Nahi Chintan short story collection titled Meri Pehchan. While Manoj Singh writes primarily in Hindi, his latest novel Eternal Bonds is in English.
the 'in' side
Miniature marvel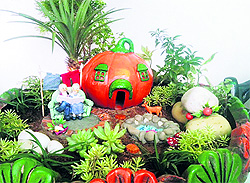 A miniature garden is a term widely used for any small size garden, natural or artificial. Dish gardens, terrariums, bonsai, tray gardening, windowsill gardening, tea-cup gardening are all considered miniature gardening. Many people living in apartments miss having a garden and thus the trend of miniature gardens is fast catching on. Just like life-sized landscapes, the possibilities for miniature gardens are endless. They can be indoor or outdoor, in-ground or in a pot, small or large and filled with everything you can dream of.
A close eye on issues
On popular demand, Sunday with Filmmaker, an initiative of the Chandigarh Creative Cinema Circle, is now 'Weekend with Filmmaker'. And this time around on November 9, get to know independent documentary-maker known for his stinging controversial works — the Delhi-based journalist Shubhradeep Chakravorty.
Passionate word(s)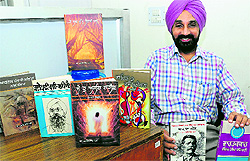 Listening to stories by the elders, Jagir Singh Dhesa got initiated into Punjabi literature right in his childhood. If his parents' dream of seeing him as a teacher put him on the right path, his teachers encouraged him to go beyond that and achieve more. Teaching Punjabi today, he has written as many as 18 books on varied topics right from religion to criticism.

Jagir Singh Dhesa. Photo: Parvesh Chauhan
Doc Talk
Save the scalp


An itchy, scaly scalp can be a major source of embarrassment and can affect one's self-esteem and lifestyle routine. No one likes to have scales shedding from the scalp all over the shoulders or extending beyond the hairline, thus making it visible in the front over the forehead, on the sides, around the ears and in the back over the neck. Scaling, over the scalp is just not the commonly known dandruff, in fact one should get flaky scalp properly diagnosed.
Master Chef
Oven-fried, guilt-free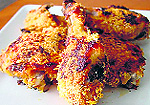 I know this sounds contradictory but yes, there is such a thing as the oven frying technique! Here, we get a crunchy, crisp surface on our food without dunking it in hot oil. Needless to say, we cut down on our calorie intake with a meal like this one! My favourite is an oven-fried chicken but vegetarians please don't despair. You can oven fry potatoes, mushrooms and paneer too by following this method (the potatoes would need to be parboiled though).
Eyes right
Celebrate this festive season with the ever popular Trendz collection from Titan Eye Plus. The Trendz collection caters to value conscious consumers, who seek contemporary and fashionable eyewear products.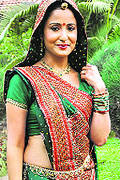 STAR TRACK
Objection raised
Last month, famous Hollywood director Woody Allen pulled his latest film Blue Jasmine from theatres in India as he objected to mandatory anti-tobacco warnings during smoking scenes.



Striking a balance


Bhaji In Problem creates buzz, receives record price
SHAKE-A-LEG: Lata Sabarwal
chatter box
Putting on the dancing shoes
Lata Sabarwal, who plays Rajshri in Yeh Rishta Kya Kehlata Hai, is now looking forward to dance well in Nach Baliye 6. She was the one to coax her husband Sanjeev to participate in the show. Though she's finding it tough to manage home and TV shows, she's enjoying the fame...